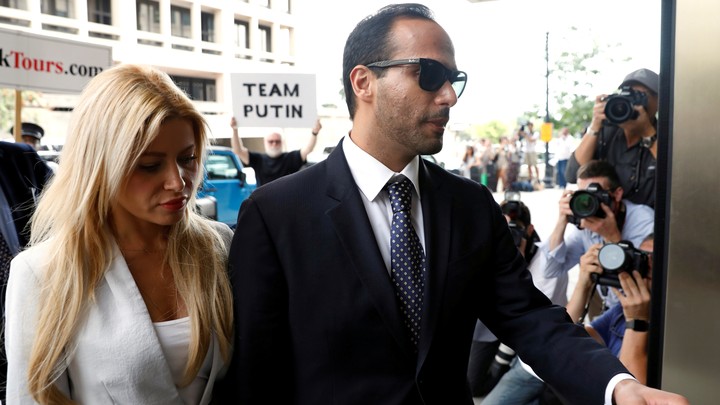 Nearly one year to the day after he became the first person to plead guilty in Special Counsel Robert Mueller's Russia investigation, former Trump campaign adviser George Papadopoulos will face Congress for the first time in a private hearing for which he eagerly volunteered following his sentencing last month. "I didn't want to have to expose the biggest political scandal in modern history," Papadopoulos tweeted last week. "I was happy living on the Greek islands. But, guess life works in mysterious ways and I am happy I was called."
For many of the Trump associates caught up in Mueller's secretive investigation, any and all information about Russia, the Trump campaign, and the 2016 election is valuable currency. Donald Trump's longtime personal lawyer, Michael Cohen, has sought refuge with Democrats, changing his party affiliation and conspicuously turning his back on the president via high-profile media interviews and public overtures to Mueller. Papadopoulos, meanwhile, is taking a parallel but opposite track. The 31-year-old, who was sentenced last month to serve two weeks in prison for lying to federal agents about the nature of his communications with a foreign professor, recently began using his Twitter account to dangle scandalous theories of the kind favored by Trump-allied Republicans about alleged corruption within Western intelligence agencies.
Read: A former Trump adviser pleads guilty to lying.
On Thursday, Papadopoulos will testify to what he believes was an operation designed by the FBI, in coordination with Britain's intelligence services, to "infiltrate" and "sabotage" the Trump campaign. (Congress is in recess, so it is not clear which members will show up and which will send their staff.) He plans to detail the interactions he had with at least nine people during the election, according to a letter his attorney Caroline Polisi wrote to the House Oversight and Judiciary Committees last week, which I obtained. Those include the foreign professor Joseph Mifsud, who first told him in the spring of 2016 that Russia had dirt on Hillary Clinton in the form of thousands of emails; Sergei Millian, a Belarus-born businessman who was reportedly in regular touch with Papadopoulos in 2016 and has described himself as an exclusive broker for the Trump Organization's potential real-estate dealings in Russia; and Stefan Halper, a Cambridge University professor who approached Papadopoulos in August 2016 while secretly working for the FBI.
It was barely a year ago that Papadopoulos and his wife, Simona Mangiante, appeared ready to turn on Trump and his campaign. After Papadopoulos pleaded guilty, the president was quick to describe him as a "coffee boy" who played no meaningful foreign-policy role during the election—a claim at which Mangiante bristled, and which she appeared prepared to challenge, with proof. "I've seen the emails," Mangiante told me earlier this year, referring to Papadopoulos's communications during the election with high-level members of the Trump campaign. She told ABC last year that Papadopoulos had communicated with Steve Bannon, who chaired the campaign before becoming the White House chief strategist, and Michael Flynn, a top campaign surrogate whom Trump later appointed national-security adviser. "It's very naive to dismiss somebody like that, as a 'coffee boy,' when you have evidence," Mangiante said. "They're just undermining all of George's efforts." At the time, Mangiante appeared defiant and unnerved by the president's attempts to marginalize Papadopoulos's role. The FBI, meanwhile, had been "fair" to her, she said, and she'd been "happy" to speak to the bureau.
Gradually, however, Mangiante's tone began to change. In interviews with Fox News and the right-wing Daily Caller, Mangiante described Papadopoulos as a "victim" and asked Trump to consider pardoning him because he had been treated so unfairly by the FBI. She began to raise questions about whether Papadopoulos was the target of a "setup" by investigators, and disclosed what she described as "suspicious" overtures by foreign nationals to Papadopoulos during the campaign, characterizing them as "among a series of attempts to entrap George." (It is not totally clear what prompted the newly hostile posture toward the FBI's investigation. But it began shortly after Mueller's team indicated in court filings that it was ready to move ahead with Papadopoulos's sentencing—a sign that it no longer needed Papadopoulos's cooperation in the case.)
After Papadopoulos was sentenced in early September, he was freer to speak for himself. Unsurprisingly, he sounded a lot like Mangiante. After telling a judge that he "made a terrible mistake" in not being forthcoming with the FBI, Papadopoulos took to Twitter, where he has maintained that Mifsud—a Maltese professor whose interactions with Papadopoulos in April 2016 purportedly triggered the FBI's Russia investigation—was actually a deep-state plant working for Western intelligence agencies hoping to entrap the Trump campaign. (Papadopoulos's former lawyer, Thomas Breen, told reporters last month that he believed that Mifsud was working for the Russians. Papadopoulos, who considered taking back his guilty plea over the summer but decided against it, has since hired new attorneys.) Mifsud, meanwhile, apparently believes that Papadopoulos set him up. In a book co-written by Stephan Roh, a German multimillionaire with ties to Russia who now calls himself Mifsud's lawyer, Mifsud was quoted as calling Papadopoulos an "agent provocateur."
Read: Mueller's probe is even more expansive than it seems.
Name-calling aside, Papadopoulos eventually admitted to withholding information from the FBI about his conversations with Mifsud, who told him that Russia had Clinton's emails well before the hack on the Democratic National Committee was made public. It is still not clear how Mifsud seemed to know in advance that Russia sought to compromise Clinton's candidacy.
Throughout all of this, Mangiante, who says she worked for Mifsud at the London Centre of International Law Practice in 2016, has had to answer for discrepancies in her résumé and comments she has made about her real age. The oddities have sowed more doubt about Mangiante's background, which has been scrutinized not only by journalists but also by Mueller's investigators. Earlier this month, a law firm Mangiante claimed to work for as an associate from September 2007 to November 2008, Mayer Brown, issued a statement saying it had no record of her employment. The firm maintained that these records don't exist, but noted later that it was possible she had worked there as an unpaid intern for four months in 2007. After battling the law firm to correct the statement, Mangiante appeared to acquiesce, quietly changing the dates and description of that employment on her LinkedIn page to match the details issued by the firm. Amid that controversy, Mangiante showed ABC News a photo of her Italian passport to prove her identity. But she later admitted to altering the passport photo and date of birth.
Papadopoulos, for his part, believes he landed on the FBI's radar because of his "energy business ties to Cyprus and Israel that threatened British interests"—not because he had any ties to Russia. "Do you really think someone like me who had no connection at all to Russia would just randomly run into the one guy on the planet who apparently had the keys to the kingdom regarding a massive conspiracy?" he asked me in a private message earlier this month. But it wasn't just one chance encounter; according to the charging documents that Papadopoulos pleaded guilty to, he met Mifsud three times from March to April. They continued to email through April, with Papadopoulos expressing consistent interest in a Trump-Russia relationship that Mifsud said he could facilitate. And on April 26, over breakfast in London, Mifsud told Papadopoulos that he had just returned from a trip to Moscow where he had learned from high-level Russian-government officials that Moscow had "dirt" on Clinton in the form of "thousands of emails."
Despite keeping the campaign apprised of his conversations with Mifsud and efforts to set up a Trump-Putin meeting, Papadopoulos says he has "no recollection" of telling the campaign about the Russian "dirt." Democrats on the House Oversight and Judiciary Committees will likely challenge him on that—one of the biggest lingering mysteries of the 2016 election is whether the Trump campaign knew anything about the stolen emails before agreeing to meet with Russian nationals at Trump Tower, on the promise of obtaining dirt on Clinton, in June 2016. If Papadopoulos told the campaign as early as April that the Russians could be helpful to Trump, then the lens through which we've viewed Russia's election interference shifts dramatically.
During Thursday's hearing, Papadopoulos will likely enjoy a captive audience among Republicans. The House Judiciary Committee's chairman, Bob Goodlatte, has written that "the actions taken by DOJ and FBI during the 2016 election create a perception of political favoritism," while demanding, along with his fellow committee members Jim Jordan and Matt Gaetz, that highly sensitive national-security documents relevant to the ongoing investigation be turned over and declassified. Jordan and Gaetz, meanwhile, have alleged that the FBI probe was triggered by a dossier written by the former British spy Christopher Steele that outlines an alleged conspiracy between the Trump campaign and Moscow—not by Papadopoulos. That theory was challenged last December when The New York Times reported that Papadopoulos had disclosed the Russian "dirt" to Australian diplomat Alexander Downer in May 2016 over drinks in London. (After the DNC emails were leaked two months later, Australian officials reportedly alerted their U.S. counterparts to Papadopoulos's comments, which he says he doesn't remember making.)
Read: FBI investigator rejects accusations of anti-Trump bias.
It remains to be seen whether Papadopoulos walks into the hearing armed with theories about double agents and the deep state. But one thing is clear: Papadopoulos will be leaving sympathetic lawmakers a road map that he hopes they will follow. "We are hoping and anticipating that the interview will be mutually beneficial," Polisi, Papadopoulos's lawyer, told me. "George hopes to provide the committees with facts regarding his encounters with certain individuals that warrant more scrutiny. To the extent that fact-finding members of the committee are looking with a critical eye at the inner workings of this investigation, we hope to be able to point them in the right direction."
We want to hear what you think about this article. Submit a letter to the editor or write to letters@theatlantic.com.
Natasha Bertrand
is a former staff writer at
The Atlantic,
where she covered national security and the intelligence community.