George Papadopoulos Wants Immunity From the Senate
The former Trump-campaign adviser may be worried that his testimony could implicate him in a crime, according to legal experts.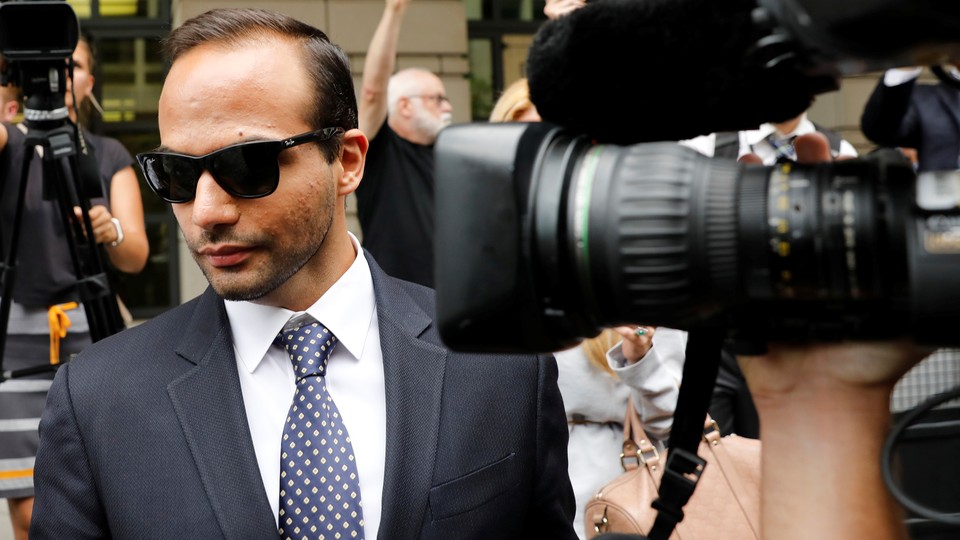 The former Trump-campaign adviser George Papadopoulos, who pleaded guilty last year to lying to the FBI about his conversations with a foreign professor that were relevant to the Russia investigation, has asked for immunity to testify before the Senate Intelligence Committee, according to two knowledgeable congressional sources. Papadopoulos's attorney, Caroline Polisi, declined to comment.
It's unlikely that the Senate will accept his request, according to one of the sources. The panel rejected former National-Security Adviser Michael Flynn's request for immunity last year and seemed open to hearing from Trump's longtime personal lawyer, Michael Cohen, when his lawyer said he would not request immunity to testify. "We do want to see Papadopoulos," Mark Warner, the ranking Democrat on the Senate Intelligence Committee, said last month. "We also want to see Michael Cohen, who has indicated he would come back without any immunity and testify before our committee."
Papadopoulos has been promoting his unqualified willingness to testify before Congress as evidence of his commitment to complete transparency. "At a time when frauds are pleading the fifth to not testify to Congress, I am enthusiastic to and even wanted an open hearing," Papadopoulos tweeted earlier this month. He believes he was the innocent victim of an entrapment operation designed by the FBI to "infiltrate" and "sabotage" the Trump campaign, he wrote in tweets, and is confident that he will soon "expose the biggest political scandal in modern history." He is so convinced of this, apparently, that he has been actively considering withdrawing from the plea agreement he struck with Mueller's team last year.
His recent request for immunity from prosecution to testify before the Senate, however, may signal an awareness on his part—or his lawyers'—that he still faces significant legal exposure. "This obviously indicates that he believes that whatever he says to Congress could implicate him in a crime," Renato Mariotti, a former federal prosecutor in the Northern District of Illinois, told me. "So either he wants to say something that contradicts something he previously said under oath or to the FBI, or he plans to admit conduct that could form the basis of a separate criminal charge."
It doesn't appear that Papadopoulos asked for immunity before testifying to the House Judiciary and Oversight Committees behind closed doors on Thursday—his lawyer simply advised him not to answer certain questions, according to a separate congressional source. Papadopoulos's offer to testify in an open setting before the Senate still stands, however, and refusing to answer certain questions could undermine the image of being a transparent truth-teller that he has been trying to sell to the public. One answer, then, could be an immunity deal, which would allow him to answer any and all questions free from fear of prosecution. "The only basis he'd have to request immunity is if he talks about other crimes that he hasn't been charged with that he himself took part in," Elie Honig, a former federal prosecutor in the Southern District of New York, told me. "He can't get immunity for perjury, so if he thinks he's giving himself a free pass to lie, then he's way off base."
Papadopoulos was sentenced last month to two weeks in prison for lying to the FBI about his conversations with a foreign professor named Joseph Mifsud, who first told him in the spring of 2016 that Russia had dirt on Hillary Clinton in the form of thousands of emails. It is still not clear how Mifsud seemed to know in advance that Russia sought to compromise Clinton's candidacy.
Papadopoulos, for his part, believes he landed on the FBI's radar because of his "energy-business ties to Cyprus and Israel that threatened British interests"—not because he had any ties to Russia. "Do you really think someone like me who had no connection at all to Russia would just randomly run into the one guy on the planet who apparently had the keys to the kingdom regarding a massive conspiracy?" he asked me in a private message earlier this month.
But it wasn't just one chance encounter; according to the charging documents that Papadopoulos pleaded guilty to, he met Mifsud three times from March to April. They continued to email through April, with Papadopoulos expressing consistent interest in a Trump-Russia relationship that Mifsud said he could facilitate. And on April 26, over breakfast in London, Mifsud told Papadopoulos that he had just returned from a trip to Moscow, where he had learned from high-level Russian-government officials that Moscow had "dirt" on Clinton in the form of "thousands of emails."