The FBI Investigation Didn't Go Very Far by Design
The special background investigation of Brett Kavanaugh involved nine witnesses and bypassed dozens of others named by the accusers Christine Blasey Ford and Deborah Ramirez.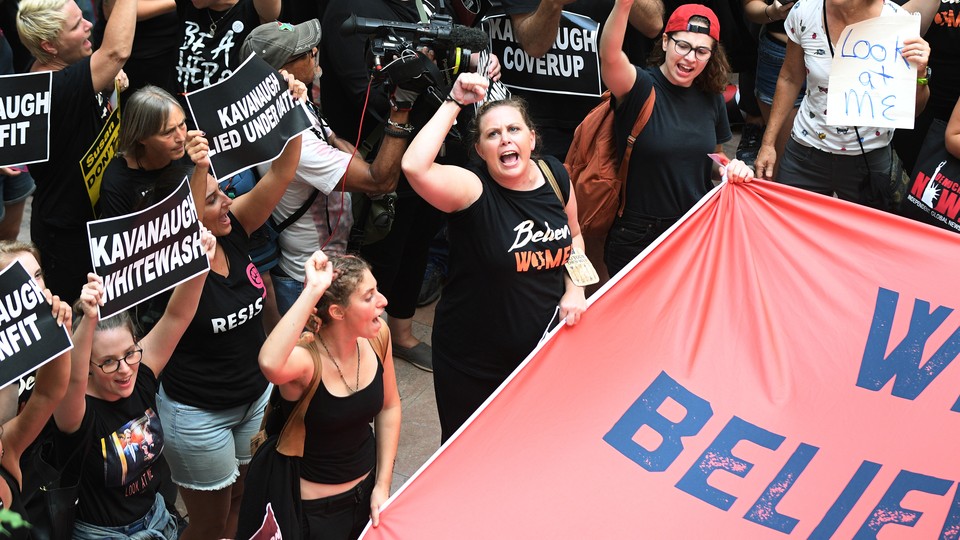 The FBI found itself at the center of another political firestorm on Thursday as the findings from its supplemental background investigation of the Supreme Court nominee Brett Kavanaugh were made available to all 100 senators. By late morning, top Republicans and Democrats had already reached vastly different conclusions about the FBI report, which the bureau concluded after four days without interviewing two of the three women who have accused Kavanaugh of sexual misconduct, or dozens of witnesses who were said to have corroborating information.
"It appears to be a very thorough investigation," Republican Senator Susan Collins, a key swing vote on Kavanaugh's confirmation, told reporters. Dianne Feinstein, the ranking member of the Senate Judiciary Committee, felt the opposite was true. "This looks to be a product of an incomplete investigation that was limited, perhaps by the White House," she said. Senate Minority Leader Chuck Schumer accused the White House of "greatly" constraining the investigation "from the get-go," and demanded that the FBI's directive be made public. Senate Judiciary Committee Chairman Chuck Grassley, meanwhile, announced that the investigation had "found no hint of misconduct"—Republican Senator Jeff Flake, another swing vote, agreed.
The limited scope of Kavanaugh's seventh and final background investigation, ordered by President Donald Trump last week under pressure from Flake, was freely acknowledged by the White House deputy press secretary, Raj Shah, on Thursday morning. Background investigations of this kind are inherently limited, he said, and "the Senate has set a scope on what they are interested in." As of Thursday, according to Shah, the FBI had spoken with nine witnesses. Five of them—Mark Judge, Patrick J. Smyth, Leland Keyser, Tim Gaudette, and Chris Garrett—were interviewed about the allegations made by Christine Blasey Ford, a professor who testified last week that Kavanaugh had assaulted her at a high-school party in 1982.
Agents also interviewed Deborah Ramirez, a former classmate of Kavanaugh's who alleged that he exposed himself to her when they were undergraduates at Yale. Unlike Anita Hill and the then-Supreme Court nominee Clarence Thomas, however—both of whom were interviewed by the FBI, albeit less than thoroughly, as part of its investigation into Hill's sexual-harassment allegations—the FBI did not speak with Ford or Kavanaugh directly. A third Kavanaugh accuser named Julie Swetnick was not contacted, either, according to her lawyer Michael Avenatti. "It now appears that the White House blocked the FBI from doing its job," Feinstein told reporters after reading the report. "Democrats agreed that the scope should be limited. We didn't agree that the White House should tie the FBI's hands."
White House Counsel Don McGahn, who shepherded Kavanaugh through the confirmation process and has been serving as a liaison between the FBI and the White House, reportedly told Democratic Senator Chris Coons this week that the background investigation was being done "by the book." That does not mean it was appropriately comprehensive, however—Frank Figliuzzi, a former FBI assistant director for counterintelligence, cautioned against putting any weight on claims that this is a "standard" investigation. Standard background probes, he told me, are typically conducted before any derogatory information has been presented about the person being investigated.
Indeed, Coons told the Post that he "came away from" his conversation with McGahn realizing that agents would not be expanding their investigation to include witnesses they learn about in the course of their initial interviews who might be able to corroborate specific claims. A lawyer for Debbie Ramirez, John Clune, echoed that concern in a series of statements this week. On Tuesday, he tweeted that "we are not aware of the FBI affirmatively reaching out to any" of the more than 20 witnesses Ramirez identified in her interview who may have corroborating information. And in a letter to FBI Director Chris Wray on Thursday, Clune said "we can only conclude that the FBI—or those controlling the investigation—did not want to learn the truth behind Ms. Ramirez's allegations." Ford's attorneys wrote their own letter to Wray on Thursday, claiming that, to their knowledge, the bureau hadn't contacted the more than 20 witnesses they'd suggested, either.
Clune attached a declaration by Dr. Richard Oh, a former classmate of Kavanaugh and Ramirez at Yale, who recalled hearing about the incident on the night that it allegedly happened. "On both September 29 and 30, 2018, I contacted the FBI to inform them that I was willing to be interviewed as part of the Kavanaugh investigation," Oh wrote. "To date, no one from the FBI has attempted to interview me or schedule an interview."
Former FBI agents I spoke with this week said it seemed inconceivable that the bureau would simply ignore walk-ins, submissions, or calls made to tip lines of their own volition. "Every field office has a system in place to receive reports like that," Frank Montoya Jr., a former FBI special agent who led the Seattle field office until 2016, told me. "It's a time-honored process known as 'complaint duty.' There's not an agent in the field who doesn't know what that is." Still, he said, "it could have happened. There has been a lot of confusion inside about how far to take this case. It would have been highly unusual, though, for FBI HQ to tell field offices to ignore inquiries or complaints." Figliuzzi hypothesized that if these leads were being purposefully overlooked it is because they were outside the scope of the bureau's mandate. "The White House is still tightly controlling this investigation," he said.
In a New York Times op-ed published earlier this week, FBI Director James Comey argued that, despite the "shot clock" confronting the bureau, the FBI was up to the task of thoroughly investigating Kavanaugh—"unless," he wrote, it has been "limited in some way by the Trump administration."