Biden Stumps in Iowa as He Ponders 2020
The former vice president drew enthusiastic crowds and said he was "sick and tired" of the Trump administration.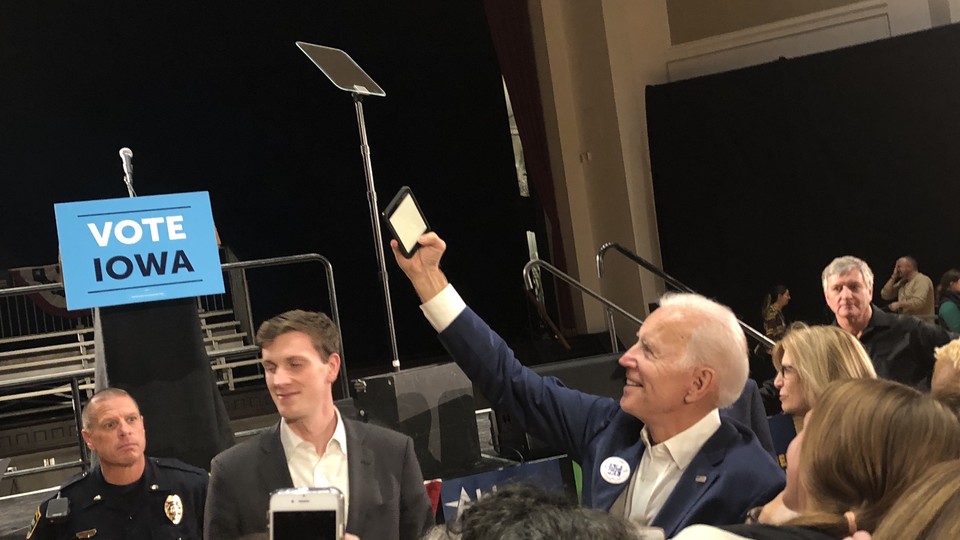 CEDAR RAPIDS, Iowa—Joe Biden's plan was to avoid Iowa during his nationwide midterm campaigning: He didn't want to feed the 2020 talk that he and his aides knew a trip there would spark, and he wasn't sure what kind of crowd it would bring.
On Tuesday night, he arrived here at the veterans' hall downtown, raised his arms, and saluted the crowd of more than 1,000 cheering for him, applauding him, and laughing along with every joke of the well-worn stump speech he's delivered 50 times in the past six weeks.
"Hello, Iowa! Hello, Cedar Rapids!" he said as he stood behind a lectern that had a VOTE IOWA sign taped to the front. "It's been a long time!"
It's been three and a half years since he was last in Iowa, when he came on an official trip as vice president that was all about keeping the flirtation with a 2016 campaign going.
He delivered a harsh but hopeful speech that left many people thinking he'd be back before long, in pursuit of the 2020 campaign; he's set a moving deadline by which he'll make up his mind. Then again, this was a crowd filled with Biden true believers who cheered when Iowa's Democratic Party chairman, Troy Price, kicked off the event by saying, "Who's ready for Joe?" Several came in old T-shirts from his 2008 presidential campaign; a woman had made a custom Biden 2020 shirt with the zeroes formed from printed ribbons.
"We have to make it clear as Democrats, we choose hope over fear. We choose unity over division. We choose allies over enemies," Biden said, closing a 40-minute speech that capped a day with two other speeches in Wisconsin and a fund-raiser for the gubernatorial candidate there. "This is America. Nothing's beyond our grasp."
Many of the prospective 2020 candidates have started cycling through—Cory Booker, Bernie Sanders, and Kamala Harris, as well as lesser-known hopefuls such as Congressmen John Delaney, Tim Ryan, and Eric Swalwell, and Mayor Pete Buttigieg of South Bend, Indiana. None have drawn a crowd this big or this excited. None have persuaded Fred Hubbell, the Democrat trying to unseat Iowa Governor Kim Reynolds by grabbing independent and Republican voters, to appear with them—but by the end of the night, as Biden worked the crowd for more than a half hour after finishing his remarks, it was Hubbell who was trying to squeeze into the frame for some of the selfies.
For all the people who pushed their way forward to tell him that they remembered the last time they met, or what big fans they were, Biden did not stay long. This isn't a full campaign swing, something the people who may soon be his opponents have done. He didn't even stay the night, instead flying out immediately to continue his final push of the week: He has stops on Wednesday in Illinois and Missouri, and on Thursday he'll campaign for Senator Heidi Heitkamp of North Dakota. Biden is the only major Democrat still hoping to help Heitkamp hold on to a Senate seat that most Democrats believe has fallen out of their grasp.
Officially, Biden agreed to come to help Abby Finkenauer, the state legislator hoping to beat Congressman Rod Blum in a race that is more competitive than Democrats had hoped or expected it would be by this point. Finkenauer's campaign appealed to Biden to come on the argument that he could make a difference in her race, according to people familiar with the situation, as she tries to get the white Catholic voters who are Biden's core base to feel comfortable voting for a 29-year-old woman.
"He is here tonight because of the values that we share," Finkenauer said, introducing Biden to the crowd.
Biden began by speaking about the terrorist events of last week, namely the mail bombs sent to top Democrats and CNN, the shooting of two black people in a supermarket by a gunman who'd tried to enter a church, and the massacre of 11 people at a Pittsburgh synagogue.
"We need to recognize that words matter. Words matter," Biden said. "We have to recognize, and take responsibility as well—our political opponents are not our enemies. The media are not our enemies. We are Americans."
He spoke about stress levels spiking in Generation Z and his dismay at the moral equivalence that's been made for racists.
And he attacked the Republicans who claim now that they are for protecting preexisting conditions in health care: "Simple, unadulterated lie," he said.
Biden started the day Tuesday in Madison, at the University of Wisconsin. More than 1,000 people came to that event, too, despite the early start, at 9:30 in the morning on a college campus; most of them were students.
Biden invoked civil-rights activist Fannie Lou Hamer's famous remark as he drew a connection between the fight then and now.
"I am sick and tired of this administration," Biden said. "I am sick and tired of what's going on. I'm sick and tired of being sick and tired, and I hope you are, too."