Democrats' Burgeoning Chances in the Rust Belt
President Donald Trump swept all five states in 2016. But there are signs that many voters there—especially women—won't vote Republican this year.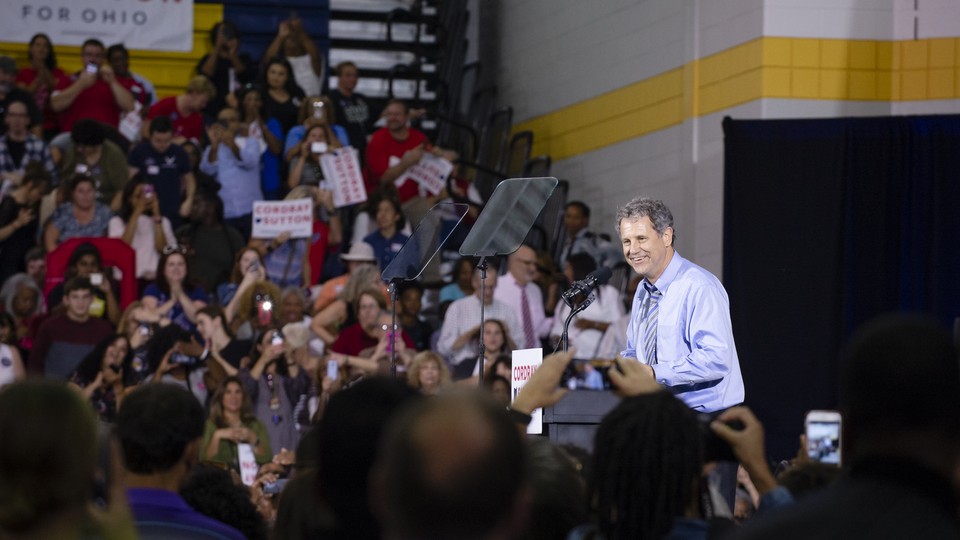 For Democrats looking ahead to 2020, the most encouraging trend in 2018 may be the party's renewed competitiveness in key races across all five Rust Belt states that keyed Donald Trump's unexpected victory two years ago. Yet even that potential recovery can't erase the magnitude of the challenge Democrats will face reclaiming those states from Trump in 2020—a trial that likely became even tougher after he announced a new North American trade deal this week.
The Rust Belt states Trump flipped in 2016—Iowa, Ohio, Michigan, Wisconsin, and Pennsylvania—had each voted for Barack Obama in both 2008 and 2012. The losses in the latter three states were especially devastating for Hillary Clinton. Michigan, Wisconsin, and Pennsylvania had voted Democratic in at least six consecutive presidential elections, cementing them as part of the party's Electoral College "blue wall." But Trump dislodged all three by a combined 80,000 votes.
This year, Democrats are stirring across all five states. In four of them, Democratic senators are seeking reelection: Sherrod Brown in Ohio, Debbie Stabenow in Michigan, Bob Casey in Pennsylvania, and Tammy Baldwin in Wisconsin. All are now strong favorites: In the polling averages compiled by the website RealClearPolitics, each of them holds a double-digit advantage.
Even more strikingly, Democrats are also running well for the Rust Belt governorships, including the four now held by Republicans. Pennsylvania Governor Tom Wolf, the lone Democratic incumbent, has led comfortably in surveys there. In Michigan, Gretchen Whitmer leads Republican Attorney General Bill Schuette in the contest to succeed outgoing Republican Governor Rick Snyder.
In the other three GOP-held seats, Democrats are running step for step, or better. In Wisconsin, most surveys give the Democrat Tony Evers a small edge over battle-tested Republican Governor Scott Walker. In Iowa, polls show the Democrat Fred Hubbell holding an even narrower advantage over the Republican incumbent, Kim Reynolds. In Ohio, surveys indicate a jump ball between the Democrat Richard Cordray and the Republican Mike DeWine, who are vying to replace outgoing Republican Governor John Kasich.
In the House, Democrats are strongly positioned to gain as many as two seats in both Iowa and Michigan, and perhaps four in Pennsylvania (where they've benefited from a new congressional-district map imposed by the state Supreme Court). In Wisconsin and Ohio, Democrats have competitive opportunities but face longer odds.
Across these races, Democrats are benefiting from the same suburban recoil from Trump that's lifting their prospects elsewhere. Recent NBC/Marist polling in Ohio found Brown leading among white women with a college degree by more than two to one and more narrowly among college-educated white men; in the governor's race, Cordray led slightly among both groups as well. In Wisconsin, the latest Marquette University Law School poll showed Baldwin and Evers each winning more than three-fifths of college-educated white women; college-educated white men broke narrowly for Evers and split evenly over Baldwin.
But perhaps even more encouraging for Democrats are the sprouts of recovery among working-class white voters—or at least working-class white women. In general, midwestern blue-collar white men still overwhelmingly favor Republicans in this fall's contests. But in Ohio, the NBC/Marist poll showed Brown leading among non-college-educated white women by double digits, and Cordray trailing only slightly. In Wisconsin, those women prefer Evers narrowly and Baldwin by a 17-point margin. Abby Finkenauer and Cindy Axne, who are forcefully challenging Republican incumbents in two Iowa districts, posted stronger results among non-college-educated whites than almost any other Democrats in the recent House polls conducted by Siena College and The New York Times.
The big question for Democrats is how much of this nascent recovery represents genuine disillusion with Trump among white working-class voters in the Rust Belt. It could be, instead, that there's a lack of enthusiasm for more traditional Republicans among the blue-collar whites who surged to the polls for the president in 2016. Michael Podhorzer, the political director of the AFL-CIO, says the union federation's research shows some working-class white women have clearly soured on Trump, largely because of his effort to repeal the Affordable Care Act.
But the biggest explanation for the shifting numbers, Podhorzer believes, is that the portions of the white working class hostile to Trump appear somewhat more likely to vote next month than those who support him. "Among non-college[-educated voters], the big story … is the seeming demobilization of people who voted for Trump and a real differentiation in their mind between Trump and the Republican Party," Podhorzer says.
That suggests that even if Democrats have a revival next month across these Rust Belt states, they will face a steeper climb if those episodic blue-collar Trump supporters return to the polls in 2020. Trump this week created a potentially powerful magnet for those voters when he finalized a new pact with Mexico and Canada that's a reconfiguration of the North American Free Trade Agreement. Experts debate how much the deal really changes NAFTA overall, but one point is clear: It does contain significant new incentives to shift more automotive production to the U.S.
Auto jobs aren't a big part of the economy in Iowa or Pennsylvania, and the latter looks the most susceptible to a Democratic revival in 2020 (largely because it combines more college-educated white voters than the other states have with a significant African American population). But in Michigan (almost 950,000 auto jobs), Ohio (about 630,000), and, to a lesser extent, Wisconsin (roughly 182,000), Trump's support for what he's calling the United States-Mexico-Canada Agreement could boost him as surely as Obama's initiation of the 2009 auto bailout lifted him in 2012.
Recovery in the Rust Belt next month would provide Democrats an important beachhead from which to contest Trump's hold on the most indispensable states in his Electoral College strategy. But no one should underestimate how much hard combat remains in all of those states (except maybe Pennsylvania) before Democrats can reach the ultimate prize of recapturing them in 2020.