Did the Democrats Mishandle the Allegations Against Brett Kavanaugh?
Senate Republicans slam the Democrats' 11th-hour leak of Christine Blasey Ford's letter, but there may have been no other way to investigate her claims.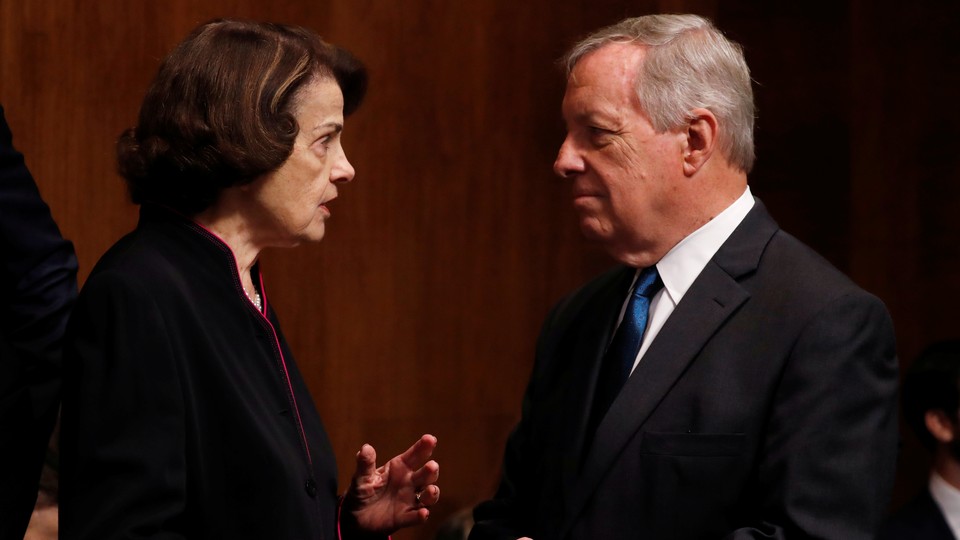 Immediately after President Donald Trump nominated Brett Kavanaugh to the Supreme Court, there was concern among progressives that Senate Democrats had no plan for stopping his confirmation. Democrats had barely laid a glove on Neil Gorsuch in 2017, and it wasn't clear they were better prepared for a new Supreme Court fight.
Adding to the impression of disorder was a shifting public line: First, Democrats assailed Kavanaugh directly. Then they hung back. Senator Dick Durbin described the Democratic leader Chuck Schumer's strategy to Politico: "All Chuck ever says in caucus, it's pretty well known: 'Keep your powder dry. Don't commit. Stay as neutral as you can, as long as you can.' It gives him some room to maneuver." Then, Democrats began meeting with Kavanaugh, having delayed one-on-ones. By the time Kavanaugh's appearance before the Senate Judiciary Committee had concluded in early September, there was still no sign Democrats had landed a punch.
Then everything changed. On September 12, The Intercept reported that Dianne Feinstein had a letter that "describes an incident involving Kavanaugh and a woman while they were in high school." Two days later, The New Yorker reported that Senate Democrats were investigating an allegation of sexual assault by a woman who knew Kavanaugh when they were both in high school. Two days later, the woman, Christine Blasey Ford, went on the record with The Washington Post. The rest of the story is familiar: more allegations against Kavanaugh, a new hearing where Ford and Kavanaugh spoke, the reopening of the FBI investigation.
Kavanaugh may very well be confirmed. If the abbreviated FBI probe doesn't prove any sexual misconduct, it could give fence-sitting senators a reason to vote for Kavanaugh, by imparting an official answer from law enforcement. Or the FBI, or someone else, might produce evidence that further imperils Kavanaugh; already, an undergraduate classmate and a police report have surfaced information that suggests Kavanaugh was not telling the truth about heavy drinking earlier in his life. In another era, Kavanaugh's nomination would likely have been withdrawn by now.
However late in the process, Democrats found a political weapon that has brought the Kavanaugh nomination to the brink. Yet the way in which the accusations emerged, climaxing in last week's dramatic testimony from Ford and Kavanaugh, raises questions about whether the allegations could have been handled more effectively—whether to protect Ford's privacy, as many of her advocates have complained; to protect Kavanaugh's dignity, as some Republicans have complained; to defend the sanctity of the Senate confirmation process; or, for that matter, to allow Democrats to reap the greatest political benefit. In seeking to save Kavanaugh's nomination, Republicans have also zeroed in on the Democratic handling of Ford's allegations in an attempt to discredit them as politically motivated.
Ford testified last week that she had sought to pass word of the alleged assault to members of Congress after reading a list of potential Supreme Court nominees that included Kavanaugh, in the hopes of preventing his nomination without any public fuss. But Ford didn't quite know how to go about that. On Friday, July 6, she contacted her local congresswoman, the Democrat Anna Eshoo: "I called my congressional representative and let her receptionist know that someone on the president's shortlist had attacked me." The following Monday, Trump nominated Kavanaugh, frustrating Ford's hope to get information to Congress before a nomination. Ford testified that Eshoo called her that day, and Ford met with Eshoo's staff and then with the congresswoman on July 18 and 20. Eshoo immediately decided the right person to deal with the matter was Feinstein, the senior senator from California and the ranking Democrat on the Judiciary Committee, and asked Ford for permission to speak with Feinstein.
"I contacted Dianne the next day," Eshoo told me. "I reached her and gave her an outline of the constituent, never mentioned her name. She requested a letter be written. It took [Ford] time to compose her letter. She gave us the letter to Senator Feinstein on the 30th. We had it delivered to Senator Feinstein on the 30th."
Eshoo told me she thought her office had handled a sensitive situation well. "I've reviewed this in my mind 1,739 times," she said. "I'm very hard on myself, and I'm not easy on my staff, because we're dealing with people and their lives. I really haven't come up with a regret about it."
At some point between July 30 and August 7, Feinstein called Ford to discuss her allegation. Ford said she next heard from Feinstein in an August 31 letter. She testified that she had no contact with Feinstein during this time period, and she didn't know if any of her lawyers had spoken with the senator or her staff. (She also testified that Feinstein's office recommended she hire Debra Katz, one of her attorneys, though she was not asked when that happened.)
In her opening statement Thursday, Ford said:
"In a letter dated August 31, Senator Feinstein wrote that she would not share the letter without my explicit consent, and I appreciated this commitment. Sexual-assault victims should be able to decide for themselves when and whether their private experience is made public."
It's not clear what Feinstein's office did between the early August phone call and the August 31 letter. (Spokespeople for Feinstein did not respond to a request for comment.) Even before Thursday's hearing, Republicans were complaining that Democrats had sprung allegations on Kavanaugh at the 11th hour. As I have written, that's in part because Republicans decided to push through the nomination as quickly as possible, determined to realize their decades-long quest for a conservative fifth vote on the Supreme Court before the midterm elections. The majority decided, for example, to move forward even after the National Archives said it could not produce all documents related to Kavanaugh's government service in the proposed timeline. On Thursday, Republican members focused on the timeline and accused Democrats of gamesmanship.
Senator Ted Cruz asked Chairman Chuck Grassley what he would have done if Feinstein had brought the allegations to him.
"We would have done like we have done with every background—or, let's say FBI report—that comes from the White House with a nominee, and then subsequent to that, because maybe the FBI got done with it three months ago, we do through the FBI or information comes to us, then we have our investigators, in a bipartisan way, both the Republicans and the Democrats, follow up on those—whatever those questions are or those problems that have to be worked out," Grassley said. Cruz argued that Ford's allegations "could have been heard in a confidential setting without Dr. Ford's name or Judge Kavanaugh's name being dragged through the mud." But Grassley's refusal to call Mark Judge, who Ford alleged was in the room when Kavanaugh assaulted her, as a sworn witness casts doubt on whether the Republicans were ever interested in fully investigating the matter.
Feinstein defended her handling of Ford's account, saying she was trying to respect a request for confidentiality from an innocent woman."I did not hide Dr. Ford's allegations," Feinstein said. "She asked me to hold it confidential and I kept it confidential as she asked."
Feinstein rejected the idea that the committee would have fairly investigated Ford's claims, noting the Republican refusal to call Judge as a witness. She said she did not hand Ford's letter over to the FBI, either, because she had promised to maintain confidentiality.
Rumors about the letter circulated on Capitol Hill, but Feinstein did not share it with Democratic colleagues on the Judiciary Committee until what CNN described as a "tense meeting" after The Intercept story. They urged her to hand it over to the FBI, which she did. Shortly thereafter, Ford's name and account did leak out, leading Republicans to conclude that a Democrat leaked it in an 11th-hour attempt to derail Kavanaugh's nomination, even at the risk of compromising Ford's anonymity and Kavanaugh's reputation. (Ford also told friends in California and Delaware about her account.) Ford testified that she began getting frequent questions from the press and ultimately decided to speak with the Post, but it's not clear who leaked her name and the existence of her letter. Feinstein has denied that she or her staff leaked it. Ryan Grim, who wrote the September 12 Intercept story, says that neither Feinstein nor her staff leaked the letter or its existence to him. Senator Tom Cotton, a Republican, says Feinstein should be investigated for the leak.
One can imagine an alternative scenario for how this might have played out. It's hard to imagine that Trump would have made a different choice, even if Eshoo had managed to bring Ford's claim to the White House's attention. The president has repeatedly cast doubt on allegations of sexual assault, and Ford would have represented a single, anonymous claim. The more relevant question is whether anything could have been done differently in August. Feinstein argues she couldn't act, because of her concerns about confidentiality, and both Ford's account and the leak offer some credence to that. What is not clear is what Ford hoped Feinstein would do with the letter—presumably, she hoped for some sort of investigation, while maintaining confidentiality. Ford's lawyers did not respond to requests for comment. Harsh attacks on Ford from some supporters of Kavanaugh back up Ford's worry for herself, and it's hard to imagine that a Judiciary Committee investigation into Ford's allegations could have been completed without the press finding out—given that a reporter found out even when Ford's letter was closely held. One other question: Would Feinstein have kept the story completely quiet if Ford's letter hadn't leaked, or would she have urged Ford to come forward publicly?
Meanwhile, there are a growing number of questions about whether Kavanaugh misled the Judiciary Committee under oath during his testimony—not necessarily about Ford's allegation specifically, but about a range of ancillary answers, including statements in his high-school yearbook and whether he drank to excess. That points to another road not taken. Several Democrats have complained that Kavanaugh misled them during his 2006 hearings for confirmation to the D.C. Circuit Court. The questions at hand include Kavanaugh's involvement in George W. Bush–administration decisions about torture; his role in Bush nominations to the federal bench; and his handling of stolen documents.
Durbin says Kavanaugh misled him under oath by claiming he had no involvement in discussions of torture, despite reports and documents suggesting otherwise. Senator Patrick Leahy has said Kavanaugh was "not truthful" when he said he did not know that he'd been given documents stolen from Democratic senators. And former Senator Russ Feingold wrote in September that Kavanaugh lied about working in the White House on Charles Pickering's failed 2001 judicial nomination. But there has not been a concerted Democratic push to paint Kavanaugh as a perjurer, at least not until after Thursday's hearing, meaning these accounts have gotten less attention.
It isn't hard to understand the Democrats' frustration over the speed with which Kavanaugh's nomination has been pushed through the Senate before the midterms by Majority Leader Mitch McConnell, who blocked Barack Obama's nomination of Merrick Garland to the Supreme Court by refusing to even consider it for eight months prior to the 2016 presidential election, paving the way for Trump to appoint Gorsuch to the seat in early 2017.
But a minority party in the Senate will always have a difficult time stopping a Supreme Court nominee. Nonetheless, given the potency of the allegations against Kavanaugh, it's hard not to wonder whether Democrats could have wielded them in a way that would have spared Ford exposure or avoided the nationally traumatic experience of Thursday's hearing.
Nonetheless, "the justice system is messy, John," Senator Amy Klobuchar, a member of the Judiciary Committee, said on Face the Nation on Sunday. "Things come in at the last minute all the time before trial at the last minute. The question is not what happened in the past. We can examine that later. There may have been better ways to handle this. The question is: When you have power, what do you do with that information? Do you just sweep it under the rug and say, well, what happened in a house doesn't belong in the courthouse? No."
The time for examining what those "better ways" might have been will arrive soon.