Jon Tester Bets the Farm
In a tight race, the Montana senator is trying to show the state's white working class that it still has a home in the Democratic Party.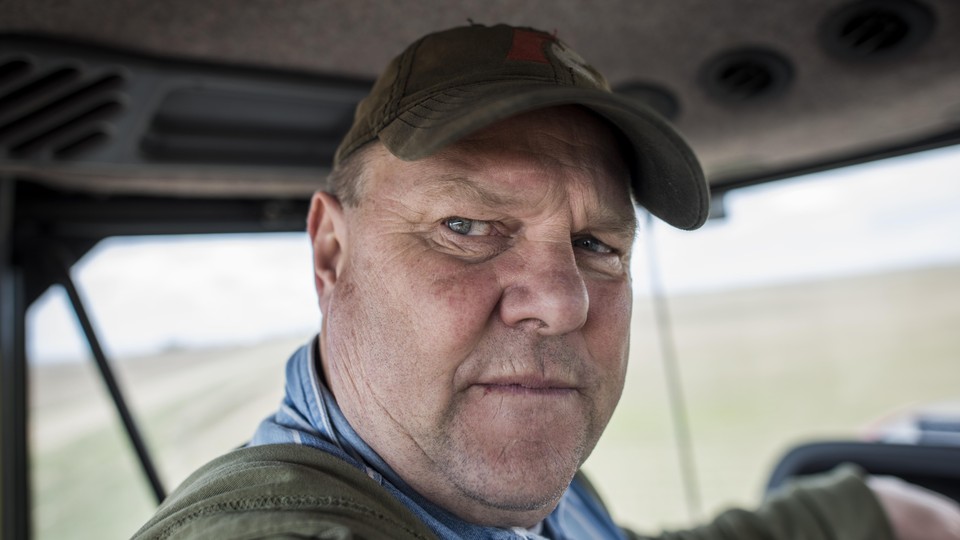 Senator Jon Tester and I are in the cab of his Case IH combine, rolling through a field on his 1,800-acre farm outside Big Sandy, Montana. I'm trying to get him to talk about identity politics and the future of the Democratic Party. He's trying to harvest wheat.
It's a Tuesday morning in August. This year's harvest happens to coincide with the closing weeks of one of the most closely watched Senate races in the midterm elections. Tester is campaigning for a third term as a Democrat in a state that went for Donald Trump by more than 20 points. The inside of a combine might not be the obvious place for a senator facing such a challenge, but wheat, he notes, doesn't harvest itself.
Tester is some 300 pounds and north of six feet in his cowboy boots, with a flattop haircut and three missing fingers from an accident with a meat grinder when he was 9 years old. He is wearing a frayed baseball cap and a blue button-up with dirt smeared on the front.
He looks less like a standard-bearer of the Democratic Party than like the kind of guy who long ago abandoned it.
I ask about the charge that the Democrats have forgotten the white working class—a demographic that includes most of the voting population of the state.
"If we become a party of 'These guys are for the white guys, and these guys are for the brown guys,' I don't think that's healthy for the country at all," he says over the thrum of the combine engine. "I think we've got to be for everybody."
What does he make of rising stars like Alexandria Ocasio-Cortez and the perceived leftward swing of the party?
"I think difference of opinion is a good thing."
Tester is sticking to the center, and that shouldn't come as a surprise. He first won office in 2006 with a less-than-1-percent margin over the Republican incumbent, Conrad Burns, and scraped through a tight reelection campaign in 2012. He has never won a majority. His success has relied on attracting independents and getting conservatives to cross party lines.
He is now defending his seat against both his opponent, State Auditor Matt Rosendale, and the president of the United States.
The trouble started this spring, when Tester, as the ranking member of the Committee on Veterans' Affairs, released a list of allegations of professional misconduct against Ronny Jackson, Trump's pick to lead the Department of Veterans Affairs. Jackson denied the allegations but withdrew from consideration the next day.
The president would not let go so quickly. "Tester should resign," he tweeted. In July, Trump flew to Great Falls, Montana, to rally for Rosendale. He dedicated much of his speech to Tester. "I know a lot of people from Montana," Trump told the crowd. "You've got to explain that one to me. How did he get elected?"
That's a question the Tester campaign hopes it can still answer. Trump has since visited Montana twice more to rally for Rosendale—both times in the center of crucial districts for the Democrats. His most recent appearance came shortly after Tester's vote against the confirmation of Brett Kavanaugh to the Supreme Court.
"The Democrats have truly turned into an angry mob, bent on destroying anything or anyone in their path," Trump said. "And your senator is one of them."
Support for Trump has cooled in Montana, but he still has the approval of the majority of voters in the state. Rosendale, who had been trailing in the race all summer, has gained considerably in recent weeks. Polls now show the race as a toss-up.
For Tester, who at this moment has one hand on the steering wheel of the combine, victory in November depends on convincing a base of mostly Republican voters that he can offer something that transcends party: an up-close understanding of life in rural America.
Twenty-four hours earlier, Tester stood inside the Democratic Party field office in Missoula, Montana, surrounded by dozens of supporters and several sweating tubs of ice cream: "Flattop Fudge" and "Sharla's Strawberry Rhubarb," named in honor of his wife of 41 years.
He had come to rally volunteers to knock on doors and make phone calls, and his folksiness was on full blast. "What the hell is a field organizer?" he boomed, eyes twinkling at the crowd, to a campaign worker who had just introduced herself. "Do you go out and organize weeds in the field?"
From a distance, Montana might look like just another red state in the expanse between the coasts. The state legislature is Republican-controlled, and voters have gone for a Democratic presidential candidate just twice since the Truman administration. But the Democratic Party has captured more than half the governorships and more than three-quarters of Senate seats over the past century. The state leads the nation in ticket-splitting in national elections.
The dominant politics are a kind of anti-politics: "We don't like big government, we don't like big business, we don't like outsiders," David Parker, a political-science professor at Montana State University, told me. "That can help you as a Democrat. That can help you as a Republican."
Tester is a pro-gun social moderate who has strayed from Democratic ranks on issues such as banking reform and public-land use. But perhaps more central to his appeal is his image as the Politician Next Door.
He is the only sitting U.S. senator who is also a working farmer. He drives an old pickup and says "I'll be damned." If he doesn't know you, he probably knows your neighbors.
He moved through supporters in the field office like a pastor at a church potluck. When I introduced myself, he asked where I was from, and I named the small town in Montana near where my parents had farmed when I was growing up.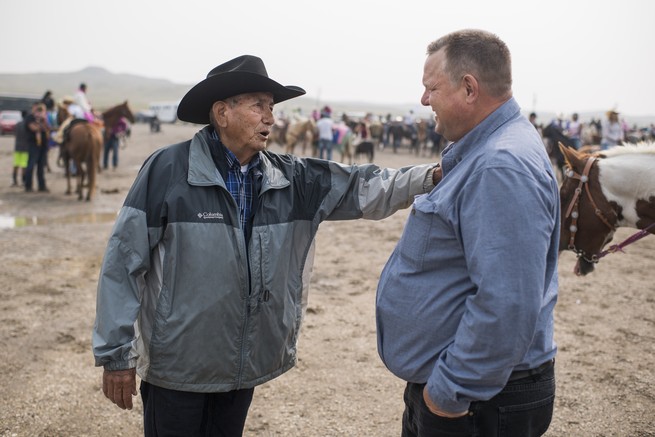 "Goddamn," he said. Did I know a guy by the name of … ? The guy in question turned out to be the son of the cafeteria cook at my elementary school, which was 300 miles away from Big Sandy and had just over a dozen students when I graduated from sixth grade.
In a state as sparsely populated as Montana, with 1 million people scattered across 147,000 square miles, seeing eye to eye with your voters can be more than a metaphor. And in a campaign year without a full recess, and with crops to get in, Tester was trying to maximize his time.
He had already done half a dozen interviews before the ice-cream social, and from there was heading to a meeting with the chamber of commerce before making an appearance at a Pearl Jam concert at the university football stadium. The bassist, Jeff Ament, also grew up in Big Sandy—the son of the barber who gave Tester his first flattop—and the band was putting on the concert to help get out the vote.
When he finished speaking outside the stadium, Tester was mopping sweat from his face with a wad of tissue. Concertgoers flowed toward the admissions gate, parting around volunteers with voter-registration clipboards like they were rocks in a stream. "No politics tonight," a girl in an ankle bracelet murmured, leaning into her boyfriend.
The show started late. Stage lights twisted and flashed to the pulse of the amplifiers. Weed smoke drifted up toward the mountains. By the time the band members came out for their second set, wearing T-shirts that read TESTER in the shape of the state of Montana—Eddie Vedder's under a bomber jacket decorated with stars and stripes—the senator and his wife were in their pickup headed up the highway, on the four-hour drive back to Big Sandy.
On the combine the next morning, Tester squinted out the windshield at the grain bristling on the horizon. He had gotten a late start, but if the weather cooperated and nothing broke down, he would cut 70 acres before flying back to Washington.
He and Sharla raise wheat, peas, barley, and safflower on the same stretch of dirt his grandparents homesteaded a century ago. They have no hired help, and their two kids have grown and moved away. So nearly every weekend, he takes two flights from D.C. to the airport in Great Falls, then drives 80 miles back to the farm. Most Mondays, he wakes up before 3:30 a.m. to fly back to D.C. in time for the evening vote.
The Founders didn't look at government as a full-time job, he told me. The Montana state legislature, where he got his first job in politics outside of a stint on the Big Sandy school board, meets only every other year. The rest of the time, lawmakers are home working next to the people they represent.
"I think it's the best model in the world," he said. "It makes it so you still stay connected to the real world."
The farm has been a defining feature of his candidacy since his first campaign ad in 2006 showed him tossing hay bales out of a barn loft. It has now become a main line of attack on his opponent.
Rosendale, who made his career in real estate on the Eastern Shore of Maryland before moving to Montana in 2002, called himself a rancher throughout his primary campaign—until Talking Points Memo reported that the state Department of Revenue was unable to find records of Rosendale having ever owned a cow.
That was a score for Tester and his supporters, who have cast "Maryland Matt" as an East Coast multimillionaire and political opportunist. The campaign has emphasized that Rosendale purchased hundreds of acres of farmland when he moved to the state for the purpose of converting them into a subdivision. The Montana Democratic Party created a video mash-up of Rosendale pronouncing Montana with a distinctly mid-Atlantic accent.
Rosendale's strategy in the general election has been to switch the focus to Washington. He points to Tester's townhouse on Capitol Hill, and to the fact that Tester has received more than $500,000 in campaign contributions from lobbyists this year—more than any other senator, as of this writing—as evidence that he has become a fixture of the Democratic establishment. Rosendale often repeats a line that Trump has used during each of his visits to the state: "A vote for Tester is a vote for Chuck Schumer and Nancy Pelosi."
For his part, Rosendale—whose staff did not respond to requests for comment on this article—describes himself as "a conservative who's willing to back the Trump agenda." Amid the fallout from the TPM article, he changed the first line of his Twitter bio from "conservative rancher" to "Trump Conservative."
"He's put all of his eggs in the rubber-stamp basket," Tester told me, in a mash-up of barnyard and D.C. clichés that spoke to a central claim of his own candidacy: He makes decisions by going out and talking with his voters. The biggest question he gets from Montanans, he says, is: Why can't members of Congress work together? He promotes the fact that Trump has so far signed 20 of his bills into law.
"I think there's plenty of folks out there, whether they agree with me or not, they appreciate the fact that you're listening to them," he said. "And I think that's how you win. I don't think it has anything to do with a D or an R when it comes right down to it. It has more to do with: Do you really understand the challenges we face?"
Downplaying the role of political parties, for someone in Tester's position, is a survival tactic. It may also be a pretty good read on how Montanans vote.
A few days before hitting the campaign trail with Tester, I was walking through a cow pasture with my dad, a fourth-generation Montanan who ranches in the southern half of the state. He and my mom met working as legislative aides for Max Baucus, the state's longest-serving Democratic senator, before leaving politics behind to raise a family back home.
He told me a story about Baucus's first bid for the Senate, in 1978. In the last days before the election, Baucus was losing the lead over his opponent, Larry Williams, when the state AFL-CIO mailed out 50,000 copies of an old photograph showing Williams with long, shaggy hair and wearing what looked like love beads. The photo ran in newspapers across the state and on page A2 of The Washington Post, and Baucus vaulted into office with an 11-point victory.
The lesson was simple: Montanans vote for Montanans.
But his victory points to something deeper about how place relates to politics. The political scientist Katherine Cramer, who spent years doing field work in small-town Wisconsin, uses the term rural consciousness to describe the perspective through which the people she met saw their political choices. For many rural residents, she found, a sense of not getting a fair share of resources, representation, or cultural status has contributed to a powerful tribal identity—one based not just on race or class but on geography.
Kal Munis, a sixth-generation Montanan who is now a graduate student in the University of Virginia's politics department, recently led an experimental study that suggests how Cramer's theory of rural resentment might manifest in voting behavior. He and his co-author showed participants a campaign mailer featuring a fictional Senate candidate against one of three randomly chosen backdrops: "urban" (the skyline of the largest city in the participant's state), "rural" (scenery from the state's largest state or national park), or a control that showed no geographic markers. Rural participants were less likely to approve of the "urban" candidates compared with the control, and less likely to agree that those candidates understand their needs—an effect that didn't hold in the opposite direction.
The phenomenon might be even stronger in Montana, where even the cities have the feel of small towns. David Parker, the MSU professor, believes that the state's history of resource extraction—from the copper kings to the railroad companies to the sodbusters who depleted the topsoil and fled during the Dust Bowl—has created a sense of being "under siege from without."
The resulting strains of individualism and collectivism—a guardedness against outsiders, and a strong sense of community among those who stayed—could help explain why Montanans don't split easily across party lines. "I have probably never voted for a straight ticket in my life, and I am a Democratic U.S. senator," Tester told me.
Tester has been able to win two terms as a Democrat in a state where most people identify as Republican for one of the same reasons Trump swept rural America by almost two to one: He tells voters he sees them.
But a race through the center of the most polarized electorate in modern history will test whether place identity is still stronger than partisanship.
At a meet-and-greet with Rosendale in Billings, among several Make America Great Again hats and one straw cowboy hat, I met a soft-spoken man with white hair named Sonny Broesder. Broesder graduated a year behind one of Tester's older brothers at Big Sandy High School and later became the superintendent of the district. He grew up a "staunch Democrat," he told me: the son of a union man and an admirer of John F. Kennedy. He had voted for Tester in 2012. But he had come to the meet-and-greet because he felt that the party had moved away from him.
Before he retired from education five years ago, he was growing more and more frustrated with policies initiated in Washington, D.C., that he felt had no relationship to what worked for a rural state. Along with several others in the room, he was also worried that the Democratic Party was drifting toward socialism. He was all for extending a helping hand, he said. But the federal government seemed to be getting bigger and bigger, and nobody—Tester included—seemed to be thinking about the taxpayers like him who were holding it up.
"I think there should be that sort of attitude where I want somebody who's going to go back there and represent my values, and it may be a Democrat," he said. "But right now it's so divisive."
Still, even Broesder wasn't sure that the division would change the fundamental way Montanans vote. The day before Trump came back for his second rally in the state, Broesder told me he had spent the morning making phone calls to likely Republican voters on behalf of the Rosendale campaign. He had spoken with about a dozen people so far. Three told him they decide how to vote based on the person, not the party. They were still making up their mind.
Tester was 21 years old when he took over the farm from his parents. The place feels suspended in time. He and Sharla live in a modest house with peeling paint and planters out front full of plastic flowers. A butcher shed in the yard still features the meat grinder that claimed his three fingers. He sometimes turns up bricks from the original homestead when he's plowing the fields.
"We wouldn't be here without the government's help back in the 1930s," Tester told me.
FDR inspired him to become a Democrat. His family arrived in Montana just before the droughts descended and blew many homesteaders back out with the dust clouds. The New Deal brought price stability and better ways of caring for the land.
But that way of life is receding. There were 40 students in his graduating class at Big Sandy High School; now there are hardly more than that in the whole school. The population of the county is just over half of what it was at the peak of the homestead era.
His positions—regulating against market consolidation, investing in rural infrastructure like airports and broadband, addressing climate change—are personal for him.
He is 62 years old. He says he wants to farm long enough to turn the place over to one of his grandkids. The oldest, 11, recently drove a tractor by himself for the first time.
Every few circuits around the field, Tester pulled the combine alongside a semitruck parked by the road to pour out the grain from the holding tank. He would haul the load to a grain elevator in nearby Fort Benton to be cleaned and milled.
"These goddamn weeds," he said, getting out of the cab and climbing the tank to knock loose the plant gunk that was stopping up the machine.
The farm has been the foundation of his political career. It's probably his best hope for staying on Capitol Hill. But as I watched him disappear into the tank, the enormous machine a speck against the vastness of prairie and sky, it also seemed like a refuge from all that.
"Agriculture drives most people crazy," Tester told me at the ice-cream social. "It keeps me sane."
Wasn't that all anyone was looking for—a sense of place? He got back into the cab, and together we watched the blades start churning again through the golden wheat.
When the semi load was full, Sharla came out to take over the combine, and Tester got behind the wheel of the truck. The sun was high as he turned out of the field and back onto the road.