Cory Booker's Four Standing Ovations in Des Moines
The New Jersey senator became the first top-tier presidential candidate to go to the primary state, and immediately confronted what running against Trump will be like.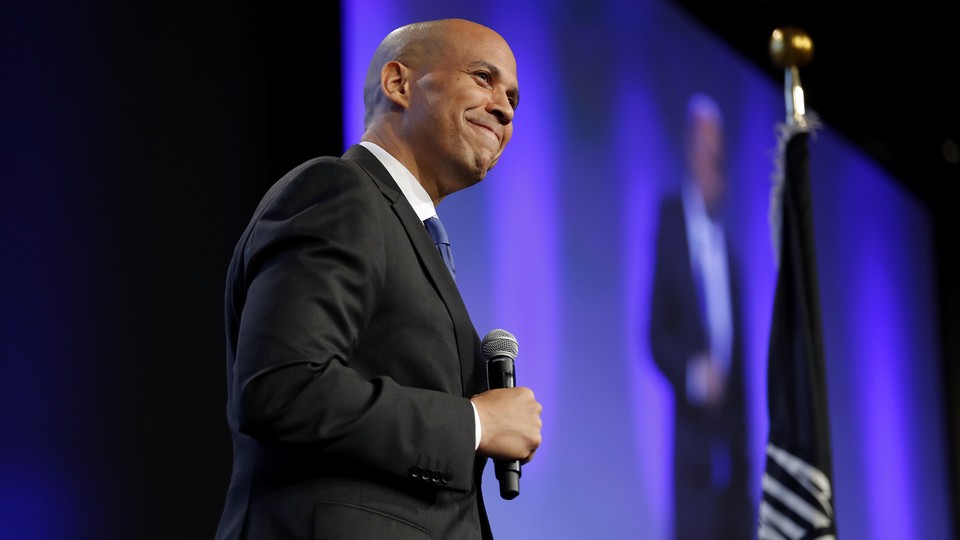 DES MOINES, Iowa—Cory Booker was supposed to get here on Thursday. Then it was moved to Friday. Then Saturday. He ended up on the ground about an hour before he was due onstage, straight from the Kavanaugh vote to the Iowa Democratic Party dinner, courtesy of a fast flight on a private plane that his aides were exhausted from working out logistics for and not at all eager to give details about.
Welcome to presidential campaigning in Donald Trump's America. It's going to be on Trump's terms, on Trump's schedule. "He makes the weather," as an operative working for one of the other likely candidates put it. Everyone else has to deal with the cost, the stress, the change-ups, the absolute inability to define what the topic of conversation is.
"There's nothing I can affect tomorrow. And in the Trump world, I hate to say this, we don't know what next week will look like. I'm staying focused the best I can," Booker told me, the next morning, at the almost cliché local hot spot Java Joe's, a few minutes before heading to a three-hour church service at the old congregation where his grandmother, a bona fide Des Moines native whose family had come from Alabama to mine coal in nearby Buxton, once belonged.
"He's a variable in this equation that is uncontrollable," Booker said.
Booker's trip was in the works for almost a year. In a career that's been both ridiculously lucky and orchestrated to the point of seeming contrived, the stakes couldn't have been higher: Here he was, the celebrity senator from New Jersey, in Des Moines, the first of the clearly top-tier candidates to land in the state that's a one-word shorthand for "Yeah, I'm running for president." It's a month before the midterms, but two or three months at most before Booker will have to decide whether to pull the trigger on the campaign he and his aides have been quietly prepping back home and on the ground.
Then there's that luck, the reason he buys his own lines about everything happening for a reason. Anthony Kennedy hadn't retired when he decided to come. Christine Blasey Ford hadn't come forward to delay the confirmation vote that Democrats always knew they were going to lose. Booker didn't know he was going to be making his presidential debut on Democrats' darkest night since November 8, 2016.
He would have done pretty much the same routine no matter what, because that's what he does: method performances of emotions lived out fresh onstage each time, moments from his life stamped into parables of the new agey Gospel of Cory, each one introduced with "I want to tell you a story …" In the Senate and in the presidential field taking shape, he's more a bundle of feelings than an agenda.
No one walked out with any clue where Booker stands on almost any issue, aside from a riff that talked about the Democratic commitment to Medicaid, Medicare, voting rights, civil rights, LGBTQ rights, "the party of people who believe that someone who is nice to you but is not nice to the waiter is not a nice person." (Booker greeted janitors backstage before the speech, and walked around the room again afterward, shaking hands that were dumping the leftover food into the trash.)
But they did walk out saying things like "I so needed that today." The skepticism wasn't about his controversial vote on a resolution about importing prescription drugs to lower prices or the work he's doing pushing sweeping reforms to the criminal-justice system. It was about whether there'd be a big enough market, outside Democrats willing to buy tickets to a dinner to hear him speak, for a message of inclusivity for a black senator from the East Coast. "He was coming in as the savior, but this was the choir," one said.
That's the other part of presidential campaigning in Trump's America already becoming clear. No one read a single one of the policy papers that Hillary Clinton's staff labored over and put out in 2016. The 2020 election will be for the future of the country and the world, but no one's going to read any policy papers this time around either. Voters in Iowa and everywhere else are thinking about the Democratic candidates as profiles and people, not as records. They don't like the way they're feeling. They want to win. They want to feel better about the world. They really, really want to win.
Every Booker speech runs long—this one was 47 minutes, with an email that popped up from the Iowa Republican Party in the middle calling him an "East Coast Grandstander"—but it wasn't so much the standing ovations that stood out (there were four) as the focused silence in between. Booker's own staff members, who have all given up on trying to get him to keep it tight, were caught off guard seeing an audience hang on his words like this. Especially an audience that has seen it all, in the state that will still have the biggest say in picking the next nominee.
"People were looking for someone to give them hope, someone to inspire them," said Troy Price, the Iowa Democratic Party chair, said. "Today, it worked. People were looking for someone to give them hope, and someone to inspire them. And the senator did."
"We all needed a sense of revival," Booker told me later. He kept talking about "fellowship," calling it "cathartic."
Saturday morning, Senate Majority Leader Mitch McConnell did a Kavanaugh victory lap of interviews about how the Democratic "mob" had been a gift. Saturday night, Trump warned a Kansas rally about the danger of an angry mob.
Sunday morning, in a big black volunteers' van, riding to his grandmother's old church after sucking down his iced tea and happily taking a few selfies on request (he's also pioneered the video selfie—20 or 30 seconds of talking into the camera about how happy he is to meet the person he squeezes into the frame next to him, usually with some New Jersey reference jammed in), Booker said, "There's no grace in that terminology."
"If that's what [McConnell's] definition of mobs are, then our country from its founding has seen the same kind of righteous mobs," he said. "This nation, I feel it in the core of my being—what we need right now is magnanimity. What we need right now is not leaders that are going to pit us against each other, but leaders that are going to call us to unify."
When I said he sounded like he was making an argument for shaping the national conversation through a presidential campaign, he tried to say he could do it as a senator, but he didn't resist for long.
"We need people that are going to be the stitching that holds this nation together. And that's part of my life purpose," he said.
Then into the church. He stayed for three hours.
Booker's team had built a schedule of campaign stops with local candidates to lead up and build up to his appearance at the dinner, so he'd come in familiar to them. As famous as Iowans are for being nice, they're also famous for being dismissively demanding of every politician who comes through. The easiest quote for a campaign reporter to get from a local activist is about how each candidate will have to put in the time, doesn't matter who they are. These are Democrats no one outside the state has ever heard of, but who can tick off how many times Barack Obama sat in their living room, or who was where when on Gary Hart, or how early they signed up with Jimmy Carter back when he surprised everyone in 1976 and first turned the Iowa caucuses into a big deal.
These people don't care that Booker is one of the most in-demand Democratic campaigners everywhere else, or that he literally declared himself Spartacus in the middle of the Kavanaugh hearings. A presidential candidate isn't serious to them until they don't have enough fingers to count the number of one-on-one conversations they've had.
Instead, the first time the Iowa Democrats got to see him in person was up onstage Saturday night.
Exactly what he was trying to avoid.
"Man plans, God laughs," Booker started off by saying.
Then he turned it to the past two weeks in Washington.
"I heard some laughter, but it wasn't from the Lord," Booker said. "I heard a president mock and laugh and jeer at a survivor for telling her story. I heard cheers and joy coming after a vote pushed a nominee forward."
Right around then, Trump—who'll be in Iowa himself on Tuesday, for another rally, and has already shown how much of an active player he'll be within the Democratic primary race—was calling Booker out at his rally as a "horrible mayor" and riffing on a column the senator wrote in his college newspaper, making the rounds of conservative media as it has in years past, about, in his 1992 telling, "groping" the breast of a drunk girl in high school while they were kissing and having his hand pushed away. The column, though, was about alerting students 25 years ago to the problem of sexual assault and drinking, as part of work he was doing on campus as a rape-survivor peer counselor.
Booker's response: "I will never let him pull me so low as to hate him."
That's the too-sweet touchy-feely that comes out of a guy who travels the country talking seriously about the "conspiracy of love." It was the last question Booker took from reporters in a corner of the convention center (Fall Out Boy was playing on the other side of the complex).
The first question, naturally: "So … are you running?"
The answer is yes—or at least, obviously very close to yes.
As is standard for this silly stage of the process, Booker made a joke about going jogging in the morning. The reporters did their polite chuckle at the dumb running joke. Booker did the required pivot, actually saying, "But seriously …" before he started talking about all the other candidates up for election in a month whom he was really there to support.
Booker and his staff halfheartedly stress that Iowa is the 21st state he's been to during the midterms, and that they would have come here sooner if not for the implications about his own future. This, after all, is the heartland of the Obama-Trump voters in a state that was solid blue and then solid red (the 2016 margin was closer in Texas than Iowa). There's a pretty good shot of a Democrat beating the incumbent Republican governor, at least two GOP-held House seats are in serious play, both chambers of the state legislature are possibly on the verge of flipping. Democrats are even flipping out about the young African American woman running for secretary of state. And he did spend Sunday meeting with the Iowa black caucus, then Monday with the quickly rescheduled campaign stops for House and other candidates.
But it was all built around that speech.
Booker has dozens of riffs he draws from, depending on the event. Newark makes a lot of appearances. It's hard to get one these days that doesn't mention the housing-discrimination sting his parents were part of that ended with his father having a dog sicced on him. He likes talking about the march in Selma, how he couldn't believe that he and his mother were able to sit down with John Lewis on the day he was sworn in to the Senate.
Saturday ended with a new one.
Not just the civil-rights movement. Not just the Edmund Pettus Bridge. Not just what happened at the end of the march, when marchers stood at the Alabama capitol and demanded change. Not just a Martin Luther King Jr. quote from that day, but the "arc of the moral universe is long, but it bends toward justice" quote that Barack Obama uses nonstop.
It was the only moment the whole night when Booker, who'd been standing away to the side of the podium, preach-performing with a mic in hand, read from a piece of paper.
"How long will justice be crucified, and the truth have to bear it?" he quoted King saying. "How long? Not long. Because the truth, crushed to the earth, will rise again."
Booker turned it on the crowd, mostly white except for the five tables of his cousins and other family that filled out part of the room, but all of them eating it up as he went full preacher.
"How long will we respond to their hatred with love? How long will it take? Well, I'm going to tell you, not long now," Booker said, and they were all on their feet, cheering.
"How long until we answer the president's hate with our universal love? How long?" he said.
They shouted back, "Not long!"
"It's almost November, and if we stand together, and work together, and shuttle together, and love each other like brothers and sisters, then justice will roll down like water, and righteousness like a mighty stream."
Any other night, it would have been too much. Way too much. This one, they ate it up.