If Trump Doesn't Act on Jamal Khashoggi's Apparent Murder, Rubio Says Congress Will
The Florida Republican said the Saudis seem to be involved in the journalist's disappearance and guaranteed "a very strong congressional response."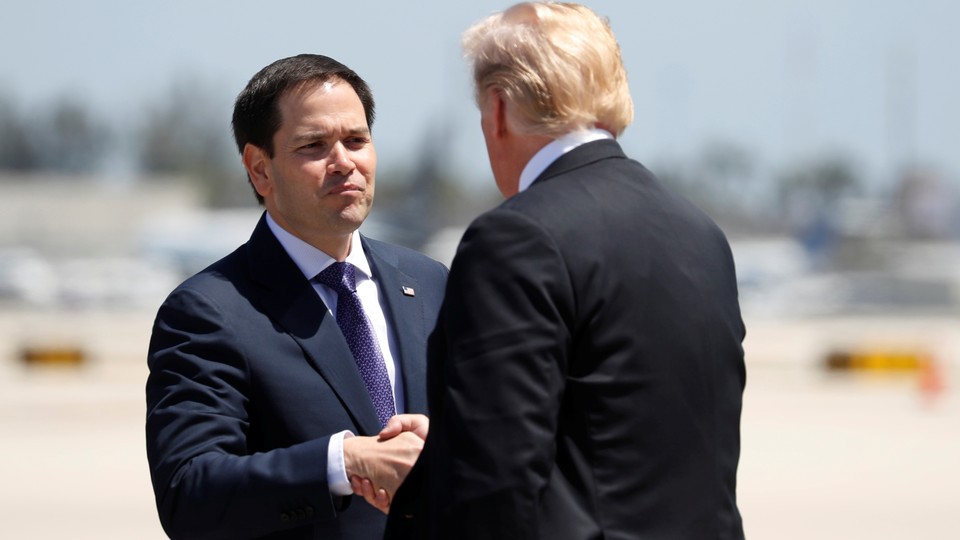 As the days drag on with no word from Jamal Khashoggi, the missing Saudi journalist allegedly killed by a Saudi assassination squad, the question shifts from "What happened to Khashoggi?" to "What will America do about it?"
On Sunday, Senator Marco Rubio of Florida, the No. 3 Republican on the Senate Foreign Relations Committee, appeared on three separate news programs to argue for accountability if it proves true that Saudi operatives "went medieval on him."
"I believe the Trump administration will do something. The president has said that," Rubio said on CNN's State of the Union. "But if he doesn't, Congress will. That I can tell you with 100 percent certainty. With almost full unanimity, across the board, Republicans and Democrats, there will be a very strong congressional response."
Khashoggi, who had been living in exile in Washington, D.C., over the past year, went into the Saudi consulate in Istanbul on October 2 for a document to certify his divorce so that he could marry his Turkish fiancée. As far as anyone knows, he never came out. The Washington Post, which published columns by Khashoggi that were highly critical of Saudi Crown Prince Mohammed bin Salman, reported several days ago that Turkish officials have told the U.S. government about audio and video recordings proving Khashoggi was killed and dismembered by a Saudi hit squad. Saudi Arabia denies having anything to do with Khashoggi's disappearance.
Rubio isn't buying the Saudi denials. "There's no other explanation for it, because if there was video of him leaving [the consulate, then the Saudis] would have shown it by now," he said on CNN.
Rubio also took issue with Donald Trump's oft-stated reluctance to cancel multibillion-dollar arms sales to Saudi Arabia. While he pointed out that military deals bring more than just revenue—winning the U.S. leverage due to the need for training, maintenance, and parts that Russia or China cannot supply—Rubio said on CBS's Face the Nation that those lucrative sales should not be sacrosanct: "There's not enough money in the world for us to buy back our credibility on human rights."
Senator Jeff Flake, another Republican on the Foreign Relations Committee, agreed that there doesn't appear to be any other explanation for Khashoggi's disappearance. On ABC's This Week, he expressed less hesitance than Rubio about canceling a military deal. "I do think that arms sales will be affected," he said, adding that controversial U.S. support for the Saudi war in Yemen could also be at risk.
Rubio joined calls for Treasury Secretary Steven Mnuchin to cancel his trip to Saudi Arabia for an investor conference that begins October 23. "I don't think any of our government officials should be going and pretending as it's business as usual until we know exactly what's happened here," he said on CNN.
Larry Kudlow, the White House economic adviser, claimed on both This Week and Fox News Sunday that Mnuchin was going because the conference is about "terrorist financing." While Mnuchin did make a speech on the topic during last year's gathering, it does not appear anywhere in the published schedule for the second annual meeting, which Reuters describes as "the biggest show for investors to promote Saudi Crown Prince Mohammed bin Salman's reform vision."
The Trump administration and the president's son-in-law, Jared Kushner, have forged close relations with Saudi Arabia and the crown prince, united in their staunch opposition to Iran and Barack Obama's Iranian nuclear deal, which Trump has walked away from. A leading Israeli newspaper calls Kushner's relationship with bin Salman a "bromance." President Trump made his first trip abroad to the desert kingdom.
For those hoping for strong action on Khashoggi's alleged murder, Trump did not encourage optimism last week. On Tuesday, he said "I know nothing" about what really happened, and "hopefully that will sort itself out"; on Thursday, he emphasized that Khashoggi, a permanent resident, was not a U.S. citizen. Yet the same day he also said in a 60 Minutes interview that aired Sunday night that Saudi Arabia would face "severe punishment" if the reports prove true.
Last week, the Republican chairman of the Senate Foreign Relations Committee organized a bipartisan letter invoking a 2016 law to order a human-rights investigation into Khashoggi's disappearance and presumed death. Bob Corker also told CNN his instincts say that Saudi operatives murdered Khashoggi. Lindsey Graham, a prominent Republican senator who's lately been a staunch Trump ally, promised "hell to pay" if the allegations are true.