Collins, Heitkamp and the Essence of Credibility
The two moderates listened to the same testimony and came away with very different takes on Brett Kavanaugh.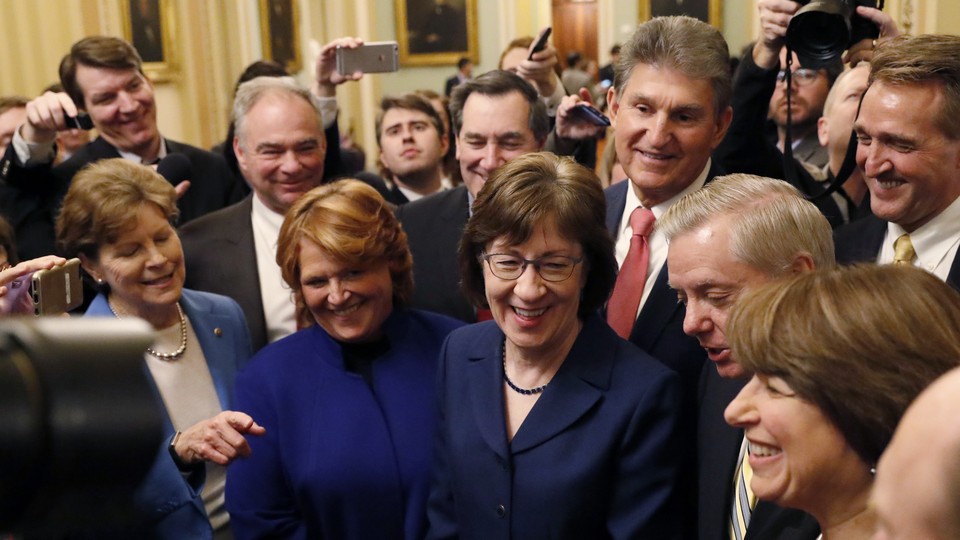 Susan Collins says her vote isn't likely to play well with Maine voters, whom the fourth-term Republican must face again in two years if she seeks reelection from a state that last backed a Republican presidential candidate in 1988. She says personal friends told her their own years-old stories of sexual assault. A progressive crowdfunding campaign quickly raised more than $3 million for a future Democratic opponent. Her position was pilloried on NBC's Saturday Night Live as, "It's important to believe women, until it's time to stop."
Heidi Heitkamp's political reckoning will come much more quickly, in next month's midterm elections. Before her vote on Brett Kavanaugh, the first-term North Dakota Democrat already was polling slightly behind her challenger, the state's sole U.S. representative and a Republican in a state that went for President Trump by 35 points. She may have bumped her race from "toss-up" to "leans Republican."
Both senators could pay a political price for their votes Saturday, when Kavanaugh was confirmed 50–48, in the narrowest margin for a Supreme Court justice since 1881. Each of them say their choice nearly went the other way. And they both ask voters to trust their decision.
Sunday on CBS's 60 Minutes, Heitkamp said she "probably" would have voted to confirm Kavanaugh based on his 12-year record on the federal bench. She doesn't express a blanket opposition to conservative judges; she supported Neil Gorsuch last year along with just two other Democrats (West Virginia's Joe Manchin and Indiana's Joe Donnelly, who are also up for reelection in red states). She said she had kept a "completely open mind" and found that she liked him personally.
But then came the allegations of sexual misconduct and the testimony by the psychologist Christine Blasey Ford, who said the judge had assaulted her when they were teens. Heitkamp said she found Ford's story "believable," while Kavanaugh's opening statement blasting Democrats for his treatment was "disturbing"—and his combative responses to questioning were "jaw-dropping." She watched his testimony again with the sound off to pick up on what he was communicating beyond the words he was saying, she recalled: "I saw a level of anger and combativeness that I thought was not something that would qualify you to sit on the Supreme Court."
Collins said that day could have been a turning point for her as well.
"After hearing Christine Ford's very compelling and painful testimony, I thought, 'Oh my goodness, he perhaps needs to withdraw,'" she recalled on CNN's State of the Union.
Yet she was convinced by Kavanaugh's "forceful denial, and the anger and anguish that he showed." He may have "stepped over the line" with his aggressive approach, and she wished he didn't take a shot at the Clintons, but Collins found his indignation understandable in the face of salacious allegations.
Ultimately, without additional evidence to corroborate Ford's account, Collins opted for a presumption of innocence, as she argued Friday in a 45-minute speech on the Senate floor. (SNL also mocked that dramatic moment announcing her decision: "The last thing I wanted was to be make this about me. That's why I told everyone to tune in at 3 p.m. so I could tell all my female supporters, 'Psych!'")
CNN's Dana Bash pressed Collins on whether she had believed Ford, who said she was "100 percent" certain Kavanaugh was her attacker. The senator explained, "I do believe that she was assaulted. I don't know by whom, and I'm not certain when, but I do not believe that he was the assailant." That line echoed Kavanaugh's own response and the rhetoric from Senate Republicans, who didn't want to come across as accusing Ford of lying.
Collins had been one of the centrist Senate Republicans who won a weeklong delay for a reopened FBI background investigation, which ended up including about 10 interviews. Senators were able to read the confidential report at the Capitol. While Collins noted on 60 Minutes that FBI agents had interviewed and not heard corroboration from the people Ford remembered being present at the party where she was assaulted, Heitkamp said she didn't find the interview summaries helpful.
Ultimately, it seems these two key senators made a decision based largely on the evidence presented in public. In a case of he-said, she-said, they came down on different sides. Believe her story. Presume his innocence. Reject his tone. Accept his anger. Like Americans across the country, they came to a decision seemingly at a gut level.
They made different choices. They stand by their votes, even if their voters might disagree by a small or large margin. What they agreed on was their view of representative democracy. They both voiced support for the trustee model, which sees voters as dispatching wise lawmakers to exercise their best judgment, rather than delegates who simply convey the majority preference of their constituents.
"This is about a responsibility that we have as leaders to exercise the judgment that we were sent here to exercise," Heitkamp declared.
"I just had to do what I think is right," Collins said.