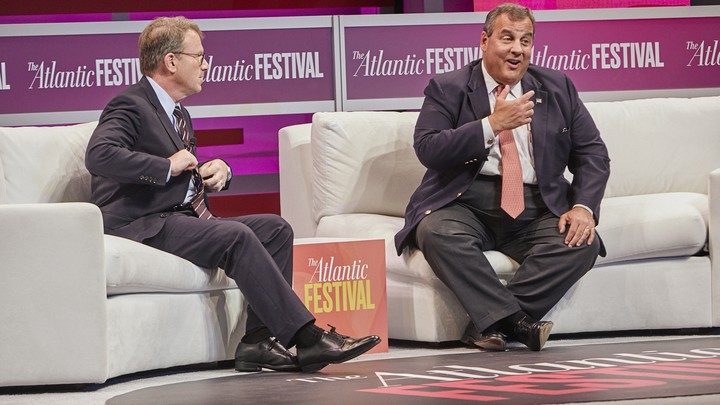 Echoes of the old Chris Christie, the moderate Republican who shook hands with President Obama after Hurricane Sandy hit his home state of New Jersey, were heard throughout his appearance on Tuesday at The Atlantic Festival.
When Jeffrey Goldberg, The Atlantic's editor in chief, queried him on the main stage about his support for the president, Christie said he could not deny that Trump is a leading cause of corrosion in today's political discourse. "If you look at what is going on in our politics now," Christie said, "it preexisted Trump, but Trump has exacerbated it."
But the new, more conservative Chris Christie was present as well. In a lighthearted moment, Goldberg recalled a brief, wry exchange he'd had with the former New Jersey governor right before they walked out on stage:
Christie: "Remember when you used to like me?"
Goldberg: "I still like you. I just question your life choices."
Christie remains a controversial, even polarizing, figure in American politics—a one-time moderate who aligned himself with Trump in the 2016 election, a law-and-order former U.S. attorney whose administration became embroiled in a scandal over the closing of a George Washington Bridge lane to punish a Democratic mayor, resulting in two of his top aides going to prison.
When Goldberg asked him about the deeply contentious fight over Brett Kavanaugh's Supreme Court nomination, Christie said he felt it was the "primal scream of our political process." He said that it's the fault of both sides of the political system for not trusting each other, and acting in a way he "just [doesn't] understand" as a Republican who worked in a blue state.
When asked if he believes Christine Blasey Ford, the research psychologist who alleged in her testimony last week that Kavanaugh had sexually assaulted her when they were in high school, Christie responded that he believes she is a victim, but does not know if she was a victim of Brett Kavanaugh. Some in the audience began to hiss.
"This is the problem," Christie said, turning to the crowd. "There are people in this country, myself included, who don't agree with you. And you don't agree with me. But I don't stand up here and hiss you. I mean, this is why our politics are the way they are right now."
Goldberg brought the conversation back around to Christie's support for Trump and noted how many blame the president for the vitriol of our politics. Trump is hardly a model for civility, he pointed out. Christie didn't argue the point but said that there were a number of other reasons why people support Trump, such as his renegotiation this week of the North American Free Trade Agreement.
On the Kavanaugh nomination, Christie said that he felt the FBI background check wouldn't bring the resolution some politicians are hoping for. An FBI background check, he said, is just going to be "raw data" with no determination at all of guilt or innocence. Christie also said that he felt Kavanaugh's demeanor on Thursday was not without precedent. He noted that when Clarence Thomas called his confirmation process a "high-tech lynching," he was also behaving dramatically. "I would not be surprised if as [Kavanaugh] was deciding on how to approach this, he did not go back and look at Clarence Thomas's testimony," Christie said. "Because as it turned out for Thomas, it turned out to be a successful approach that ultimately got him confirmed."
Christie said he turned down two different positions in the Trump White House: secretary of labor and secretary of homeland security. When asked about "the big enchilada," presumably the attorney-general position he was rumored to have been a candidate for, Christie responded, "I have no idea. I'm not the president. I tried."
We want to hear what you think about this article. Submit a letter to the editor or write to letters@theatlantic.com.