The Catholic Sex-Abuse Scandal Takes Down a Cardinal
The pope has accepted the resignation of the leader of the Archdiocese of Washington. What happens next?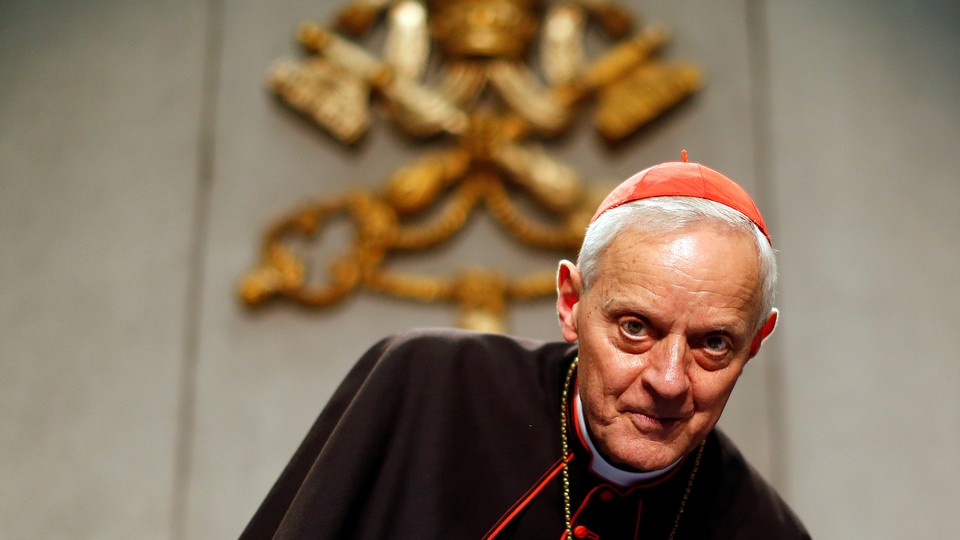 On Friday, Pope Francis accepted the resignation of Cardinal Donald Wuerl, the head of the Archdiocese of Washington. Wuerl submitted his letter of resignation three years ago, when he turned 75, as is customary for bishops. But in September, Wuerl traveled to Rome to urge the pope to finally accept it because of growing accusations over his role in handling sexual-abuse allegations in the Church.
It's the first major American resignation to result from this round of the Church's sex-abuse crisis. In certain ways, it is a hollow result: Wuerl was already in line to resign, and other, younger Church leaders have also been potentially implicated for their conduct. The end of Wuerl's tenure in Washington is a symbolic step for the reeling American Catholic hierarchy, a sign that they are taking the crisis seriously. But much more will be needed to repair the image of the Catholic Church and the immense mistrust that has developed among believers.
[Read: The Catholic sex-abuse crisis has come for Pope Francis.]
Wuerl was a leading character in the Pennsylvania grand-jury report about abuse in six Catholic dioceses that was released over the summer. During the time he was the bishop of Pittsburgh, from 1988 to 2006, he wrote to the Vatican warning about sexual abusers within his diocese, calling pedophilia "incurable," according to the report. But he also oversaw the reassignment of abusive priests, the report alleges, and even lent money to one cleric after accusations surfaced. Once the report was published, he faced pressure to resign, as well as backlash from home: At one Pittsburgh-area Catholic school named for Wuerl, vandals spray-painted over his name, apparently in protest.
Wuerl took responsibility for his actions in a regret-filled letter to his archdiocese. "I must acknowledge the profound heartache, anger and distrust that have been expressed in the wake of the Pennsylvania grand jury report," he wrote. "I wish that I could redo some decisions I have made in my three decades as a bishop and each time get it right." He initiated the meeting with Francis to persuade him to accept his resignation, calling it "an essential aspect of the healing so that this archdiocesan Church we all love can move forward."
The pope acknowledged Wuerl's reasoning in a letter published on Friday, describing it as an act of unity. "You have significant elements to 'justify' your actions and distinguish between what it means to cover up crimes or not to deal with problems, and to commit some mistakes," Francis wrote. "However, your nobility has led you not to choose this way of defense. Of this, I am proud and thank you."
All of this gave the resignation an air of controlled choreography: Wuerl chose to push his resignation, and at least publicly, the pope largely commended him for doing so. "My resignation is one way to express my great and abiding love for you the people of the Church of Washington," Wuerl wrote in a letter after the pope's decision.
Elsewhere in the American hierarchy, however, there is still significant uncertainty about what can be done to make real reforms and repair the trust of Catholics who have been disillusioned by a series of revelations that emerged over the summer. American bishops asked for a full Vatican investigation into their handling of the former Cardinal Theodore McCarrick, who was accused over many years of sexually harassing and intimidating adult seminarians in his care. Although his conduct was essentially an open secret, according to the seminarians who worked with him decades ago, McCarrick was continually promoted, ending up in the same spot Wuerl occupied until recently: the head of the Archdiocese of Washington.
[Read: Should the Catholic Church pay reparations to sex-abuse victims?]
It's likely, however, that problems facing the American clerics are only going to get worse. As Jack Jenkins of Religion News Service reported in September, law-enforcement officials in a half dozen states or more are planning to undertake their own versions of the Pennsylvania grand-jury report. And a number of bishops—including the current president of the United States Conference of Catholic Bishops, Cardinal Daniel DiNardo, who oversees the Archdiocese of Galveston-Houston—are also facing allegations of covering up or mishandling abuse in their dioceses.
These developments are a stark reminder that the Catholic sex-abuse crisis is far from over. Perhaps for the first time, the bishops are attempting to take responsibility for the deep wound they have created in the Church: The USCCB has initiated a series of discussions around possible reform measures and has already announced a first wave of those reforms. Wuerl's resignation is, similarly, a symbol of transparency and responsibility: He is a prominent leader in the American Church and considered a close ally of Pope Francis. But it's unlikely that the bishops will be able to keep full control—or so neatly choreograph future resignations.