Pittsburgh Honors Two Brothers, 'Gentle Giants' of the Community
Cecil and David Rosenthal, who lived with mental disabilities, were remembered at their funeral as the best of the Jewish community.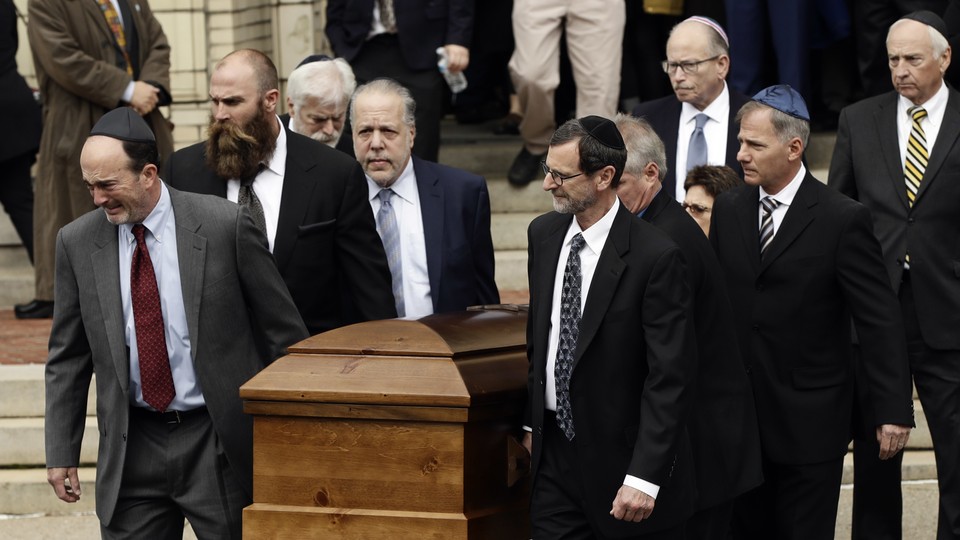 PITTSBURGH—Cecil and David Rosenthal were buried in matching caskets made of wood, each adorned with a single Jewish star. The brothers, 59 and 54, were two of the 11 Jews killed in Pittsburgh on Saturday, remembered by all as irrepressibly friendly synagogue regulars. But they were also vulnerable in a different way from the other victims of the shooting at the Tree of Life synagogue: The brothers lived with mental disabilities. Cecil, for example, could neither read nor write.
The Tree of Life building is still closed, so other synagogues in the area have opened their doors to host funerals. A letter from a friend of the family's was read at the brothers' funeral on Tuesday at Rodef Shalom, a historic Reform synagogue in Pittsburgh. It was from a Catholic priest. Addressing Cecil and David's parents, he wrote that God had "created your sons in his image," a sentiment that captured the core theme of the funeral. Pittsburgh turned out en masse to pay its respects to two men whose family referred to them throughout their adult lives as "the boys." In the face of a dehumanizing shooting, the community resolutely reaffirmed the dignity of every individual.
David Rosenthal loved everything about police forces and fire departments. His brother-in-law, Michael Hirt, said that David's favorite "toy" was a scanner radio, which he carried with him everywhere; when it broke recently, he insisted on getting it fixed quickly. He loved to get new sunglasses as a present, and always wanted the same kind of pair: severe and reflective, just like what a state highway patrolman would wear.
At the funeral, Pittsburgh's police repaid David's admiration. After the room quieted down and everyone took their seats, the ceremony began with a procession of officers in full uniform, each carrying his hat in his left hand. One by one, they approached the two caskets at the front of the synagogue and saluted. The last man in line wore a Jewish skullcap, or kippah.
Cecil Rosenthal was different from his younger brother, said their sister Diane Hirt. Cecil would have loved seeing himself all over the television, she joked; her husband described Cecil as sociable in the way of a small-town mayor. For years before the Hirts' daughters had their bat mitzvahs, the ceremony that marks entrance into Jewish adulthood, Cecil spoke of his anticipation of the big events, Michael said. He loved a good party, Diane said.
His funeral was nothing like a party, but it was a testament to how much his community cared about him. Hundreds of people filled the sanctuary of Rodef Shalom, which is cavernous and lush. Light poured in through stained-glass windows that stretched high up to the ceilings. Community members greeted one another with long hugs and red eyes. Perhaps they exchanged some of the benign gossip that Cecil apparently loved so much: updates on births or engagements or recent recoveries from illness, the local news that runs a community.
Jews across the country have been deeply shaken by the shooting in Pittsburgh. But many people seem to have connected to Cecil and David's story in a particularly visceral way. One group of about three dozen people from the Washington, D.C., area set out for Pittsburgh on a bus Tuesday morning after their daily prayers to come to this funeral—specifically this one. People who have children with special needs told me they were deeply affected by the thought of these two men being attacked in synagogue, one of the few spaces where they might be fully welcomed. Diane described her brothers as "gentle giants" who embraced joy and love and happiness. It was awful to have to eulogize them, she said, but especially when they died in such a horrific way.
Rabbi Jeffrey Myers, who leads the Tree of Life–Or L'Simcha congregation, said it often seemed like the brothers were always there, no matter how long he stayed at the synagogue some days. They were the community's greeters and straighteners, always tidying up the stacks of prayer books and shawls. Myers said he wasn't sure what he was more proud of: who the Rosenthals were, or how his congregants treated them. "They just loved being in the building," he said. "And they were loved by everyone in the building."
There were all kinds of people at the funeral on Tuesday, each with differences that may or may not have been visible to the eye. Elderly attendees were escorted to their seats by their elbows. A baby cried in the back. People wore clergy collars and hijabs and kippot of every color, in black and white and patterned and green.
What they shared was a common reason for being in that room, at one of the first of many funerals to come in this city. As the community prepared to say goodbye to Cecil and David, a man slowly sang "Mizmor L'David," Psalm 23, which famously begins: "The Lord is my shepherd;​ I shall not want." The melody was haunting and longing, an expression of both faith and deep vulnerability. The room was silent, except for the quiet sounds of people's gasps and tears.