A Broken Jewish Community
Squirrel Hill, the Pittsburgh neighborhood where 11 Jews were shot and killed on Saturday, is in mourning.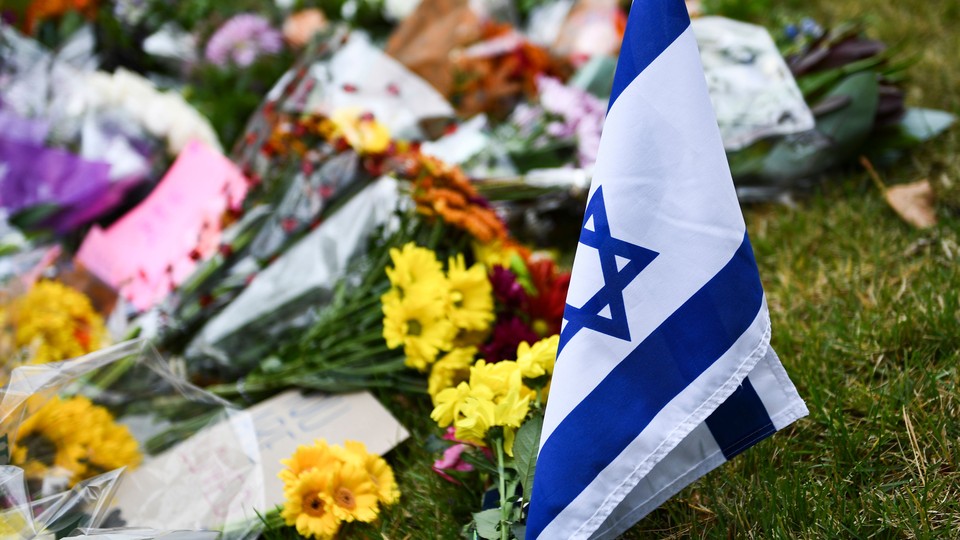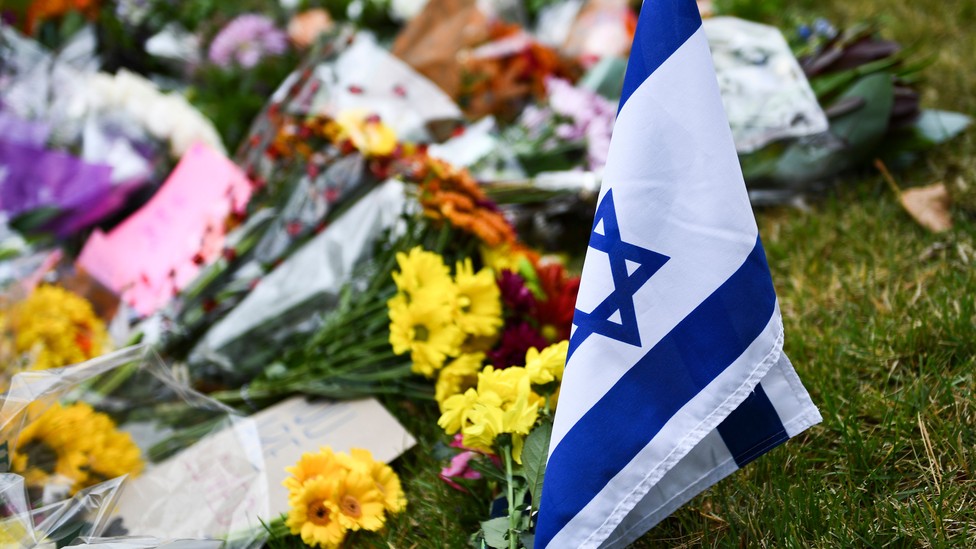 PITTSBURGH—Squirrel Hill, the neighborhood where 11 Jews were shot and murdered during worship on Saturday, is a little Jewish village tucked inside this famous steel town. Giant stone synagogues sit beside cheerful two-story houses. Hebrew letters mark the time on a bell tower across from the library. A kosher grocery store on the main drag, Murray Avenue, is decorated with pictures of candles and challah, a special Jewish bread; a sign outside informs people of the time that Shabbat, the Jewish Sabbath, will begin this week.
People used one word over and over again to describe Saturday's events: unbelievable. This quiet, friendly neighborhood is one of the rare Jewish communities in America where residents didn't make a mass exodus to the suburbs; its Jewish character is both evident and historic. The community is integrated, residents said, and friendly across denominational lines.
As Squirrel Hill mourns those who were killed and prays for those who are still in the hospital, it's also mourning a loss of innocence: Anti-Semitism is here, present, and real in their community. "I'm the child of two survivors. I know that my parents had normal lives until their lives were disrupted by the Nazis," said Avi Baran Munro, the head of the Community Day School, a private Jewish elementary and middle school in the neighborhood. That Jews were murdered in synagogue "is not surprising," she said. "And it's horrifying."
On Sunday morning, members of the Jewish community gathered in front of the Community Day School by a student-made Holocaust memorial constructed of 6 million soda-can tabs. Students, parents, and teachers hugged and cried and shared stories of their past 24 hours. After a while, a church group arrived and surrounded them, singing songs, including "Amazing Grace."
Ada Perlman, 14, stood in a bright-red peacoat and cried, surrounded by friends. "I always heard about anti-Semitism, but I never thought it would happen in my own community," she said, through tears. "It's such an embracing community that doesn't have any hate in it." Her father, Jonathan Perlman, was in the basement with New Light Congregation, one of the communities that meets in the building, at the time of the shooting. He survived, but three members of their congregation did not.
"I'm worried people aren't going to want to come to shul anymore," Perlman said, using a word for synagogue. New Light is small and mostly older, she said: "I don't want this to ruin my shul and my community." She wants to go back to praying there as soon as she can, she said: "We can't show the people that hate Jews that we're not strong."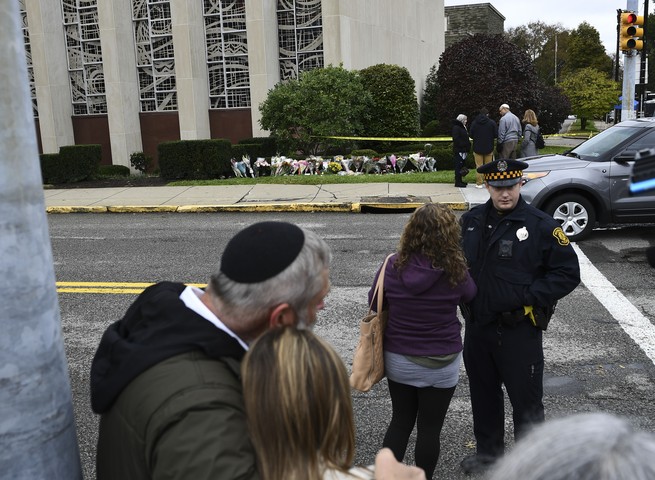 About a mile away, the two owners of Murray Avenue Kosher grocery store, Lila Weiss and Saul Markovic, were preparing to send food out to any families that may need it. Almost immediately after the shooting, they began getting calls from people wanting to know how they could help, they said. Many members of the congregations where the shooting happened are regulars at their store.
"I'm concerned it's going to change the whole way of life for the Jewish community here," said Markovic, who attends an Orthodox synagogue in the neighborhood. He anticipates that people will be more worried about security now, and the atmosphere in the synagogues won't be as open. But ultimately, he is not surprised by this demonstration of hatred toward Jews. "I feel that anti-Semitism has been here all along," he said. "I don't think that it's something new."
Many of the stores on Murray and Forbes, the two main streets in town, had posted signs honoring those who had died. A sign saying Love thy neighbor with a hand-drawn Star of David was posted in the window of one coffee shop. A brunch place posted a chalkboard sharing thoughts and prayers for the community. Love is stronger than hate! declared a sign outside of a tea shop.
But inside those stores, many people seemed shaken. Sam Musolino, a 28-year-old barista, was working at a coffee shop a few blocks away from the synagogue when the shooting happened. Everyone was locked inside for two hours, she said, waiting for the news to trickle in. "I've been serving these people coffee for two years," she said. "You get to know everyone: They bring their families and wives and children in. It's really surreal and startling." The hardest thing about the day after the shooting, said her manager, has been not seeing the regulars coming in, and wondering what might have happened to them or their families.
People waiting to be seated at a popular diner didn't want to talk about what happened. One family visiting their son said they live not far from Newtown, Connecticut, where 20 elementary schoolers and six teachers were shot and killed in 2012. A woman brushed by, shaking her head at my notebook. "No one means to be rude," another woman explained. "They're just really struggling."
Down the street, a group of men was studying inside a building bearing the sign Labor Zionist Educational Center. They told me they were members of an Orthodox congregation called the Baal Shem Tov Shul. "You can't chase away darkness with a broom. You have to chase away darkness with light," the rabbi there, Yosef Itkin, told me. More than ever, the Jewish community needed to be unified, he added—there were no dividing lines between Orthodox and liberal congregations.
"We're all the targets," the rabbi said. "He just happened to go to that synagogue."