The FBI's Kavanaugh Report Was Enough for Key Senate Republicans
Two swing votes voiced their satisfaction Thursday with the bureau's investigation, improving the Supreme Court nominee's chances for confirmation this weekend.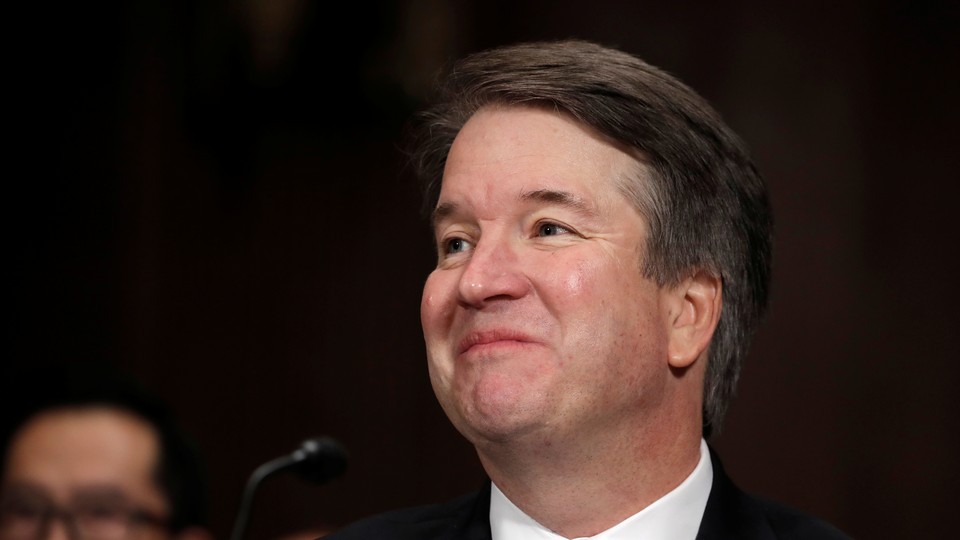 Brett Kavanaugh has spent the past three weeks in Senate-confirmation limbo. By this weekend, he seems headed to the Supreme Court.
An updated, but limited, FBI investigation into decades-old accusations of sexual misconduct against Kavanaugh appeared to satisfy the remaining Republican holdouts, likely giving the federal appellate judge the slim majority he'll need to win confirmation. The report was not made public on Thursday morning, but senators in both parties indicated that it contained no bombshell revelation that would corroborate allegations lodged by either Christine Blasey Ford, who said Kavanaugh assaulted her while the two were in high school, or Deborah Ramirez, who alleged that he drunkenly exposed himself to her during a college party at Yale University.
After a months-long debate over Kavanaugh's credentials, the Senate's decision on a lifetime appointment to the Supreme Court had narrowed to a proxy battle over the credibility of a six-day inquiry. GOP leaders and the White House quickly and triumphantly announced that the investigation had produced "no corroboration" of the claims, while Democrats complained that the inquiry wasn't thorough enough. Crucially, two key Republicans who had demanded the probe, Senators Susan Collins of Maine and Jeff Flake of Arizona, appeared to side with their leadership and told reporters that they had seen what they needed to see.
"It appears to be a very thorough investigation," Collins said on Thursday morning. Before the allegations surfaced, her vote seemed to hinge on Kavanaugh's posture toward Roe v. Wade—the landmark 1973 Supreme Court decision legalizing abortion that had previously been the biggest flash point of Kavanaugh's nomination. Though she remains officially undecided on Kavanaugh, Collins had earlier said she was satisfied with the nominee's stated respect for the Roe precedent.
Flake had already come out in support of Kavanaugh late last week, but the Arizona senator abruptly joined Democrats in demanding a one-week delay of a vote to confirm him so that the FBI could try to scrutinize Ford's and Ramirez's claims. "We've seen no additional corroborating information," Flake told reporters on Thursday.
Both Collins and Flake emphasized that they intended to read the full report, leaving some uncertainty about where they would come down. But senior Republicans projected confidence about the outcome, and Senate Majority Leader Mitch McConnell set a key procedural vote for Friday, with final confirmation likely to come on Saturday if the initial tally succeeds.
"I feel very good about where this nomination is right now," Judiciary Committee Chairman Charles Grassley told reporters at an afternoon press conference, even as he lit into Democrats for orchestrating what he called "a demolition derby" that left Kavanaugh "just about destroyed."
"Hopefully we're 48 hours away from having a new person on the Supreme Court," Grassley said.
If Kavanaugh is confirmed, it will be by the narrowest of margins. Democratic Senator Heidi Heitkamp of North Dakota announced on Thursday she would oppose the judge, leaving Senator Joe Manchin of West Virginia as the only Democrat left who might vote for him. Heitkamp is the most vulnerable Democrat from a red state up for reelection this fall, and recent polls have shown her falling behind Representative Kevin Cramer by double digits.
Heitkamp, Manchin, and Senator Joe Donnelly of Indiana all voted for Neil Gorsuch's nomination last year, but Heitkamp said Kavanaugh was different. "In addition to the concerns about his past conduct," she said in a statement, "last Thursday's hearing called into question Judge Kavanaugh's current temperament, honesty, and impartiality."
Earlier in the day, Republicans and Democrats jousted over how to characterize the FBI's confidential findings. After Judiciary Committee Chairman Charles Grassley released a statement saying the investigation found "no hint of misconduct," Senate Minority Leader Chuck Schumer told reporters, "I disagree with Senator Grassley's statement that there was no hint of misconduct." Senator Cory Booker of New Jersey echoed Schumer's comment, but neither man would reveal exactly what in the FBI report they were referring to.
To ensure secrecy, the Senate Judiciary Committee made only one copy of the report available to senators, who had to view it in a secure room in a subbasement of the Capitol complex.
The two parties began fighting over the reopened FBI investigation almost immediately after it began. Democrats accused the White House, in cahoots with Senate Republicans, of limiting who the bureau could interview. And while President Donald Trump later insisted that the FBI investigation should be "very comprehensive," lawyers for Ford complained that neither she nor Kavanaugh was questioned. According to NBC News, nor were dozens of individuals who contacted the FBI with information about Kavanaugh's lifestyle as a teenager or the events that allegedly transpired in the early-to-mid-1980s.
Yet for the wavering senators who demanded the additional probe, "comprehensive" never seemed to be the goal. Flake, after negotiating with Democratic Senator Chris Coons of Delaware, had said that he wanted an inquiry that was "limited in time and scope" so that the FBI could look into credible allegations without delaying a vote on Kavanaugh beyond the November midterm elections. In Ford's case, the one person she had named as an eyewitness to Kavanaugh's alleged attack, Mark Judge, and the others she identified as attending the house party where it occurred have all said in sworn statements that they have no recollection of the incident. The FBI was left with the task of trying to jog their memories or find others who could corroborate the allegation. Complicating matters, Ford said she told no one of the assault at the time or for years afterward.
Democrats were angry that the FBI had not interviewed people who said they'd heard about the incident involving Ramirez at Yale, or former classmates of Kavanaugh who said he lied to the Senate about his drinking habits as a young man and the sexual undertones of his yearbook message at Georgetown Prep. "This FBI report is blatantly incomplete & inadequate—straitjacketed by the White House," tweeted Democratic Senator Richard Blumenthal of Connecticut. "In a word, a cover-up."
To have a chance at defeating Kavanaugh, Democrats need at least two Republicans to agree with that assessment. Instead, it seems, the weeklong delay has made fence-sitting Republicans more comfortable with the process, increasing the judge's chances of confirmation this weekend.