Sanders and Warren Are Heading for a Standoff
The two senators from a similar place on the left of the party are not working out any deal that would avoid a race that includes them both.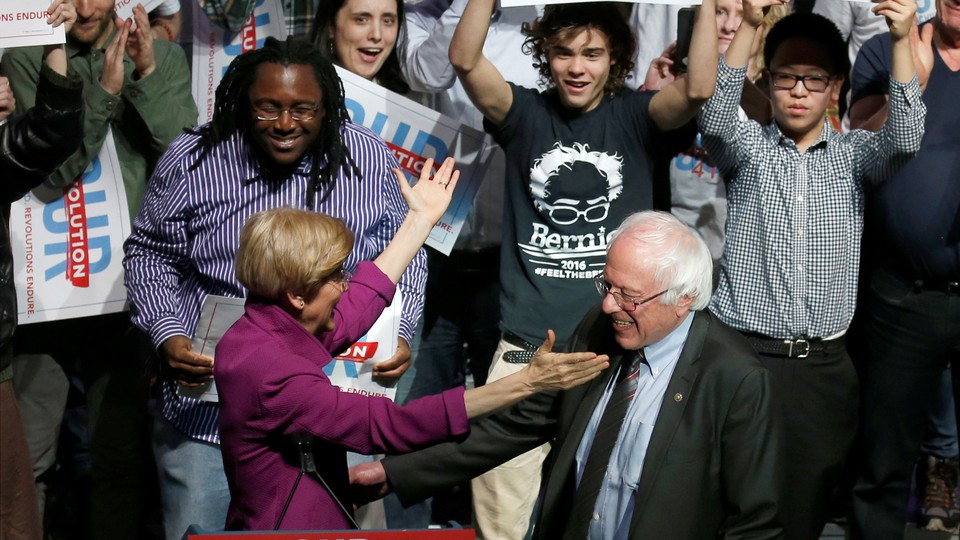 Neither is blinking.
Bernie Sanders thinks he has a lock on his supporters. Elizabeth Warren thinks she can get enough of them, and enough elsewhere, to run regardless. Allies and supporters are anxious they'll destroy both their chances, and kneecap progressive politics along the way.
Some close to Sanders feel like Warren is trying to muscle him out of the race, and laugh at the idea that she will be able to compete with him for his supporters. Some close to Warren feel like Sanders has an outsize sense of his power over the nomination and his chances to actually win it or beat Donald Trump.
"She's engaged in a chess game where she's moving her pawns around and she's trying to demonstrate to many people, including Bernie, that not only is she running, but is fully capable of running, and is so far ahead that you should just give in to her," said one key player in Sanders's world.
Warren's opening flop last week with her DNA test has Sanders's team thinking she might not be so hard to beat after all.
Sanders hasn't decided about running, though it weighs heavily on him to make sure Trump loses. Part of the thinking behind his week-long cross-country tour campaigning for other candidates is testing how much his appeal has held up (so far, to over-packed overflow rooms). As Sanders decides whether to run again, advisers often cite the 45 percent of the primary vote he got in 2016, though the senator himself thinks less about getting deference from his performance two years ago than drawing on the strength he's continued to build since.
He and Warren are ideological allies who have developed a good working relationship—not friends, but warmer with each other than most senators are. He respects her, thinks she gets it, despite the distinctions she's recently made to point out that she, unlike the Democratic socialist from Vermont, is "a capitalist." Sanders invited her to appear at a few events he hosted. They did some web videos together. Showdowns were avoided, like when Sanders declined to endorse his old ally Dennis Kucinich in the Democratic primary for Ohio governor earlier this year because it would have put him at odds with Warren, who had immediately backed her protégé Richard Cordray in the race.
Warren is close to pulling the trigger on a run, and has spent the past two years putting together the pieces for a campaign, accelerating since the end of the summer. This included some deliberate overtures to Sanders's world, like reaching out to Nina Turner, the former Ohio state senator who now runs the Sanders-inspired group Our Revolution, and to RoseAnn DeMoro, the former head of National Nurses United, which spent millions and went all out for Sanders in 2016.
The Warren analysis is that Sanders's votes in 2016 had more to do with being the alternative to Hillary Clinton than he likes to admit. For all his strength then, he's not leading in early public polls, which show him with support in the teens, not far ahead of Warren and behind Joe Biden. She's a woman at a time when women are proving key to the party's future. She has an appeal beyond just his supporters, drawing from many Clinton supporters, too.
"The whole thing that they have the same core of support tends to be overstated," said a Warren ally.
Her moves were never about pushing Sanders out of the way, but about pushing forward on her own.
Strategically, Warren started carrying out clear moves to show her seriousness, from making a tactical decision to say a few weeks ago that she would take a "hard look at running" after the midterms, to arranging a Washington Post story last Sunday that showed off the inner workings of her political operation, paired with a rollout in The Boston Globe and on Twitter on the Cherokee question.
"He's not the kind of guy that you intimidate out of something," the Sanders adviser Mark Longabaugh said.
For a long time, it didn't seem like things were going to go down this way.
At a presentation to Sanders and his inner circle in January, Longabaugh identified Warren as the main obstacle to winning the nomination. Though others at that planning session disagreed with how big of a threat she posed, they were still hoping to avoid it. A rough idea emerged among them of how it would play out: At some point around now—right before or right after the midterms—the two senators would have a conversation. Sanders would tell her what he had decided to do. If he was a go for 2020, he'd expect her to support him, for the sake of the cause. If he decided not to run, it would essentially be permission for her to go ahead, though likely not with his endorsement right away.
Warren and her team, in recent months, started to realize this was the thinking they were coming up against. They always thought it was ridiculous, a one-sided benefit that brought her nothing for working with him or waiting.
"What was she getting out of that? What's the benefit for her?" argued one person in Warren's orbit. "That she gets to know ahead of time if he's running?"
The math changed in the past week.
Warren moved early to put away a question about her Native American heritage that she would have faced constantly on the trail. But what it demonstrated to the competition was how much Trump had gotten under her skin, that she was in a mind-set still defined by trying to avoid repeating Clinton's mistakes in 2016, and that she was still coming off as buttoned-up and cold in the videos that were part of the rollout.
More importantly to the strategists sizing one another up: Part of Warren's strength was always seen as the competence of her staff and advisers. After such a big blunder, now they're not so sure. At least, people working for several other likely candidates said, Warren's team should have reached out ahead of time to the Cherokee Nation to head off the statement it put out criticizing her for claiming vindication from the blood test.
Then there are the supporters she just turned off.
"Her comments around the rollout of the Native American stuff were not helpful to her cause," said Jonathan Westin, the executive director of New York Communities for Change and one of the people involved with the "Draft Warren" effort ahead of the 2016 campaign. "As a person of color who works with people of color, it felt like it was almost diminishing the role of race in our politics. It really went against the grain with a lot of people. It trivialized race as a factor in so many ways."
Westin added that he was perplexed by Warren trying to hang her heritage on a test that showed she had at most 3 percent Native blood: "She's clearly a white woman," he said.
Meanwhile, Westin said, "Bernie has risen a lot since 2016. He's now a household name in a way that he wasn't. His message resonates with our folks."
Part of the Warren thinking is that, if both run, she could position herself as the alternative to Sanders, saying she's the one who has clear progressive credentials but could win. There's some openness to that, even in odd places, like Third Way, the centrist Democratic think tank that initially after 2016 seemed to be on a single-minded mission to stop her from being the nominee.
Not anymore.
"Senators often look and sound different as presidential candidates, so we really don't yet know how she—or any of her Senate colleagues—would run. The exception is Senator Sanders. We're open to everybody except for him," said Third Way's senior vice president, Matt Bennett.
Sanders's team also dares Warren to try appealing to his voters by saying he can't win.
"Those passionate folk on the left, they want champions," said another Sanders adviser. "They're not calculators in that kind of way."
But many progressives feel stuck.
MoveOn, the huge progressive group that was also involved in Draft Warren ahead of 2016, says it won't pick sides in this fight.
"After the midterms, our members will be looking for a broad group of candidates to have a lively debate about our nation's future," came a very carefully worded email from the group's spokesman, Karthik Ganapathy, who before taking the job was Sanders's communications director in New Hampshire for the primary against Clinton. "The candidate who can most clearly articulate a bold, inclusive and populist message and run a movement-connected campaign is the one who's most likely to earn our support."
Despite all the members who rallied for Sanders and the millions spent on him in 2016, National Nurses United doesn't want to be pinned down in this fight, either. Through a spokeswoman, the union's new president, Bonnie Castillo, declined to comment when asked if her members would have a favorite candidate between the two.
Art Haywood is a Pennsylvania state senator from Philadelphia who endorsed Sanders in 2016. Now he's also the national president of Americans for Democratic Action, another big progressive group, which has been around since it was co-founded by Eleanor Roosevelt, and which had been encouraging Warren last year into the 2020 race.
Haywood said he'd be fine with both running.
"I don't see it as bad at all," Haywood said. "In my view, there need to be more voices for the people who have been left behind."
When I asked him how that battle might play out among his members, he reconsidered. "Very challenging," he said, then paused to consider what might be ahead.
"I think that's going to be a tough conversation," Haywood said. "Hopefully we won't split and lose the organization."
Then he pointed out that Senators Cory Booker and Kamala Harris might be able to win the group's support, too.