Who's Left Covering Brooklyn With the Big Newspapers in Retreat?
When the Daily News laid off half its staff in July, the last of the big dailies left day-to-day coverage of the vast borough to a scrappy, overworked cohort of community journalists.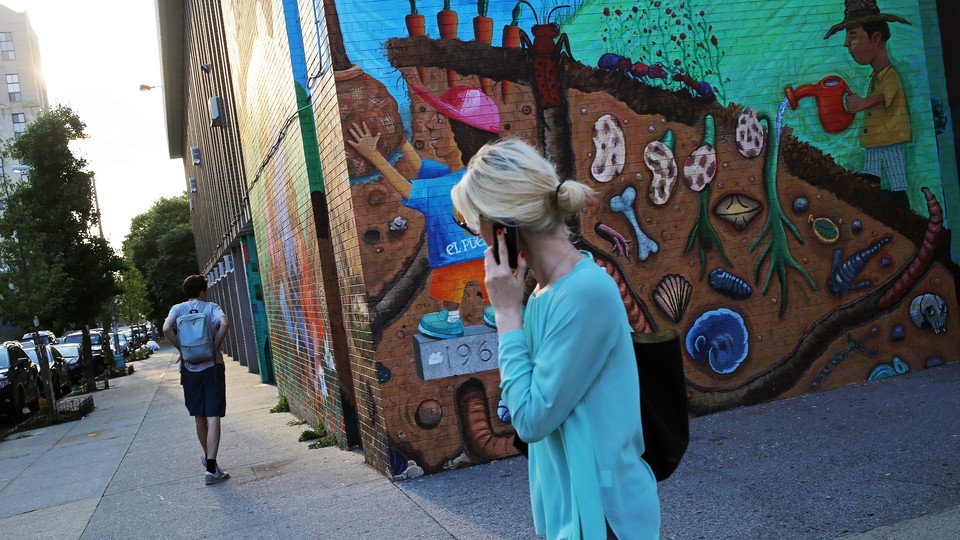 Liena Zagare had always seen them around the neighborhood. They were at the bus stop, at the corner food mart, and all around Coney Island Avenue in Brooklyn's Ditmas Park. In one way or another, they were part of the community.
But then, last April, Zagare received a distressed message from a neighbor, alerting her that something seemed terribly wrong: "Where have all the crazy people gone?" Zagare knew who her tipster meant and went looking for answers.
"They were neighborhood characters," Zagare told me. "I saw them in the neighborhood [while] walking the dog. Most of them had mental disorders. Many had been there for a decade or more." The characters in question lived at the Park Manor Home for Adults, an assisted-living facility at 570 Coney Island Avenue, between Beverley Road and Lewis Place, just two blocks from the cluttered newsroom where Zagare works as the editor and publisher of a small local-news website called Bklyner.
There's no shortage of personality in the melting-pot neighborhood. Bklyner sits perched above a bar, sandwiched between a diner and a mosque, across the street from a car dealership.
When she saw the text, Zagare took a short walk down the street to the adult home to see for herself. The neighbor was right. The front grates were lowered and padlocked. The "usual parade" of residents hadn't been seen for weeks, Bklyner reported soon after.
But Zagare wanted to know what had transpired, why an institution was shuttered, how a vulnerable segment of the community had disappeared practically overnight. Finding out was even harder than she thought.
Zagare's vantage point at Bklyner puts her very much on the front lines of local-news reporting in Brooklyn. With 2.6 million people, the borough would be the fourth-largest city in America—and with only four reporters on her staff, it's frightening. "I am a little scared about what is not getting covered just because there [are] so few people covering anything in Brooklyn," she said. "You hardly ever ran into another reporter at a meeting. We try our best to keep track of what's going on, but we're very small. And at the same time we're one of the largest [outlets] around."
When the New York Daily News laid off half of its newsroom in late July, the retreat from the outer boroughs by the city's great daily newspapers was more or less complete. And it didn't stop there. At the end of August, the legendary alternative weekly The Village Voice shuttered publication online—it had closed its print operation last year. Digital news organizations have proved equally vulnerable, because sustainable ad revenues online have been almost as elusive as rapidly disappearing print advertising.
Gothamist and DNAinfo, two leading New York digital outlets, were shut down by the billionaire Joe Ricketts in November, just days after voting to unionize. While DNAinfo remains closed, the public-radio giant WNYC opted to resurrect Gothamist in February but still lacks the resources, like most local radio and television stations, to cover Brooklyn with dedicated staff.
Ironically, the most hopeful development for local news coverage in New York City may have come recently from The New York Times, which has long been criticized locally for expanding national and international coverage at the expense of its metro staff.
Dean Baquet, The Times' executive editor, and A. G. Sulzberger, its new publisher, convinced Clifford J. Levy in July to give up his coveted masthead position as deputy managing editor in charge of digital initiatives and take on the challenge of leading local-news coverage. "The Times is deeply, deeply committed to robust, lively, mission-driven journalism in New York," Levy told me. "In fact, it was Dean and A.G. who together presented me with this opportunity to become metro editor. And that's how committed they are to robust, powerful New York Times journalism in New York about New York."
At 38, A. G. Sulzberger is the sixth family member to lead the Times, where he started at 28—as a metro reporter. "A.G., in particular, has repeatedly said to me that the Times can't be great if metro is not great," Levy said. "He believes deeply in it and he also believes in local journalism. He and I have had these really intense discussions about what's happening to local journalism around the country. I mean, it's something that is deeply, deeply worrying to him—the hollowing-out of local journalism … the devastation to the business model of newspapers around the country. It's something he is almost obsessed by. He talks about it all the time, as something that's just really terrible for democracy. When he talked to me about taking on the job, one of the things he said was 'We want to show how great The New York Times can be at this, because we also want the Times to be a model for local journalism.'"
Levy, as it happens, won the first of his two Pulitzer Prizes in 2003 for exposing conditions in group homes for the mentally ill in New York's boroughs. In one, he found that a resident had roamed the facility for four years with a knife before stabbing his roommate 20 times. The place was called Park Manor—the very same place Liena Zagare started investigating for Bklyner a decade and a half later, when its residents suddenly vanished from the neighborhood.
Zagare moved to the United States in the fall of 2002 and enrolled in a master's-degree program in urban planning at NYU, months after Levy's series had run on Park Manor and the other homes for the mentally ill. She'd never even heard of what had happened at Park Manor until she started investigating it herself.
She was born in the Latvian capital city of Riga, then under Soviet control, and studied at the London School of Economics before launching a career at the World Bank Group's International Finance Corporation. She met her husband, Ben Smith, now the editor in chief of BuzzFeed News, at a conference in Riga that he was covering and she was attending. They were both 22, and it was Smith's third day reporting for The Baltic Times. Once they had relocated to New York a few years later, Smith encouraged her to start writing about her surroundings in the early days of blogging.
Zagare started the Ditmas Park Blog in Brooklyn in 2007, which she sold to AOL just a few years later. After briefly working for AOL's own hyperlocal news platform, Patch, she left to start Corner Media, which became a collection of eight neighborhood-news sites in Brooklyn that popped up between 2008 and 2016.
The eight—Bensonhurst Bean, Ditmas Park Corner, Fort Greene Focus, KensingtonBK, Park Slope Stoop, Sheepshead Bites, South Slope News, and Sunset Park Voice—consolidated to form Bklyner in January 2017. Rather than expand when they united, Zagare had to cut her staff size in half.
Three months later, the neighbor texted her and asked where all the crazy people had gone. Zagare soon learned that Park Manor had been closed by an emergency order of the New York State Department of Health. But she realized fairly quickly that the department was not going to give her any additional information. Her sources were limited, and Park Manor's owners and management were nowhere to be found. She called every phone number on a report from the Health Department—no one answered. She called another facility listed under the same ownership in Suffolk County—no one answered.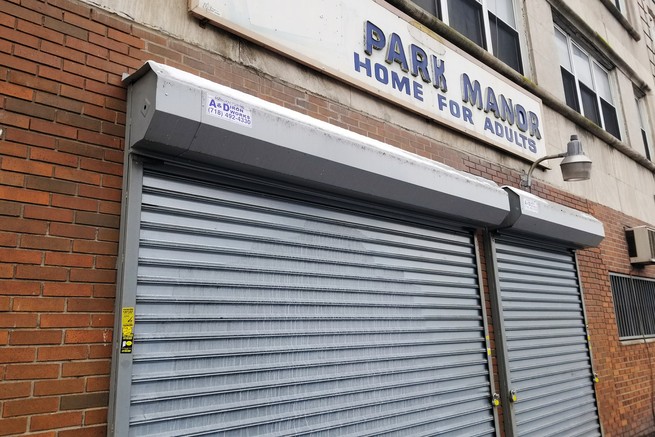 The residents' names and locations had been redacted by the state—they were most likely transferred to similar facilities, with no way for Zagare to track their whereabouts. She finally realized that her last and only resort was filing a freedom-of-information request seeking as much information as possible on the situation at Park Manor and the order closing the home. And then she waited. "Every 30 days, they kicked it back another 30 days. And that went on for over nine months," she said.
Toward the end of 2017, Bklyner's shaky finances made her start to worry that soon Park Manor might not be the only shuttered place in Ditmas Park. Bklyner needed subscribers to stay afloat; Zagare feared she might never be able to tell Park Manor's story for the publication she had built.
The layoffs at the Daily News, a tabloid with a long history of serious reporting, sent a shock through media circles—another case of local newspapers falling by the wayside in the digital era. For those in the outer boroughs of New York City, the news was also an unfortunate but logical end to a gradual thinning long in motion.
"It's definitely a distressing state of affairs. You have a borough of well over 2 million people without any sustained and expanded coverage from the daily newspapers," said Ross Barkan, a former journalist who came up short in Thursday's Democratic primary for a state Senate seat in Brooklyn. "The retreat of the Daily News really hurt outer-borough coverage, because that was what they were known for. They had the 'borough bureaus' and, at one time, would staff 10 or more reporters just covering Brooklyn."
The Daily News, the New York Post, and, of course, The New York Times all focus much of their reportorial attention these days on national and international news as refracted through the prism of Donald Trump, whose scandal-plagued administration has been circulation and page-view gold for them and their websites. The front pages of the Daily News and the Post typically feature loud and often funny Trump headlines. And every time Trump tweets about the "failing" New York Times, thousands more readers sign up for digital subscriptions.
The Times is perhaps the world's greatest newspaper. But even with its more robust metro staffs of decades past, fairly or unfairly, it's never been heralded for its metro coverage, despite metro Pulitzers like Levy's in 2003 and decades of episodically great metro reporting that has continued right up through its most recent investigation of the New York City subway system. While a Times spokesperson would not confirm a count of metro personnel, citing company policy, a metro staff roster on a website called Leadership Connect lists 50 reporters and editors covering a city of 8.6 million people. A tally of bylines and active Twitter accounts produced 54 names. That's hardly an insignificant number by today's standards, but none of them seemed to be assigned to beats based in Brooklyn. According to The Daily Beast, the Times had 85 metro reporters in 2001.
Still, Levy's appointment as metro editor seems an unmistakable sign that the Times is rethinking the importance, and the potential, of local news in a city big enough to achieve internet scale within its own borders. Vanity Fair has even speculated that Levy is an obvious contender for the esteemed executive-editor job one day. Levy certainly agrees that there's new energy behind metro and notes that much of the Times' masthead has, like himself, come up through metro—A. G. Sulzberger, the new publisher; Dean Baquet, the executive editor; the deputy managing editor Matt Purdy; and the assistant managing editors Sam Dolnick, Carolyn Ryan, and Alison Mitchell.
"One of the issues that we're wrestling with is: How local do we want to be, and how much do we want to zoom in on some of these stories," Levy said. "In the best of all possible worlds, would you want three or four reporters covering Brooklyn as a whole, or would you want a reporter covering Greenpoint and Williamsburg? In the digital era, one of the big challenges is, if you report a story about a particular neighborhood, how much interest is it to people outside the other neighborhoods? How can you actually ensure that the people in the neighborhood read it? That becomes a platform and promotion and engagement challenge. How do you ensure that it resonates with people outside the borough, outside the neighborhood, outside the city?"
Just as Zagare spent a period last year as focused on garnering subscriptions as she was on editing and reporting, Levy understands that more expansive metro-news coverage requires the involvement of both the newsroom and the business side of the Times. "I'm just getting started, [but] I will say I have very big ambitions when it comes to thinking about how we cover the boroughs, and I've been having a lot of discussions, not only with people in the newsroom, but also with my colleagues and on the business side of the Times, in the marketing department in particular, about: What is the business model for covering the boroughs, and how do you do that?"
One of Levy's key insights is that New York happens to be fascinating, not just to New Yorkers, but to people in Peoria and Portugal. "[There are] stories about New York that will resonate for people in Chicago or Texas or Seattle or Japan or Paris because people around the world are obsessed with New York, they love New York, they visit New York, they believe that New York is a trailblazer in many respects. So that's one of the big audience riddles—who are we for? Who is the metro desk for? And how does that align with our mission? Our mission is to tell important stories about life in New York. Our mission is to do great investigative work to shine a light where some people don't want that light to be shined, to provide investigative scrutiny into all these kind of areas. Something I believe deeply in."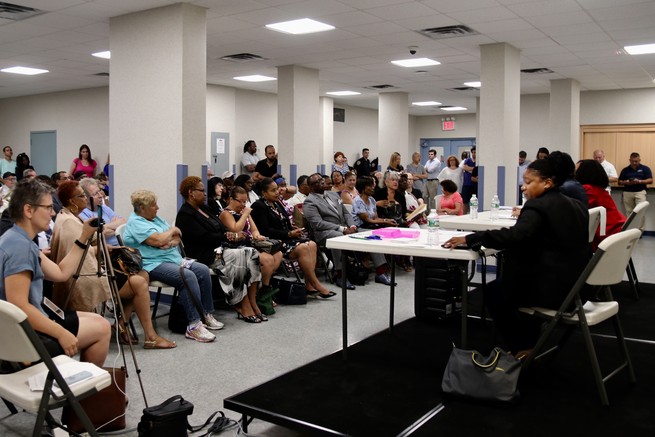 Often, even the granular, hyperlocal piece about New York goes viral. "One of things we discover from the audience data is there are certain types of stories that you think are kind of granular, that will only be of interest to New Yorkers, but actually people around the world love them," Levy said. "The most obvious example, then, is the subways. People love reading stories about the subways. And we have a fantastic transit reporter, Emma Fitzsimmons. And she writes these stories that you think, 'Oh, the L train is going to get shut down for a while, that's a Brooklyn story and maybe a Manhattan story.' You wouldn't think that people around the country, around the world, want to read about that. Those stories get really strong engagement and really strong traffic. That's a sweet-spot story because you're serving your audience in Brooklyn and Manhattan, but you're also enlightening an audience around the world. So figuring that out has an interesting area to explore."
While Levy ponders cracking the Brooklyn code, the borough's dedicated media consists of small local newspapers, local television and radio, and small emerging digital news organizations like Bklyner. Together, they don't field enough reporters to cover all the things robust newspapers used to blanket as a matter of course—cops and courts, schools and transportation, sports and traffic, weather and features.
"I feel that you need to have a common conversation, and even when an issue does get covered," Zagare said, "if it doesn't get read and does not penetrate the consciousness of the people who reside in the city, you fail to inform the public."
A few months ago, Zagare was at the Kings County Supreme Court. Parents were suing the Department of Education over closing P.S. 25 Eubie Blake Elementary School. "When the court staff heard a reporter was present, they questioned the legality of my presence and went to confer with the judge," she said.
Zagare was dumbfounded. "I was just like, 'Go ask her. I'm not going anywhere,'" she said. "You're talking about closing a public school. I mean, it just blew my mind. Is it because they had never encountered a situation like that, or is it so infrequent that people show up to things like this?"
She told me she couldn't blame the court staff, even though they should have known the courthouse is open to press. "I don't know whether to cry or laugh at that one, because I think so much of what happens in courts is influenced by who's watching," she said. "And I don't know if my presence changed anything, but they knew that someone is paying attention. It's half the job, just showing up on behalf of the people. I'm here to see what's going on and I'm going to report back to my readers."
Vince DiMiceli, the editor of the Brooklyn Paper and Brooklyn Daily, two community newspapers in a consortium owned by Community News Group, noted that the dailies never covered the borough as closely as the community newspapers.
"When the Post and the News would try to cover stories in Brooklyn, it was a lot of ambulance chasing," DiMiceli said. "Whereas we were waist deep in development and talking to politicians. No one else did that. Even back then—even before the Daily News had its problems. The local news that we had in the newspaper was a lot different than the local news they had in the newspaper."
In addition to DiMiceli and his five reporters, The Brooklyn Daily Eagle, a title first introduced in 1841, is still printing every morning, with seven editors on staff, according to its website. The Brooklyn Reporter, a local site, started in 2016 and has three on its editorial staff. A handful of other titles—including The Brooklyn Rail, a monthly art and culture journal; Edible Brooklyn, which covers the borough's food scene; and The Bridge, which covers Brooklyn's business news—contribute to a small but dedicated group, probably numbering no more than a couple of dozen reporters based in Brooklyn, writing about Brooklyn. Schneps Communications, which owns the Brooklyn Reporter and other imprints in the outer boroughs and Long Island, bought Community News Group on Wednesday, bringing about further consolidation among these community papers.
And even among these borough news outlets, not all neighborhoods are covered with equal rigor.
"Even [though] the local newspapers still cover the entire borough, certain neighborhoods get more coverage than others," Barkan said. "There's definitely a lack of coverage in the poorer, less white parts of the borough, and other more gentrifying parts get a little more attention." Many people in these neighborhoods get their news from the ethnic or foreign-language press, which typically circulates citywide.
An industry response to the decline of local newspapers has been the rise of local-news websites in the past decade, like Bklyner and City and State, which covers New York City and New York State policy and politics with about two dozen editorial and business-side employees. Tom Allon, the president and publisher of City and State, said his publication fills an important gap left by this decline.
"The New York Times has kind of abandoned rigorous metropolitan coverage," Allon said. "It's not to say they don't do good work every day with the three pages that they have, but it's not the same as it was 10 years ago. The Daily News and the Post have really abandoned the boroughs, too, as they've cut back in coverage. You know, there used to be a pretty thriving Brooklyn and Queens and Bronx bureau at the Daily News. I'm hard-pressed to name anybody whose beat is the boroughs. So what we've done ... is we really focus on the boroughs ... You know, we try to fill in the gaps where possible."
Allon says the business of local New York City news, which he has been a part of as a journalist, a publisher, and an entrepreneur since the late 1980s (he also ran for mayor in the 2013 election) is always fragile. "We have a print magazine that comes out every week, we have three daily emails, and we do about 40 events a year," Allon said. "And if any one of those legs of the stool weren't there, our business would probably not be sustainable."

Even with Gothamist's revival at WNYC, radio and television stations are more or less in the same position as the big daily newspapers: They're not consistently tasked with covering Brooklyn.
"While we do not have a dedicated Brooklyn beat per se, WNYC has a strong focus on enterprise and investigative reporting that often takes us into Brooklyn," Jennifer Houlihan Roussel, WNYC's vice president for communications, wrote in an email. "Gothamist also regularly reports across New York, including Brooklyn's many neighborhoods, with regular stories on transit, housing, local business, politics and civic issues, and cultural events."
DiMiceli says two local cable-news channels—Spectrum News NY1 and News12—do a great job covering Brooklyn and still have reporters there every day. He says NY1 is the "standard for television news," but he said the television stations often end up aggregating stories from community papers like his own.
Daryl Khan, the director of the urban-reporting program at City University of New York's Newmark Graduate School of Journalism, who formerly worked as a stringer for the Times and a reporter at Newsday, said the local-news desert is equally arid in the other outer boroughs of Queens, the Bronx, and Staten Island.
"I heard recently that the court reporters' office that we had in Queens courts was locked up. No one was using it," said Khan, who currently works as the New York bureau chief for the Juvenile Justice Information Exchange in addition to his faculty position at CUNY. "Democracy is more than just people talking about Russia in Washington, D.C. If people are worried about abuse of power and corruption, they need to look no further than their local governments."
Before the freedom-of-information responses on Park Manor had come in from the Health Department, Zagare feared the worst. She announced in December that a series of cuts at Bklyner hadn't been sufficient and the website would be closing unless enough readers subscribed for $5 a month.
If they wanted essential local journalism that addressed important community issues—for instance, what had happened at the Park Manor Homes for Adults—they would have to pay for it.
But then, around the holidays, like a scene out of It's a Wonderful Life, something deeply affirming happened at Bklyner: 1,745 people opted to subscribe, enabling Zagare to announce on New Year's Day that the website would stay open. And even without a paywall—the mechanism for inducing readers to pay after they've read a certain number of articles for free—Bklyner has since added almost 200 more subscribers, bringing the total up to 1,952. The outpouring of support has enabled Zagare to add a fourth reporter.
Finally, the subscriptions ensured that Zagare could finish her Park Manor investigation once she got an email in March that the documents were finally coming her way. There were so many pages that the state decided to send her a DVD of all the files—300 pages in all. She ordered a DVD reader on Amazon for $24, hunkered down, and started reading. "It was just [instantly] obvious how horrific it was," she said. The documents would soon become her bible, setting forth the story in painstaking, often shocking, detail.
The emergency order to close Park Manor, she discovered, was issued in 2012 when a state inspector saw Park Manor personnel "fail to make sure residents received prescribed medications." Serious problems at the facility predated Cliff Levy's Pulitzer Prize–winning series in the Times, she figured out, and continued long after. "The fact that this place could exist for so long and nothing changed and The New York Times can write about it and nothing changes—that's just wrong," Zagare said. "It makes me wonder how many other places like that are there, in plain sight, taking advantage of the more vulnerable parts of our community where no one is paying attention. That's on all of us. I think that if there were a more robust media landscape, somebody would be paying attention."
Once she'd carefully read and digested all 300 pages and understood what a truly abhorrent scene had been commonplace there for so long, she began writing. She described Park Manor as "Dickensian," likening the conditions to the squalor of 19th-century England:
Caretakers ignored doctors orders on dietary restrictions, failing to serve appropriate food in sufficient quantities, according to State inspection reports. The bathrooms were filthy and the toilets were broken. Bedbugs flourished. The residents went to sleep each night in 25 rooms, none of which met the minimum state standards, with three people sharing rooms as small as 135 square feet, their beds less than 2 feet apart. The facility was routinely overcrowded. Lights were missing, drawers were broken, and doorknobs were missing. Elevators seemed to hardly ever work, inspectors noted over and over. The Park Manor Home for Adults landed on the Department's 'Do Not Refer' list at least twice—once in 1995 it was deemed unsafe, and then again in 2012.
"The thing that puzzles me is: How little did we really care about these people who cannot defend themselves, who could not really represent themselves?" Zagare said. "Just that it can go on with impunity. I almost feel like they're laughing all the way to the bank, the operators of facilities like this."
There's been no way for her to find out what happened to the Park Manor residents. Most likely, they have all been transferred to other adult homes in the city. Might things have played out differently if there had been more reporters covering Brooklyn to hold the state and the facility's owners accountable?
"It does make me wonder on a daily basis, what else am I missing?" Zagare told me. "There [are] a lot of things that are happening in plain sight behind somewhat closed doors. The New York Times ran an editorial the other week about [poor education standards at] the yeshivas—I mean, that is happening 20 blocks from us. And again, a vulnerable population that we're just not representing and fighting for."
In physics, the "observer effect" is a theory stating that merely observing a phenomenon, by nature, changes it. The simple fact that reporters like Zagare are watching Brooklyn every day, by nature, changes it. Whether it's the court staff who were befuddled by a reporter's presence, the Health Department workers who allowed Park Manor to neglect patients, or Education Department officials who did not check in on ultra-Orthodox Jewish schools until recently, the culture in Brooklyn, and many places like it in the New York area and around the country, is one where the dearth of local reporters has become the new normal.