'We Gather Here to Mourn the Passing of American Greatness'
Meghan McCain electrified the congregation with a tear-filled eulogy in which she drew razor-sharp contrasts between her father, Senator John McCain of Arizona, and a president conspicuous by his absence.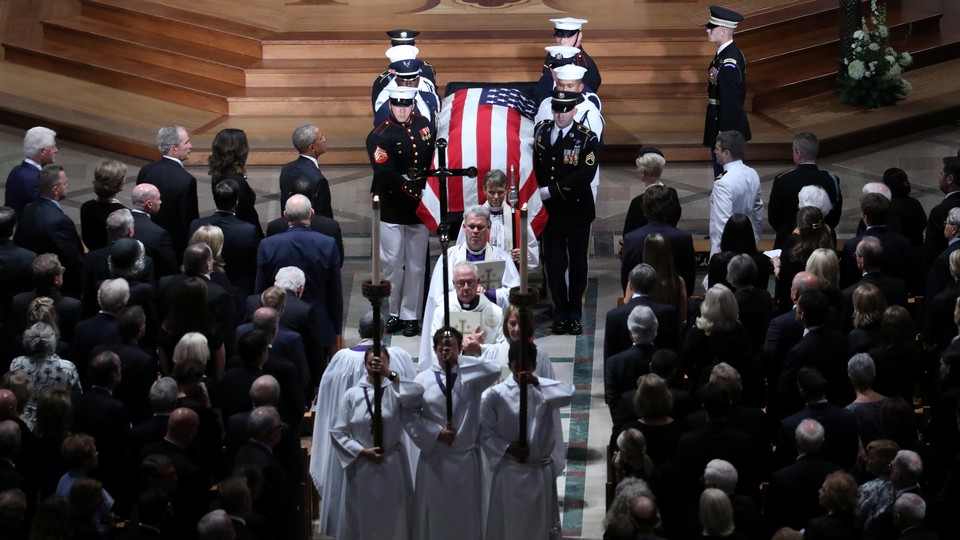 Anyone searching for the message and meaning of John McCain's soaring funeral in the National Cathedral need look no further than the third verse of the Navy Hymn, "Eternal Father, Strong to Save," the moving prayer that has sent generations of sailors to their rest. The bipartisan cream of the nation's political and national-security establishment sang it in lusty unison to open the service:
      Most Holy Spirit! Who didst brood

       Upon the chaos dark and rude,

       And bid its angry tumult cease,

       And give, for wild confusion, peace;

       Oh, hear us when we cry to Thee,

       For those in peril on the sea!
Or for those in peril in D.C., as the case may be.
The United States has no national church, no state religion. But in the closest thing this country has to Westminster Abbey, what amounted to a respectful countergovernment gathered on Saturday morning for more than two and a half hours of song, speeches, and prayer, not only to celebrate McCain's valiant life, but to bemoan the current state of American politics, and to condemn—if only by unmistakable implication—Donald Trump's starring role in that degradation.
And just as Charles Spencer memorably lashed the British royal family at his sister's funeral two decades ago, it was McCain's daughter Meghan who electrified the congregation with a eulogy that drew razor-sharp contrasts between her father and the president who—at McCain's own wishes—was inconceivably conspicuous by his absence at a gathering that drew three former presidents, the entire congressional leadership, a raft of former generals and Cabinet members, and Trump's own daughter Ivanka and her husband, Jared Kushner.
"We gather here to mourn the passing of American greatness, the real thing, not cheap rhetoric from men who will never come near the sacrifice he gave so willingly, nor the opportunistic appropriation of those who live lives of comfort and privilege," Meghan McCain told the 4,000 people who filled the cathedral to overflowing, struggling to control her tears. "He was a great fire who burned bright," she added. "A few have resented that fire for the light it cast upon them, for the truth it revealed about their character, but my father never cared what they thought. And even that small number still have the opportunity, as long as they draw breath, to live up to the example of John McCain."
Finally, she concluded, "America does not boast because she has no need to," adding, "The America of John McCain has no need to be made great again, because America was always great."
If her words were stern and stinging, the broader theme of the day was redemption. (The civilian mourners included the disgraced CBS anchor Charlie Rose.) The two principal eulogists were the very men who deprived McCain of the presidency: George W. Bush and Barack Obama, and both confessed some surprise at having been chosen for the honor, and spoke with rueful humor of how he had helped make them better presidents. The pews were filled with people (Nancy Pelosi? Paul Ryan?) who don't agree on much of anything—except for their admiration for McCain, a singular figure whose death has occasioned a moment, however fleeting, of unity in Washington.
"We were standard-bearers of different American political traditions," Obama said, "and John never hesitated to tell me throughout my presidency when I was screwing up, which by his calculation was about once a day. But for all our differences, for all the times we sparred, I never tried to hide, and I think John came to understand, the long-standing admiration that I had for him."
For his part, Bush—who ran a cutthroat primary campaign against McCain in South Carolina in 2000—allowed that "if we are ever tempted to forget who we are, to grow weary of our cause, John's voice will always come as a whisper over our shoulder: We are better than this. America is better than this." He added: "The world is smaller for his departure, and we will remember him as he was: unwavering, undimmed, unequaled."
Indeed, not since Robert F. Kennedy's assassination 50 years ago has a single sitting senator been accorded a week of national mourning anything like the outpouring that has attended McCain's death. To echo the columnist Mary McGrory's famous assessment of Kennedy's own funeral, of McCain's it can safely be said that he would have liked it—no surprise, since he planned it down to the last detail. Like his hero Theodore Roosevelt, there was a part of McCain that pined to be the bride at every wedding and the corpse at every funeral, and speaking to CNN before the service, his longtime campaign adviser Rick Davis confessed that as McCain outlined his view of the memorial, "it was almost as if he was planning someone else's funeral; he was really excited about it."
But McCain was fond of saying that the highest calling of life was the embrace of a cause larger than oneself, and virtually all the speakers made it plain that they grieved not just for their friend, family member, or colleague, but for the values and virtues he espoused and believed. That was precisely his point.
Former Secretary of State Henry Kissinger, who first met McCain as a returning Vietnam prisoner of war in 1973, summed up his own view of McCain's singular legacy. "The world will be lonelier without John McCain, his faith in America, and his instinctive sense of moral duty," Kissinger said. "None of us will ever forget how even in his parting John has bestowed on us a much-needed moment of unity and renewed faith in the possibilities of America. Henceforth, the country's honor is ours to sustain."
The service also captured the wide swath that McCain cut through 35 years in elected office, with friends and adversaries alike joined to honor him. There was Dick Cheney, with whom he tangled bitterly over torture in the post-9/11 War on Terror; his fellow GOP Senator Orrin Hatch of Utah, an amateur songwriter, who sang along to the second verse of "My Country, 'Tis of Thee" from memory; David Hume Kennerly, the dean of political and presidential photographers who snapped pictures from a vantage point just in front of the first pew; the former Tonight Show host Jay Leno; the honorary pallbearers lined up in alphabetical order: Warren Beatty, Joe Biden, Michael Bloomberg. Like all funerals, it was also partly a reunion. Hillary Clinton chatted up the Kushners before the service started; during it, Bill Clinton chewed what appeared to be gum; Bush passed cough drops or hard candy to Michelle Obama, seated by his side.
There was humor, as McCain, an unrepentant teller of sometimes awful jokes, would have wanted. Former Senator Joe Lieberman of Connecticut, an observant Jew who doesn't drive on the Sabbath and was one of McCain's best friends, acknowledged, "Right now I think he's probably deriving some pleasure by the fact that his funeral was held on a Saturday and I had to walk to get here." Barack Obama said that he understood at least part of McCain's motivation in asking him and Bush to speak. "After all," he said, "what better way to get a last laugh than to make George and I say nice things about him to a national audience."
But there was poetry and pathos, too. McCain's son Jimmy recited the lines of Robert Louis Stevenson's "Requiem," a McCain-family favorite:
       This be the verse you grave for me:

       Here he lies where he longed to be.

       Home is the sailor, home from sea,

       And the hunter home from the hill.
When the opera star Renée Fleming, moonlighting from her current role in Rodgers and Hammerstein's Carousel on Broadway, sang a melting rendition of "Danny Boy," with a quartet of strings and accordion, McCain's widow, Cindy, leaned her head on her son Jack's shoulder, and her face was streaked with tears.
Father Edward Reese, a Jesuit priest who once headed the school that two of McCain's sons attended in Phoenix, offered the simplest of homilies. "John was a man who loved, and he knew that love is seen in action, in doing." He added, "He gave us an example of how to live, how to be a man."
The Right Reverend Mariann Edgar Budde, the Episcopal bishop of Washington, concluded the service with the church's ancient words of commendation for the dead, humbly asking God's welcome for "a sheep of your own fold, a lamb of your own flock, a sinner of your own redeeming." If ever there were such a man, it was John McCain, and when the mourners answered with a hearty "Amen," they could be forgiven for praying as much for themselves as for him.