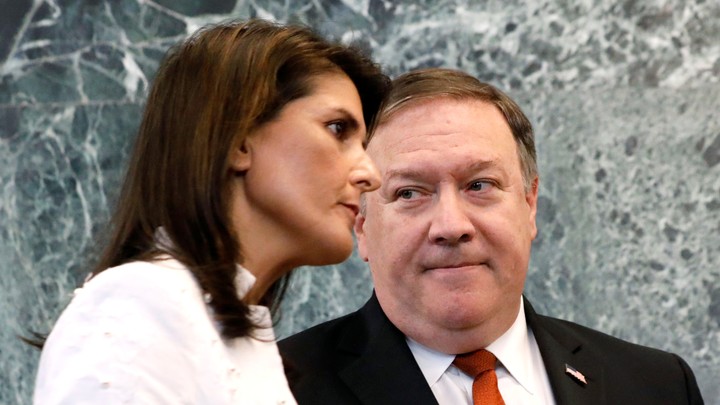 President Donald Trump apparently believes he can make the United Nations great again. "The United Nations has tremendous potential, but it has not lived up to that potential," he said in a video message posted to his Twitter account over the weekend. He'll attend a session Monday on combatting illicit drugs, address the General Assembly on Tuesday, and chair a meeting of the Security Council on Wednesday. His summation: "We're going to make a speech, we're going to have many meetings. A lot of good things can happen."
Trump's top foreign-policy officials, Secretary of State Mike Pompeo and UN Ambassador Nikki Haley, signaled the administration's willingness to hold a summit with Iran's leaders as they reviewed the administration's UN agenda on the Sunday-morning news shows. Iran's nuclear program, they made clear, will figure prominently in the UN Security Council meeting Trump will chair Wednesday on nonproliferation. Haley said on CBS's Face the Nation that European allies will face U.S. sanctions if they allow companies to do business in Iran. Those allies remain in the 2015 multilateral agreement that Trump withdrew from in May; British Prime Minister Theresa May said in a separate interview when asked if Iran was keeping its end of the bargain, "From what we see, we believe that it is doing that."
However, both Haley and Pompeo nonetheless said the administration was willing to consider a presidential summit with Iran's leaders. Haley said on ABC's This Week that if Iranian President Hassan Rouhani asked to meet with Trump, "I think the president would strongly consider it." Pompeo made a similar statement on Fox News Sunday. He said that "the leader of the country is Ayatollah Khamenei. That's who's running the show in Iran. I think that would be an important and interesting conversation."
Pompeo also made clear that Russia has not acted like an ally, Trump's frequent praise for Russia and its leader, Vladimir Putin, notwithstanding. On NBC's Meet the Press he spoke of "Russia's malign activity around the world," citing the poisoning of a former Russian intelligence agent who defected to Britain, as well as its interference in the 2016 presidential election. He also said Russia has not been helpful in dealing with Iran.
Along with Iran's nuclear program and other security issues, Haley said on This Week that Trump will tell other countries "we're looking at aid and we're no longer going to give money to countries that say they hate America or work against us. We're going to start really taking care of the countries that have the same values as us."
This focus on cutting aid to unsupportive nations will not come as a surprise, as the administration last month announced and then abandoned plans to slash $3.5 billion from the approximately $40 billion foreign-aid budget, which since the mid-1980s has consistently accounted for slightly more than 1 percent of the federal budget. The State Department did go through with its plan to cut off all funding to the UN agency that supports Palestinian refugees; the United States had long been its top donor, according to CNN, giving $350 million in 2017.
While world leaders gather in Manhattan this week, New Yorkers will deal with the gridlock caused by the security detail of world leaders. As the city's transportation commissioner told The New York Times, "U.N. week is the most challenging traffic time in New York City." Maybe Gotham residents would welcome foreign-aid cuts if the savings went toward their struggling subway system.
We want to hear what you think about this article. Submit a letter to the editor or write to letters@theatlantic.com.