Trump Wants Sessions to Investigate 'Anonymous.' But There Was No Crime.
The president has asked the attorney general to conduct a criminal investigation aimed at finding the anonymous senior official who wrote a highly critical op-ed in The New York Times.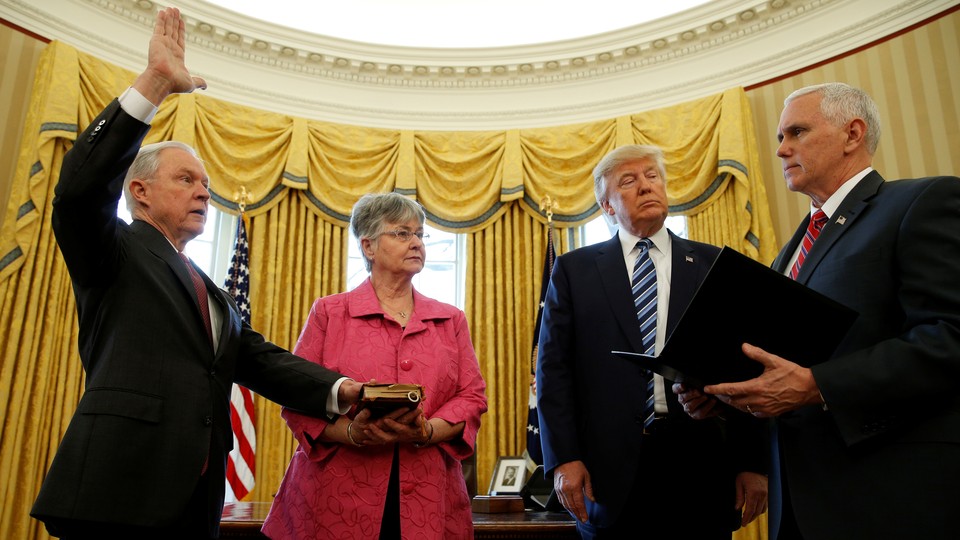 President Trump wants Attorney General Jeff Sessions to launch an investigation into which senior administration official anonymously authored an explosive New York Times op-ed, published earlier this week, that questioned his fitness to serve and revealed that aides have been secretly thwarting his more dangerous impulses. "I would say Jeff should be investigating who the author of that piece was," Trump told reporters on Friday. "Because I really believe it's national security."
There's only one problem: No obvious crime was committed that would warrant a Justice Department investigation. "On its face, I don't see anything in that op-ed that would serve as a basis to conduct a criminal investigation," said David Laufman, a former high-ranking Department of Justice official who served as the chief of the Counterintelligence and Export Control Section before leaving in February. A leak investigation would not be warranted because, "on its face, the op-ed does not contain classified information," he noted.
The New York Times said in a statement that a DOJ investigation would constitute "a blatant abuse of government power." "We're confident that the Department of Justice understands that the First Amendment protects all American citizens and that it would not participate in such a blatant abuse of government power. The president's threats underscore why we must safeguard the identity of the writer in this op-ed and serve as a reminder of the importance of a free and independent press to American democracy."
William Yeomans, a former deputy assistant attorney general who spent 26 years at the Justice Department, said "there is no indication the op-ed writer broke the law, particularly since no classified information was revealed." He called Trump's request "extraordinary and frightening." "The Department of Justice investigates crimes and conducts counterintelligence investigations," he said. "A criminal investigation cannot be launched without a predicate suggesting a reasonable basis to believe that criminal conduct may have occurred." There is also no evidence, Yeomans argued, that the op-ed posed a "legitimate threat" to national security. "Without some indication that the national security may be jeopardized, DOJ cannot—and must not—initiate a counterintelligence investigation."
A case could be made that the op-ed makes the U.S. look leaderless on the international stage. But that would not exactly be a new revelation, said John McLaughlin, a former acting director of the CIA. "I fear the U.S. already looks that way," he said. "At minimum, the international audience is confused—about whether to believe the president, or his major advisors, because what they say and do is often at odds." As far as launching a criminal investigation over the op-ed, McLaughlin, like Laufman and Yeomans, saw no legal basis for it. "My experience at CIA is that the director can file a 'crimes report' with DOJ only if someone has leaked classified information or committed a felony," McLaughlin said. "There is no classified information here and no felony. This is instead a problem of discipline and management in the White House and therefore something for which the President needs to look in the mirror in my view."
David Kris, a former Assistant Attorney General for the DOJ's National Security Division and a founder of Culper Partners, acknowledged that the op-ed "may very well be bad for America, and make the country look bad. But let's be clear on what the root cause of all these difficulties is: the president's own conduct. So even if the responses it provokes are unappealing and inappropriate—which I think the op-ed is—we ought not lose sight of what is the primary problem we are faced with."
John A. Rizzo, a former acting general counsel at the CIA, also said that a criminal investigation was misguided. "Being insubordinate and untrustworthy as a government employee can and has been the basis for termination, especially if you're in a national-security agency,  and I think that would be an appropriate sanction if this person is ever identified," Rizzo said. "But that is a matter for the security folks at the White House and their counterparts elsewhere in the bureaucracy to look into. So this should deserve an administrative investigation, not a criminal one." Indeed, said Kris, Trump's request to Sessions betrays "an attitude of, 'L'état, c'est moi.' It reflects a failure to distinguish between his own personal feelings and interests on the one hand, and the interests of the United States on the other."
Asked about Trump's comments, Sarah Flores, a DOJ spokeswoman, said only that "the Department does not confirm or deny investigations." Laufman said he believed that statement "was not sufficient." "Something more expressive of the department's mission, purpose, and authorities ought to have been articulated to make clear that the Department of Justice is not in the business of investigating personal slights to government officials," Laufman said. "Its duty is to investigate violations of law." Yeomans agreed. "It is fundamental to the rule of law that DOJ will not conduct criminal investigations into a president's political opponents or critics absent a criminal predicate."
The op-ed, which described Trump as unpredictable,  detached from reality, and amoral, has prompted an unprecedented level of paranoia inside the White House, according to multiple media reports. Chief of Staff John Kelly has reportedly been put in charge of a mole hunt, and Republican Senator Rand Paul has said Trump would be "justified" in subjecting officials to lie-detector tests. (President Richard Nixon famously ordered lie-detector tests for about 1,000 federal employees, including members of the National Security Council. The tape of him considering administering the tests was used as evidence in his impeachment proceedings.) House Freedom Caucus Chairman Mark Meadows told Politico that he and several other members of Congress want an investigation of the author's identity, calling the piece "an act of cowardice and does not serve American taxpayers well." But "Anonymous," as he or she has been nicknamed, is far from alone—one senior official told Axios that "there are dozens and dozens of us" inside the administration trying to save the country from the president.
Absent proof that the op-ed writer committed a crime by revealing classified information, the DOJ is unlikely to launch a criminal investigation. But it is not the first time the president has urged the Justice Department to go after his political enemies. Trump has repeatedly asked Sessions—who he handpicked to run the Justice Department because of Sessions' "loyalty" during the campaign—to reopen the investigation into Hillary Clinton's private email server, and to investigate Democrats for their role in hiring an opposition-research firm that solicited a former British spy to examine Trump's ties to Russia. He has also "demanded" that the DOJ investigate the FBI's tactics in the Russia probe, while berating Sessions for recusing himself from the special-counsel investigation and accusing him of "never" taking "control of the Justice Department." Just last week, Trump attacked Sessions for pursuing charges against two of his biggest supporters, the Republican lawmakers Chris Collins and Duncan Hunter, in the run-up to the midterm elections.
Sessions has mostly resisted the external pressure. He rejected calls from the president's congressional allies to appoint a second special counsel to investigate the FBI, and has not reopened the Clinton email probe. Last month, he issued a rare statement in response to Trump's attacks: "While I am attorney general, the actions of the Department of Justice will not be improperly influenced by political considerations," he wrote. "I demand the highest standards, and where they are not met, I take action. However, no nation has a more talented, more dedicated group of law enforcement investigators and prosecutors than the United States. I am proud to serve with them and proud of the work we have done in successfully advancing the rule of law."