Trump's Divisive and Relentless Politicization of the NFL
Mark Leibovich argues in his new book, Big Game, that the president has made the league central to his politics, pitting his largely white base against the mostly African American players.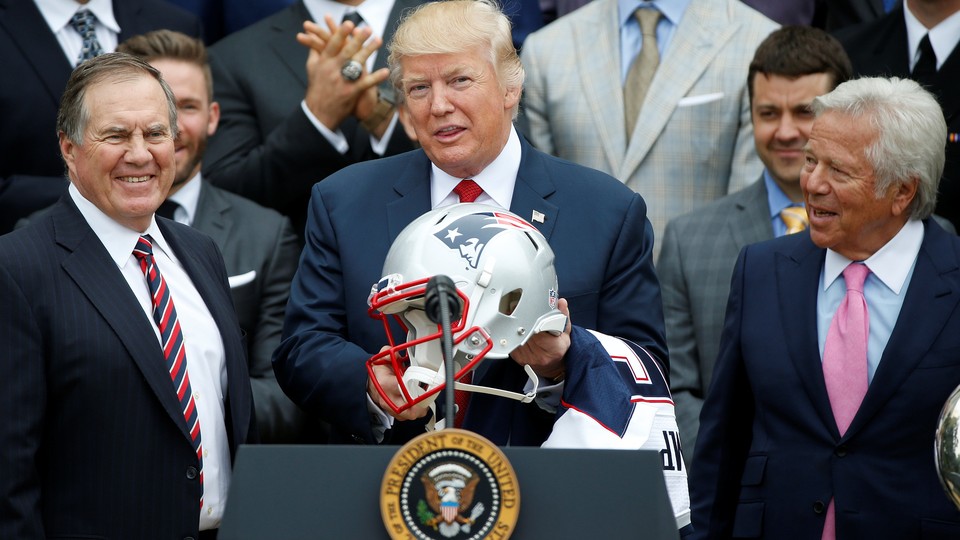 The day after Michael Cohen pleaded guilty to violating campaign-finance laws allegedly at the behest of Donald Trump, and Paul Manafort was convicted of tax fraud by a jury, the president emailed his supporters with a fund-raising appeal. It had nothing to do with his former aides.
The email invoked ESPN's recent announcement that the network does not plan to show the national anthem before Monday-night games this football season—and, in turn, it invoked the players who have knelt during the anthem to protest racial injustice and police violence the past two seasons. "If 'America' is too offensive for anyone in our country, then what are they doing in America?" the email read, before accusing ESPN of a "spineless surrender to the politically correct liberal mob."
Never mind that ESPN's policy was not a departure from previous seasons. No matter what has swirled around the Trump presidency—or perhaps because of what has swirled around it—Trump has reliably made football, and in particular the NFL, central to his politics over his year and a half in the Oval Office.
The administration has relished making Colin Kaepernick, the former San Francisco 49ers quarterback who began to kneel during the anthem ahead of the 2016 season, a chief foil. "Wouldn't you love to see one of these NFL owners, when someone disrespects the flag, to say, 'Get that son of a bitch off the field right now?'" Trump said at a rally in Alabama last September. Later in the season, Mike Pence stalked out of an Indianapolis Colts game in protest of the protesting players.
NFL players have continued to kneel, and many have boycotted visits to the White House. Trump disinvited the Super Bowl champions the Philadelphia Eagles this year, after reports that so few players were planning to attend. The league and team owners, meanwhile, have muddled through a response, struggling to manage the competing interests of a fan base that leans white and conservative, players—the majority of whom are black—who feel attacked by Trump, and their own relationships to the president. Many owners donated to his campaign and his inauguration committee. Woody Johnson, the owner of the New York Jets, is now the U.S. ambassador to the United Kingdom. The New England Patriots owner Bob Kraft has been a good buddy of Trump's for years.
This week, a new football season kicks off and it appears there won't be much of a break from Trump and politics. An arbitrator has ruled that a collusion grievance filed by Kaepernick against the league (he hasn't played since the 2016 season and claims he's been blackballed for his politics) will be allowed to continue, which means more discovery and uncomfortable questions for league brass. Owners and players are still negotiating a settlement on how to handle the national anthem.
Mark Leibovich, a politics writer for The New York Times Magazine, spent the past several years immersed in league business, and he documents his NFL safari in the newly released book Big Game: The NFL in Dangerous Times. (Leibovich undertook a similar anthropological study of Washington a few years ago in This Town.) I spoke with Leibovich recently about how football resonates with Trump voters, why the league can't figure out the president, and which politician the NFL commissioner Roger Goodell is most like. Our conversation has been edited for clarity and length.
---
Ben Strauss: The Super Bowl between the New England Patriots and Atlanta Falcons in 2017 seemed to me to mark a moment when politics was going to cast a giant shadow over the NFL. Trump was a huge Patriots fan; then Richard Spencer claimed them as the team of white America. And it was only a few weeks removed from the Women's Marches that were these massive protests against Trump. The country's nerves were raw and the Super Bowl was swallowed by it. Is that how you saw it, too?
Mark Leibovich: Yes, this great tailgate party, this great unifying spectacle had become this family divorce. It's Thanksgiving at a family divorce. There was no escaping Trump. It was a week after his inauguration when I arrived in Houston and it was everywhere. This was the day Trump fired Sally Yates for not enforcing the Muslim ban. [The Patriots quarterback Tom] Brady was getting questions about Trump and all the players were getting Trump questions, too. "Are you going to go to the White House?" Trump was everywhere.
Strauss: As you write in the book, football has come to represent something really important to a lot of Trump's supporters. Is the sport itself part of the "Make America Great Again" platform?
Leibovich: There's no question. There's a pretty big Venn diagram from the football heartlands of Ohio and Alabama with the Trump Belt. You listen to NFL coaches being defensive about football and concerned about concussions and football going soft with safety rule changes. Trump said it perfectly—football has gone soft and America has gone soft. That, to me, is the whole game. That was after the Cincinnati-Pittsburgh playoff game and he weighed in. [In early 2016 the two teams played a particularly violent game with a number of penalties and a suspension for violent play.] You had this perfect moment—you had the announcer, Phil Simms, saying, this is a disgrace, and you had all these guys saying, these guys have to be punished. And Trump, a couple days later, says, this was great … The crowd in Nevada, they went nuts. He was hitting the same chord that people in Ohio might feel defensive about football being ruined by these oversensitive liberal-bubble people on the coast or these alarmist scientists and academia. It's the same flavor of culture war.
Strauss: The NFL has desperately tried to move on from the anthem controversy, while the Trump administration has done everything possible to keep it in the news, right?
Leibovich: The handful of people kneeling and protesting were a lower-grade distraction [when Kaepernick first started kneeling] … They had not reached a critical mass. A lot of people didn't like it, but then Trump took the wedge and jumped in and just widened it like he did it … If the San Francisco vegan quarterback didn't exist, the wedge-issue gods couldn't have invented him … He's like a dream for Trump. So yes … but the thing is, the NFL had this handled last year. The best thing they could do was ride it out [and not force players to stand]. They had some fine public-relations and diplomatic initiatives, and giving all this money to the players' coalition and seemingly genuinely sitting down with players and having discussions … But in May this year they totally flipped [and announced that teams would be fined if their players kneeled]. I don't know if Roger Goodell was listening to more-conservative owners or if he felt like he owed Jerry Jones for standing down on his contract or there was a handshake deal with Rupert Murdoch after Fox gave the NFL billions of dollars [to broadcast Thursday-night football]. But they knew it was a disaster immediately and they basically reversed it and now they don't know what they're doing.
Strauss: You and your colleague Ken Belson obtained a tape from a meeting last year between players and owners where they discuss what to do about the anthem, including one owner's suggestion that the league hire a black Charlton Heston to be a spokesman. What surprised you most about listening to that?
Leibovich: One, it was such a window into the degree to which Trump is in all of their heads. By them, I mean the owners. You have them all sitting around saying, "What are we going to do to make sure Donald doesn't pipe up again? If he pipes again, we've got problems." If Trump could hear that, he'd love it. "They don't know what to do with me." A lot of them were his supporters. Robert Kraft was very critical of him in that meeting and they're friends. [The Buffalo Bills owner Terry] Pegula gave him money, so that was surprising. The other thing is, this is not a very impressive group of people. It's like these are basically the board members of one of the top two or three entertainment companies in the country, and if you were putting together a CEO and board combination for L.L. Bean or Apple or FedEx or Bank of America, you wouldn't be picking Terry Pegula or [the Cincinnati Bengals owner] Mike Brown or [the Oakland Raiders owner] Mark Davis or [the Detroit Lions owner] Martha Ford. And you wouldn't be picking Roger Goodell. I think football succeeds despite the people who run and own it.
Strauss: Is there another corporate entity that has struggled to navigate the Trump era more than the NFL?
Leibovich: I don't think so.
Strauss: NFL owners have been a little like deer in headlights when it comes to dealing with Trump. In the book, you quote the Atlanta Falcons owner Arthur Blank telling Kraft, "You fucker, you've given him a lot of money … There are things he's saying and doing that are not great for this country." Why can't the owners figure out how to handle Trump? Is it because they agree with him on policy and tax cuts? Is it because they're stuck between fans that tend to be more conservative and white and players who are mostly black? Is it because they want to be friends with him?
Leibovich: I think it's a combination of things. Worrying about the short-term bottom line … They're losing a sector of the right every time he pipes up, or pissing off a sector of the right every time. The other thing is, owners are star-fuckers. They love the idea that they're friends with the president because they weren't friends with Barack Obama and they weren't friends with George W. Bush. And Donald Trump is also a star-fucker, especially when it comes to super rich people. There is plenty of needy, insecure billionaire psychology in this swamp to drive this thing. And if you had a more secure president and a more secure league you might not be seeing this mutual obsession.
Strauss: We've seen a lot of Republicans—Trump and beyond—turn the national-anthem controversy into a campaign issue. Ted Cruz, for example, is running ads against Beto O'Rourke after he was filmed defending the protesting players. Is this a winning issue for Trump and Republicans, as they seem to think it is?
Leibovich: They could be right. At least last year the numbers seemed pretty solid. It's not dissimilar to George Herbert Walker Bush and the Pledge of Allegiance. He made a big wedge issue out of that. These are Lee Atwater issues in a big way.
Strauss: With the scandals mounting this month, Trump returned to the culture war with the fund-raising email about ESPN and the anthem. Is Trump's main 2020 campaign platform just going to be "Football!"?
Leibovich: [Laughs] Yeah, pretty much. And it's not going to wait that long. After Labor Day, what else does he have? He's not going to pass another tax cut, he's not going to repeal Obamacare, the wall isn't magically going to get built. Football season is a weekly thing. Maybe there'll be a lot of coverage of how many players on the Seahawks are raising their fists or kneeling. And then he gets to talk about this every Sunday leading into the midterms.
Strauss: Trump has a complicated history with the NFL. He wanted into the league in the 1980s when he owned a team in the USFL and was basically told to shove off. Then he had interest in buying the Buffalo Bills a few years ago. How much of his preoccupation with the league is personal?
Leibovich: It's always a big part with him. He has a lot of personal grievances that he's been not at all shy about trying to exorcise or act according to—whether it's feeling spite from Amazon, feeling spite toward NBC and possibly getting involved in their Comcast merger. The NFL is just another private American entity that he feels slighted toward that he hasn't been shy about using the powers of the presidency to go after.
Strauss: You describe Goodell as being a very political animal. Does he remind you of any politician?
Leibovich: Someone at the league, pretty high up, said this to me. He's a lot like Mitt Romney, the son of a father he revered, son of a politician who was revered among a certain circle of people who worked their consciences in the 60s. George Romney was a forward-looking Republican on civil rights; Charles Goodell, same thing on Vietnam. And [Roger and Mitt] have this patrician worship. Then Mitt Romney comes along and he's not as good a politician [as his dad] and is not as seamless a figure of conscience. He's a flip-flopper and is not a natural at all. And yet he's been working his whole life to be just like Dad and he gets to some pretty high places, but the suit never fully fits. Roger Goodell is sort of the same thing. He made it to the top of the league … but he's uncomfortable in his own skin.
Strauss: Is there a politician who would make a good NFL commissioner?
Leibovich: Condi Rice and Barack Obama—I think both could be tremendous. But I don't think you could get them. Football has become suffused with too much partisanship. They are both deeply respected, smart, and love the game. It also, obviously, helps that they both understand politics. And the commissioner's job is nothing but political—in terms of being able to sell, negotiate, and glad-hand. Probably wouldn't hurt to have an African American in that job, either, since about 75 percent of the players are black.
Strauss: How scared is the league of Kaepernick's collusion grievance?
Leibovich: They hate this. Everyone I talked to in the ownership and league thought this case would just be thrown out. Now it's going forward, and a lot of very secretive and nervous people—NFL owners—are going to have to testify. It might very well not go well for them.