How Trump and Manafort Are Helping Each Other in the Russia Investigation
The two have a joint-defense agreement, which allows their legal teams to share information—and could help the president's former campaign chairman angle for a pardon.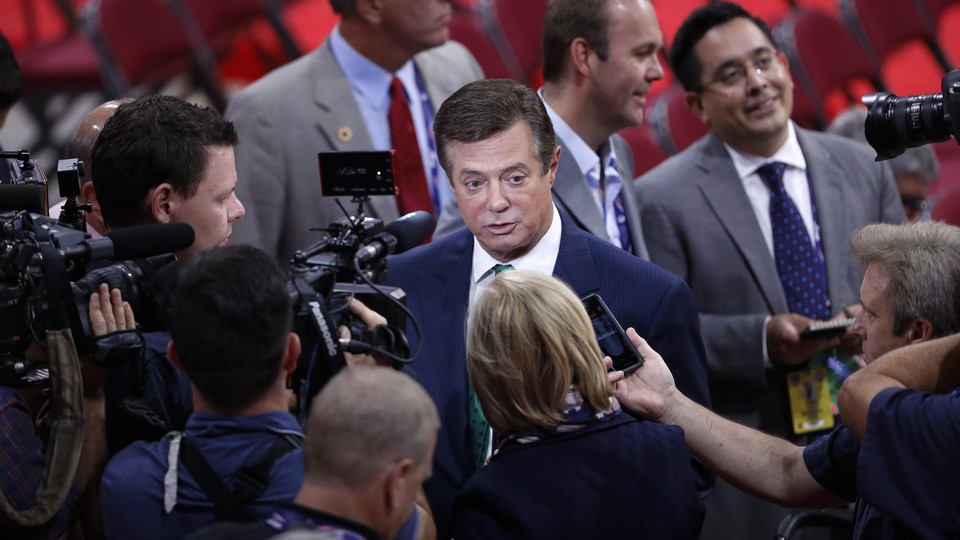 President Donald Trump has tried to distance himself from his former campaign chairman Paul Manafort, insisting that Manafort only worked for him for a very short time and that his recent convictions on tax- and bank-fraud charges have nothing to do with the campaign. But Trump's and Manafort's legal interests may be more aligned than either of them have let on.
According to Rudy Giuliani, the president's personal lawyer, Manafort and Trump are part of a joint-defense agreement that allows them to share confidential information about the Russia investigation under the protection of attorney-client privilege. "All during the investigation we have an open communication with them," Giuliani recently told Politico. "Defense lawyers talk to each other all the time, where, as long as our clients authorize it, therefore we have a better idea of what's going to happen. That's very common."
Former federal prosecutors turned defense attorneys told me that such agreements are indeed common in multi-defendant cases like Special Counsel Robert Mueller's probe, which has embroiled dozens of White House staffers, Trump-campaign advisers, and associates of the president. Essentially, they said, these agreements allow defendants to get their stories straight—and could help Manafort if he's looking for an eventual pardon.
"These types of agreements are very common in mob and street-gang cases," said Elie Honig, a former assistant U.S. attorney who successfully prosecuted more than 100 members and associates of La Cosa Nostra. "I've seen some joint-defense agreements with 20 participants … It enables and facilitates all defendants to get together and say, 'Let's get our ducks in a row.' And, strategically, it enables all the different defendants and targets in a case to get together, work out what they're going to say, and get on the same page so as not to implicate each other."
Manafort's legal exposure is not limited to his bank records and foreign lobbying, two matters for which charges have already been brought against him. He ran the Trump campaign for nearly five months at the height of the election, and he attended a meeting in June 2016 with Russian nationals offering dirt on Trump's opponent, Hillary Clinton. That meeting is of particular interest to Mueller, who has been investigating a potential conspiracy between the Trump campaign and Russia to undermine Clinton's candidacy. Trump's story about the meeting has changed several times already, and WikiLeaks dumped Democratic National Committee emails that had been stolen by Russia just over one month later. Manafort also appeared to offer the Russian oligarch Oleg Deripaska private briefings about the campaign in exchange for debt relief, and he received emails from the Trump campaign aide George Papadopoulos offering to set up a meeting between Trump and Russian President Vladimir Putin.
The recently revealed agreement "is an indication by both Trump and Manafort that their interests are aligned," explained the former federal prosecutor Jeffrey Cramer. It may also give Manafort "another way to demonstrate his loyalty to Team Trump," said Patrick Cotter, a former federal prosecutor who was part of the team that convicted the Gambino crime boss John Gotti. It "suggests that Manafort may be signaling to the Trump team that he wants to still be thought of as one of them, and so is willing to share the evidence he gets to see as he prepares for his trials."

Trump's and Manafort's lawyers can share as much or as little as they'd like under the agreement, which can be either written or unwritten, lawyers told me. Trump, whose deal with Manafort may make him more privy to evidence in the Russia investigation than was previously known, has repeatedly called for the probe to be shut down and has praised Manafort for refusing to cooperate with Mueller. (A spokesman for Manafort did not return a request for comment.)
According to the journalist Bob Woodward's new book, Fear, Manafort is not alone in having a deal with Trump. Thirty-seven witnesses who have been called to testify so far in the Mueller inquiry are part of a joint-defense agreement with the president, which allows them to share details about what they told the special counsel. Michael Cohen, the president's former personal attorney and fixer, also had an agreement with Trump, but he backed out earlier this summer when he decided to cooperate with New York prosecutors.
So far, Manafort is the only American charged by Mueller who has chosen to go to trial rather than cooperate, and he's already facing years in prison as a result of his conviction in Alexandria, Virginia, last month. He's preparing for yet another trial in Washington, D.C., next week on multiple charges, including failure to register as a foreign agent, witness tampering, and money laundering.
His agreement with Trump wouldn't prevent him from seeking a plea deal in that case, or even flipping on the president in exchange for a lighter sentence, legal experts told me—it would simply limit what he could say about Trump's legal strategy. Manafort is still resisting pressure to help federal prosecutors, according to ABC News, and is angling for a deal that would lessen his sentence but not require him to turn on Trump. That's not an uncommon request, Honig said, but a good prosecutor would reject it. "Federal cooperation, with very narrow exceptions, is not selective," he said. "Generally, it's all or nothing."
Manafort may be looking beyond a plea deal, however, to a full pardon from Trump (or, even further down the road, to a commutation). Honig was skeptical that Trump's lawyers would use the agreement to dangle a pardon in exchange for Manafort's silence: Doing so could constitute obstruction of justice, and therefore be subject to the crime-fraud exception to attorney-client privilege. "They have to be somewhat guarded, because they know Manafort, or anyone else in a joint-defense agreement, could choose to flip at any time," Honig said.
Even so, Cotter noted, the agreement provides Manafort a valuable channel into Trumpworld, one that could help him angle for a pardon if that's what he's looking for. In the end, "that's not a bad roll of the dice," Cramer said. "As we've seen from Trump's past pardons, Manafort won't need to wait on career prosecutors or the [White House's] pardon office to make a recommendation. It's really just about waiting on the president's whim."