Donald Trump Might Be the 'Client From Hell'
The president doesn't seem to understand what lawyers do—including the ones trying to defend the presidency.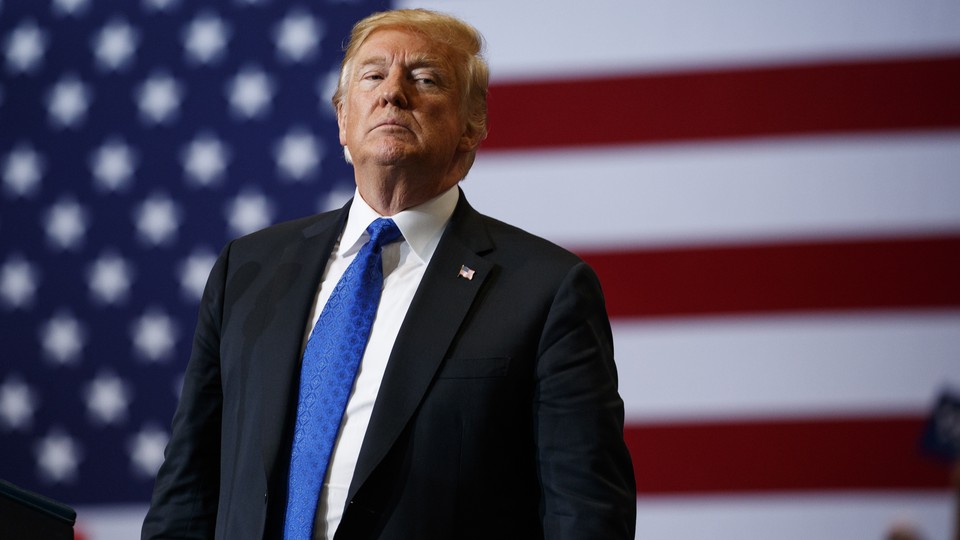 On the 268th page of the best-selling book Fear, Bob Woodward quotes President Donald Trump: "I don't have any good lawyers. I have terrible lawyers … I've got a bunch of lawyers who are not aggressive, who are weak, who don't have my best interests in mind, who aren't loyal. It's just a disaster. I can't find a good lawyer."
It's not clear when Trump reportedly voiced his despair, but it does appear to contradict the sunny tweet he typed on March 25 of this year:
Many lawyers and top law firms want to represent me in the Russia case...don't believe the Fake News narrative that it is hard to find a lawyer who wants to take this on. Fame & fortune will NEVER be turned down by a lawyer, though some are conflicted. Problem is that a new......

— Donald J. Trump (@realDonaldTrump) March 25, 2018
In truth, the veteran Philadelphia lawyer David Rudovsky tells me, most of his esteemed brethren are wary of representing "nightmare" clients like Trump; their ethical concerns vastly outweigh the lure of fame and fortune. He read Trump's lament in the Woodward book and was not surprised. For some lawyers, he says, "a high-profile case like [Trump's] is attractive, it's interesting work." But within the legal profession, there's broad agreement that Trump is unusually difficult—that he doesn't listen, that he actively undermines the lawyers working for him, and that, perhaps worst of all, he is incapable of learning. "We're talking about the client from hell," Rudovsky says. "I know that's a hackneyed term, but for most lawyers, notwithstanding all the publicity and attention they'd get, representing him has got to be very, very difficult."
Some of the latest developments in the Russia story confirm that. According to an article Tuesday in The New York Times, which cites more than a dozen inside sources, "it is not clear whether Mr. Trump has given his lawyers a full account of some key events in which he has been involved as president or during the decades running the Trump Organization … The sense of unease among the president's lawyers can be traced in part to their client. Mr. Trump has repeatedly undermined his position by posting on Twitter or taking other actions that could add to the obstruction case against him."
Lawyers who have declined to work for Trump are likely not shocked to hear that. When Ted Olson, a well-credentialed conservative and a former U.S. solicitor general, turned down a Trump entreaty last March, citing conflicts with other clients, he told MSNBC's Andrea Mitchell that the White House climate was not conducive to good representation: "I think everybody would agree: This is turmoil, it's chaos, it's confusion, it's not good for anything … This [administration] seems to be beyond normal." When he was asked whether he knew of any lawyers who were interested in taking Trump as a client, he replied, "Not at all."
The chaos was particularly acute in March; that's when the Trump lawyer John Dowd, the president's chief conduit to Special Counsel Robert Mueller, decided to quit. According to the Woodward account, Dowd had concluded that his client was "a f—g liar" who would wind up wearing "an orange jumpsuit" after speaking under oath to Mueller. In the wake of Dowd's departure, Trump queried top lawyers and top firms in Washington, D.C., and New York, and was repeatedly spurned. Most of the attorneys politely cited "conflicts," and in some cases that was actually true. One lawyer, William Burck, was already representing ex–Trump Chief of Staff Reince Priebus and then–White House Counsel Don McGahn. (McGahn has reportedly spent many hours sharing information with the Mueller team.)
The general consensus of the legal community was well articulated by Philip West, the chairman of Steptoe & Johnson, a large Washington, D.C., firm that has declined White House offers. He told CNN: "With a figure who is as polarizing as the president, it makes the decision about whether to represent him a more difficult one. Any large law firm has clients that have very strong feelings." That's why some prospective lawyers have cited conflicts: Their own qualms aside, they don't want to lose existing clients who loathe Trump.
Ted Boutrous, a partner in Olson's firm, Gibson, Dunn & Crutcher, told CNN that Trump is a "notoriously difficult client who disregards the advice of his lawyers and asks them to engage in questionable activities." He didn't elaborate, but he seemed to be referencing a fear among attorneys that Trump might lure them into activities that fall outside the bounds of ethical representation. According to the American Bar Association's rules of professional conduct, "a lawyer shall not counsel a client to engage, or assist a client, in conduct that the lawyer knows is criminal or fraudulent."
Rudovsky, who has practiced criminal-defense law since the 1970s, tells me that he once refused to take on a client because he "was fairly certain of ethical issues down the road." And he has dropped others for similar reasons: "I've had clients where I finally have to say, 'There's too much space between us.'" Translation: He could no longer trust what they were telling him.
"Trust is very important," he says. "That's the essential thing you need for a criminal-defense relationship to succeed. Frankness on both sides. 'Tell me everything, good and bad.'" With Trump, "you're dealing with someone who has no regard for the truth," Rudovsky continued. "He has never built a trustworthy relationship with a lawyer. You just don't get a lot of the essential information." Indeed, if news accounts are correct, it's Mueller who's getting the essential information—from witnesses who are sharing material that Trump's lawyers are in the dark about.
And the flip side of Trump's instinctive secrecy is his transparency on Twitter. For lawyers, that, too, is a minefield. Many legal analysts have long contended that some of the tweets—attacking potential witnesses, for instance—might buttress a Mueller case for obstruction of justice. Rudovsky tells me, "What every lawyer tells every client is, 'Don't say anything on social media, don't put anything on social media, it'll come back to haunt you.' But he's uncontrollable."
Dowd, Ty Cobb, and Marc Kasowitz are no longer working with Trump for various reasons; the spokesman for his personal legal team, Mark Corallo, quit last year because, according to a close friend, he could no longer tolerate his job "on a moral and professional level"; and his longtime lawyer Michael Cohen has been pulled into the prosecutors' camp by dint of his confessed criminal activities. And McGahn, the onetime White House counsel, has been shown the door; in the Woodward account, Trump singled him out as weak and disloyal. The problem with the latter assessment is that a White House counsel is tasked with being loyal to the presidency, not to its occupant.
That's arguably the crux of the issue. Trump's core requirement—that lawyers be personally loyal to him, always working with his "best interests in mind"—ultimately extends to those, like the White House counsel, who work for the American people. There's no indication that anyone is poised to step into McGahn's shoes. Trump has considered Emmet Flood, currently a key personal lawyer, but aides have tried to derail that move, leaking to Fox News that Flood is busy playing defense against Mueller and shouldn't be moved.
Jonathan Turley, a legal scholar at the George Washington University Law School and a frequent counsel in national-security cases, tells me that Trump's criticism of McGahn "reveals a fundamental misconception of the role of a lawyer." He elaborated: "The White House counsel is not Trump's lawyer, but counsel protecting the office … No ethical lawyer could accept that job without a clear understanding that the loyalty of the White House counsel runs first and foremost to the presidency … That is the defining principle of a 'good lawyer.'"
Trump's misunderstanding extends to his Justice Department, too. Earlier this week, the president complained in an interview, "I don't have an attorney general." He clearly believes it's Jeff Sessions's job to protect him from various criminal probes. The problem, as Rudovsky notes, is that "his conception of what the Department of Justice does is so distorted as a matter of policy and history"; his demand for loyalty should not extend to the attorney general, who answers to the citizenry.
"For any lawyer, this relationship is so fraught with difficulty, a nightmare," he says. "You just know it's going to end in a bad way."