The Kavanaugh-Ford Hearing Is About the Tyranny of Male Power
Thursday's hearing could serve as a breaking point in American politics. Or not.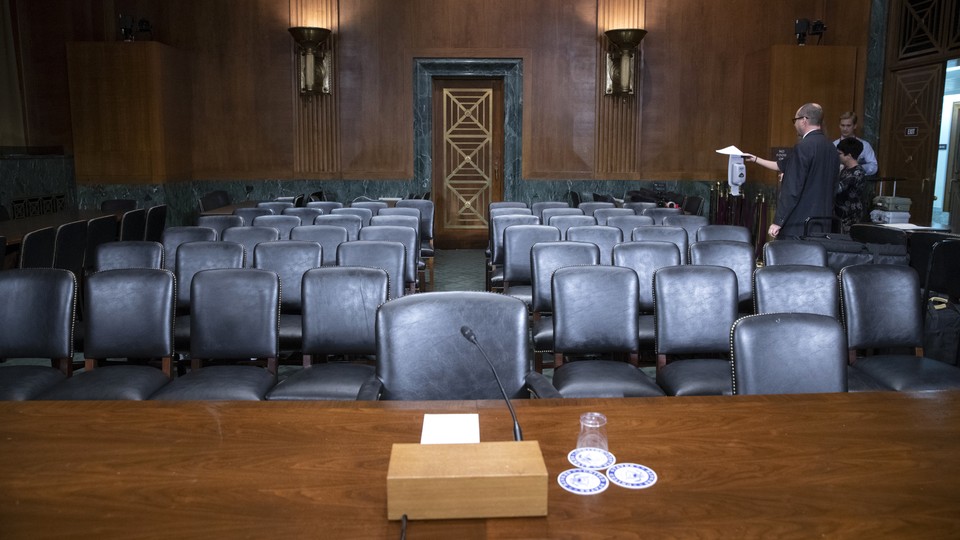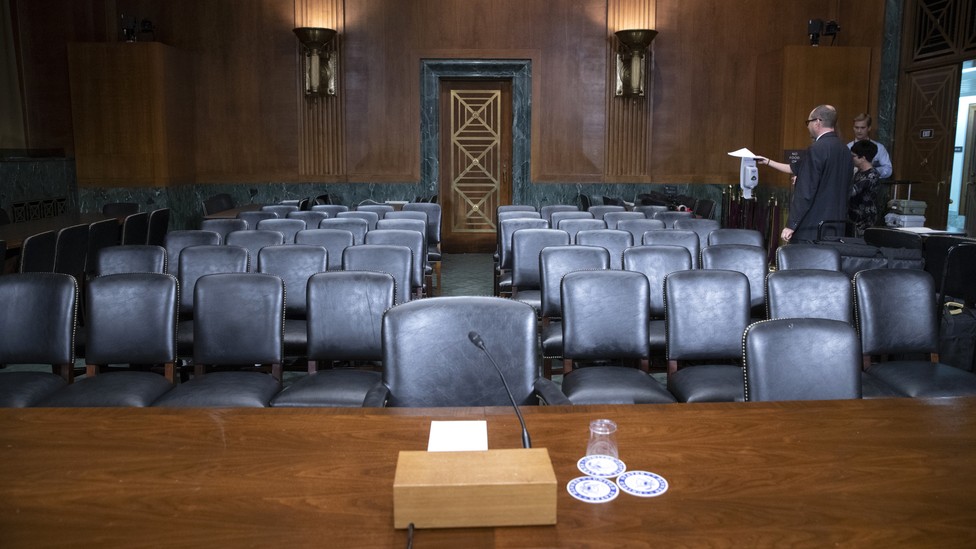 Tyranny is taught through a thousand lessons. For boys, the instincts of domination are first practiced against girls, through small violences and antagonism. The lessons often scale up to stolen kisses, small humiliations, fanned rumors, and then worse. Much of what many boys and young men are told is that masculinity has to do with projecting power, most often against the girls and women who are close at hand. Misogyny is the first and most enduring tyranny, a connection so atavistic and primal that the languages of dominion—of conquests and ravages, of taking and acquiring—are interchangeable between talk of women and talk of war.
Thursday could serve as a breaking point for that close union of violence against women and the exercise of power in American politics. Or it could not. In a hearing before the Senate Judiciary Committee, the account of Supreme Court nominee Brett Kavanaugh, as well as that of Christine Blasey Ford, who has accused Kavanaugh of sexual assault, will be heard. But because of a larger debate—one that's now sprawled much wider than the alleged facts of this allegation or a single confirmation—the stakes are elevated well beyond whether conservatives can finally secure a fifth seat on the Court. At stake now is some measure of the ancient twin legacies of misogyny and dominion, how they've shaped a political movement, and how far they can hold out against social retribution that's been a long time in the making.
Ford is responsible for no story other than her own. It remains to be seen whether any proceedings involving a sexual-assault claim against a powerful man have ever been entirely fair, but the gauntlet today is especially challenging. Ford will face the scrutiny not of a jury or an impartial judge, but of members of a committee and a party who are close with her alleged abuser; who are clearly hostile to her account; and who, in the words of Senate Majority Leader Mitch McConnell, preferred to "plow right through" the confirmation, even in light of her allegations. She faces—and, judging by the threats she claims to have suffered, is facing—the full might of partisan ugliness in an age of intense polarization.
According to her written statement submitted to the committee, Ford will stress that she is "here because I believe it is my civic duty to tell you what happened to me while Brett Kavanaugh and I were in high school." Ford will detail how, while attending the Holton-Arms all-girls prep school in the Washington suburb of Bethesda, Maryland, she socialized with a tight cluster of scions of D.C. power brokers, including those from Georgetown Prep, the school that Kavanaugh attended. According to Ford's testimony, she did not know Kavanaugh, who is now a federal judge, or his close friend Mark Judge well, but in a social scene tethered to the cloisters of suburban country clubs in the early '80s, she did know them and party with them.
At one party, Ford alleges that Kavanaugh and Judge were involved in a heinous attack against her. She will note that she doesn't "have all the answers," and doesn't "remember as much as I would like to," but will recall that at a small gathering at a home near Bethesda, a drunken Kavanaugh and Judge locked her in an upstairs room. Ford alleges that the boys turned up the music and pushed her onto a bed, where she says Kavanaugh grinded his hips into her, groped her, and seemingly attempted to rape her. To stop her from screaming, Ford alleges, he covered her mouth with his hand. "This was what terrified me the most," Ford will say, "and has had the most lasting impact on my life."
In his time before the committee on Thursday, Kavanaugh apparently plans to take a more moderated approach than the vehement objections he's offered in recent weeks, with the misconduct allegations against him multiplying as additional women have come forward. He will address the sheen of alcohol that appears to dominate others' assessments of his character, saying, "Sometimes I had too many" drinks in social situations. But he will use a total denial of Ford's allegations to vouch generally for his character and to implicitly deny the other accusations of assault, abuse, and impropriety. "I never did anything remotely resembling what Dr. Ford describes," Kavanaugh's written statement reads.
Although the general setup of the hearing will be an investigation of the merits of two testimonies against each other, in reality Ford will need to scale an edifice of skepticism built up against her account in the past weeks. There's the partisan interest of Republicans on the committee, and their reluctance to involve nonpartisan investigators like the FBI. And there are the Republican operatives close to both committee members and Kavanaugh, who have tried as hard as they could to poison the well of fair play. Last week Ed Whelan, a conservative lawyer and the president of the Ethics and Public Policy Center, was forced to apologize after spreading a poorly sourced conspiracy theory on Twitter that Ford may have mistaken Kavanaugh for another associate of theirs who is now a high-school teacher. The episode was embarrassing, bizarre, and harmful, but did reveal a striking level of coordination and insularity within the ranks of the Republican elite—including people connected to the Judiciary Committee—many of whom teased Whelan's findings before he released them.
Kavanaugh's testimony won't be delivered devoid of context, either. Over the past few weeks, more women have emerged. On September 23, New Yorker writers Jane Mayer and Ronan Farrow reported that Deborah Ramirez, a classmate of Kavanaugh's at Yale University, alleges that Kavanaugh "exposed himself at a drunken dormitory party, thrust his penis in her face, and caused her to touch it without her consent" during the 1983–84 school year. Represented by prominent Donald Trump gadfly Michael Avenatti, a third woman, Julie Swetnick, has come forward with allegations that in the early '80s, Kavanaugh and Judge engaged in a party culture where young women were plied with drinks or drugs as a prelude to "gang rape," and that both men "were present" during a gang rape in which Swetnick was a victim.
In perhaps any other time, the weight of these three allegations, leveled by three named women either under penalty of perjury or via rigorous investigative outlets, might have been enough to derail a confirmation. Judicial confirmations are not criminal proceedings, and the key questions are not of reasonable doubt or circumstantial versus hard evidence, but of reputation, character, and the ability to do the job and to keep the nation's highest court free of even the hint of scandal or blemish. Looking beyond Kavanaugh, there are other federal judges who are well regarded in Republican circles who would be likely to enforce the same conservative doctrine while on the Supreme Court and whose confirmation might not be so politically or morally risky.
But this is not any other time. This is Trump's time. In a rambling and otherwise incoherent press conference Wednesday night, the president made clear that this confirmation process is also about him. "I've had numerous accusations about me.… They made false statements about me knowing they were false," he said, referring to numerous claims of sexual misconduct brought against him by at least 19 women. "It does impact my opinion … because I've had a lot of false charges made at me," Trump said. He criticized the #MeToo movement for going too far, and undermined his stated willingness to hear Ford out by calling all the allegations against Kavanaugh a "big fat con." At times, it was difficult to parse whether Trump was referring to claims made against him, Kavanaugh, or others. But he did have one point of crystal clarity: "This is beyond Supreme Court. This has everything to do with our country," Trump said.
This process is beyond the Supreme Court, and it does have everything to do with the country. One working theory to explain the president's favor for Kavanaugh was the judge's views of executive power. But now, in interpreting Trump's own words, there could be another explanation: If Kavanaugh is confirmed, it would be the strongest signal yet that there's still an echelon of male power that the energies of activism—on behalf of and by women—can't topple. For Trump, this is about a more visceral kind of impunity. Kavanaugh is an avatar for all his excesses of interpersonal tyranny.
For the GOP, this confirmation is much bigger than Kavanaugh as well. The policy stakes surrounding the seat's securement—namely, the precarious future of Roe v. Wade, women's reproductive rights, and autonomy—are almost too perfect a parallel for the modern moment. While allegations of assault, harassment, and misconduct have brought down powerful men in both party establishments, they have been more of a challenge to the national philosophy of the Republican Party. The White House and its support for men who've been accused of violence against women, along with the presence of Trump, are major pieces of the party's unique vulnerability. But it is also simply a party of men led by men, and a party that is increasingly comfortable abandoning the policy prerogatives of its female constituents. Although it may come at a significant political cost to Republicans, confirming Kavanaugh would successfully deny victory to the main social movement that has posed a serious threat to the GOP agenda.
This is an important moment for the greater constellation of small-c conservative institutions across America as well. Places like prep schools and elite institutions of higher education have found themselves in the crosshairs for condoning party and frat cultures that promote alcoholism and sexual assault, and for providing enduring freedom from consequence for the young princelings brought up under their auspices. That scrutiny joins an ongoing debate—often led by women across different political ideologies—about drinking, date rape, consent, and ultimately male power and impunity.
Today's hearing is about Ford and Kavanaugh. It is about listening to and considering the allegations of a terrible and enduring crime from a woman who owes no allegiance to a party, a movement, or even the outcome of the confirmation process, and whose testimony should be carefully considered beyond each of those things. It's about hearing from Kavanaugh, too, and about fairly assessing credibility and the available evidence. But it is also part of a larger pageant of power, a greater game in which unwilling individuals acting in their own interests will still somehow be made into pawns. This hearing is a watershed moment for Trumpism, and the tyranny that it reflects deep down at a subatomic level.
There is no end to the hunger for power. It must devour all, and it must devour itself. The hunger is nurtured early, and it's reflected by the endless multitudes of petty tyrants—locker-room talkers, creeps, wife beaters, date-rapists, and on—that American culture serially produces. Brett Kavanaugh is only, as of yet, an alleged member of those ranks, but tyrants and those who abet their rule see in this hearing an ordeal that mirrors their imagined tribulations. Confirmation now means not just the approval of a man, his record, and his character, but the affirmation of an ideology. And there's the thousandth lesson.