Trump's Dubious Revisionist History of Hurricane Maria
The president grades himself highly for how the federal government responded to the disaster in Puerto Rico.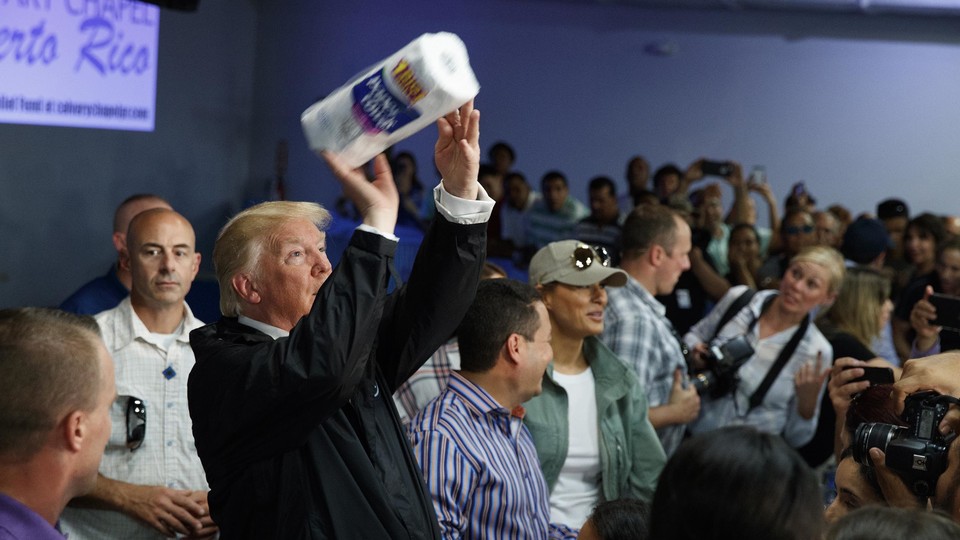 It's every subpar student's daydream: What if you could fill out your own report card? President Donald Trump enjoyed that fantasy Wednesday morning with regard to last year's federal response to Hurricane Maria in Puerto Rico and elsewhere:
We got A Pluses for our recent hurricane work in Texas and Florida (and did an unappreciated great job in Puerto Rico, even though an inaccessible island with very poor electricity and a totally incompetent Mayor of San Juan). We are ready for the big one that is coming!

— Donald J. Trump (@realDonaldTrump) September 12, 2018
On Tuesday, he was even more effusive about the Maria effort. "I actually think it was one of the best jobs that's ever been with respect to what this is all about," Trump said.
The syntactical chaos of that sentence notwithstanding, these assessments of the Maria response hold up about as well as Trump's claim that he graduated at the top of his class in college. Which is to say: only if he was doing the grading.
In fact, the response in Puerto Rico was, well, a disaster. Weeks after the storm struck, only one in 10 Puerto Ricans had electricity and barely half had access to drinking water. As my colleague Vann Newkirk recently reported, the best assessment now holds that an astounding 2,975 people died as a result of Maria, making it easily one of the worst disasters in American history.
Trump is correct that pre-storm problems with Puerto Rico's infrastructure and its distance from the mainland complicated federal assistance, although calling it "inaccessible" is not true. As for San Juan Mayor Carmen Yulín Cruz, she did emerge as a major critic of the president's in the aftermath of the storm, but there's no evidence that anything she did hurt the recovery effort.
Disasters are disasters, and a certain amount of suffering is inevitable. The role of federal response is to minimize that. To assess how well that went, you don't need to take the president's word for it. Last week, the nonpartisan Government Accountability Office released a detailed report on the federal response to last year's disaster season.
As Trump says, the response to Hurricanes Harvey and Irma seems to have gone reasonably well. Not so in Puerto Rico. The GAO identifies several factors. Some were internal: The Federal Emergency Management Agency was understaffed to begin with, and the challenge of responding to the two previous hurricanes as well as wildfires in California meant it was stretched even thinner:
At the height of FEMA workforce deployments in October 2017, 54 percent of staff were serving in a capacity in which they did not hold the title of "Qualified"—according to FEMA's qualification system standards—a past challenge GAO has identified.
FEMA had a shortage of Spanish speakers on staff. The agency also didn't anticipate how badly the storm would hurt local government in Puerto Rico, making it hard for them to assist federal response. Responders struggled to get goods to the island, and the damage to electrical and communications infrastructure as well as roads slowed responses, so that even when supplies arrived, they sometimes sat on docks without any efficient way to be distributed. These problems continue to this day:
Not all of this falls at FEMA's feet. As I have written, the agency often becomes a scapegoat for failures of other departments and governments at all levels, both before and after a disaster strikes. (To give one example, BuzzFeed reports today that FEMA rejected many Puerto Rican requests for funeral assistance—but that is apparently because federal rules require that deaths be disaster-related, and Puerto Rico wasn't correctly labeling such deaths.) Yet even if one is inclined to grant FEMA some indulgence, that doesn't mean the response went well. The facts show otherwise.
Now, one might ask why Trump should have to answer for this. One reason is that, despite his penchant for passing the buck, the president is the head of the executive branch and is responsible for its operations. A second is that he has repeatedly asked for the public to congratulate him for his handling of Maria, even though the facts don't bear it out. Demand credit and you're liable to end up taking blame.
In a disaster, presidents serve primarily as figureheads, comforting victims and sending a symbolic message about where governmental priorities lie—both to citizens and to the governmental agencies. In the aftermath of Maria's strike on Puerto Rico, Trump insisted that all was well on the island, pressuring local officials—dependent on his beneficence—to grit their teeth and agree. As it slowly became clear that all was not well, the president chose to respond by attacking the press and Mayor Cruz for saying so, rather than focusing on the underlying problems.
When Trump finally decided to go to Puerto Rico himself—two weeks after landfall—the visit was a political disaster. The president held a briefing at an Air National Guard base, which he turned into a fact-challenged round of self- and other-congratulation about how well the recovery was going. Trump also suggested that Maria was not a "real catastrophe."
"Every death is a horror, but if you look at a real catastrophe like Katrina, and you look at the tremendous hundreds and hundreds and hundreds of people that died, and you look at what happened here and what is your death count? Sixteen people, versus in the thousands," he said. "You can be very proud. Sixteen versus literally thousands of people."
After the briefing, Trump visited a church where he was photographed tossing rolls of paper towels, as if they were basketballs, into a crowd of desperate survivors.
One year later, with the real death toll revealed to be near 3,000, Trump's "real catastrophe" remarks seem not only tone deaf but appallingly misguided. Nor, contrary to the implication of his tweet Wednesday, is it good enough for the federal government's response to work adequately in two out of three disasters affecting American citizens. The contrast between the relatively successful aid to Texas and Florida and the relatively poor response in Puerto Rico reflects poorly on the federal government. This is especially true in light of Trump's tendency to disparage Hispanics and Puerto Rico's status as an American territory with limited political rights.
"No relationship between a colony and the federal government can ever be called 'successful' because Puerto Ricans lack certain inalienable rights enjoyed by our fellow Americans in the states," Governor Ricardo Rosselló said in a statement Tuesday responding to Trump's comments. "The historical relationship between Puerto Rico and Washington is unfair and unAmerican. It is certainly not a successful relationship."
The president's insistence on relitigating and attempting to revise his handling of Maria comes as the Eastern Seaboard braces for Hurricane Florence. There are important differences between the storms—most notably, the location on the continental U.S.—as well as some similarities, from the size of the storm to the high concentrations of minority citizens in the hurricane's path. The federal response to Florence can't erase the failings of the Maria response, but for the president, it's a bit like a chance to retake a test.