The 10 Most Astonishing Moments in Trump's Press Conference
In his second solo press conference as president, Trump weighed in on allegations against his Supreme Court nominee and called into question George Washington's past.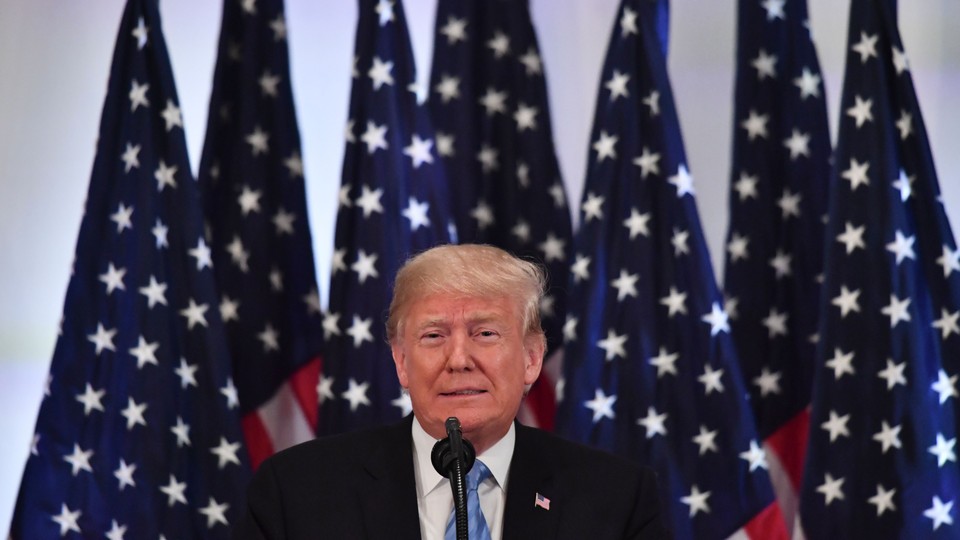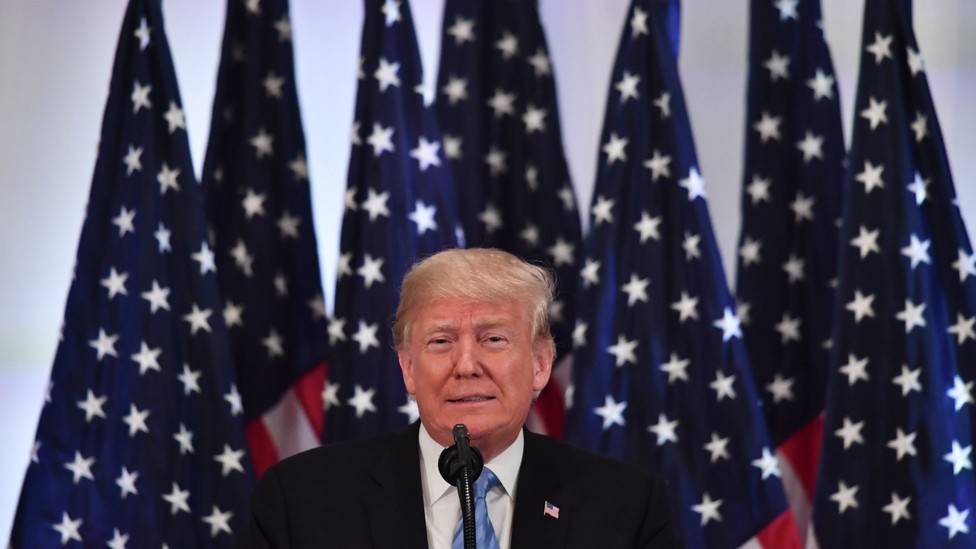 In an unwieldy press conference, President Donald Trump declined to say whether he believes Brett Kavanaugh's accusers, and called allegations against his Supreme Court nominee part of a "con job." Trump also went on to suggest that George Washington had a "bad past." It was the president's first conference in 587 days.
Below are some of the most noteworthy moments from the conference.
1. Trump Calls Kavanaugh 'One of the Highest Quality People' He's Ever Met
Reporter: Mr. President, there are now three women accusing Judge Kavanaugh of sexual misconduct. Are you saying that all three of those women are liars? Is there anything that could be said at this point tomorrow that could cause you to withdraw the nomination? Anything at all?
Trump: I won't get into that game. I will only tell you this: This is one of the highest quality people that I have ever met. And everybody that knows him says the same thing. And these are all false, to me. These are false accusations in certain cases, and certain cases even the media agrees with that.
2. Trump Suggests George Washington Had a 'Bad Past'
Trump: Look, if we brought George Washington here and we said, we have George Washington, the Democrats would vote against him. Just so you understand. And he may have had a bad past, who knows, you know? He may have had some, I think, accusations made. Didn't he have a couple of things in his past? George Washington would be voted against 100 percent by Schumer and the con artists. I mean 100 percent. 100 percent. So it really doesn't matter from their standpoint.
3. Trump Says Sexual-Misconduct Allegations Against Him Influence His Opinion
Trump: It does impact my opinion. You know why? Because I've had a lot of false charges made against me. I'm a very famous person, unfortunately. I've been a famous person for a long time. But I've had a lot of false charges made against me, really false charges. I know friends that have had false charges. People want fame. They want money. They want whatever. So when I see it, I view it differently than somebody sitting home watching television where they say, Oh, Judge Kavanaugh, this or that.
4. Trump Calls Allegations Part of a 'Con Job'
Trump: [Democrats are] actually con artists because they know how quality this man is and they have destroyed a man's reputation and they want to destroy it even more. And I think people are going to see that in the midterms. What they have done to this family, what they have done to these children, these beautiful children of his, and what they have done to his wife. And they know it's a big, fat con job.
5. Trump Says His Preference Is to 'Keep' Rod Rosenstein
Trump: I'm talking to him. We've had a good talk. He said he never said it. He said he doesn't believe it. He said he has a lot of respect for me, and he was very nice and we'll see. And he's a member of the Trump administration. In that sense … my preference would be to keep him and to let him finish up. You know, I call it a witch hunt and it is a witch hunt …
I would much prefer keeping Rod Rosenstein, much prefer. Many people say I have the right to absolutely fire him. He said he did not say it. He said he does not believe that and nobody in this room believes it. By the way, I deal with the people in this room. I was with Mike Pompeo before. We were dealing at a very high level with Japan and I was saying things that nobody in the room even understood and I said [to] them a long time ago and I was right. He said, 'That's not the Twenty-Fifth Amendment that I'm looking at.' I think I can say that for Mike.
6. Trump's Exchange With Kurdish Reporters
Trump: Excuse me, you said where, from where?
Reporter #1: [Inaudible] From Kurdistan region, Northern Iraq. I'm a Kurd.
Trump: Good. Good. Great people. Great people. Thank you. Are you a Kurd? Good. They're great people. They're great fighters. I like them a lot. Let's go. I like this question so far.
Reporter #1: Mr. President, you always say you support your allies. Kurds right now, after the defeat of ISIS, are under a lot of pressure in Syria and and in Iraq by many adversaries. What will you do to elevate their position to support them after they helped the United States to defeat ISIS?
Trump: Well, we are helping them a lot. And we've been very friendly with them. And, as you know, we fought side by side. And we have defeated ISIS, essentially, [a] very short while ago in the Middle East. And we did it with a lot of help from the Kurds. And they are, they're great fighters. You know, some people are great fighters and some people aren't. The Kurds are great fighters and a great, great people. We're going to be—we're discussing that situation exactly right now.
[...]
Trump: Yes, please, Mr. Kurd.
Reporter #2: Thank you very much for your time, Mr. President. Two quick questions. What will be the U.S.A. relations with the Kurds?
Trump: Oh, I thought I just answered that.
Reporter #2: Post-ISIS.
Trump: Okay. We're trying to get along very well. We do get along great with the Kurds. We're trying to help them a lot. Don't forget, that's their territory. We have to help them. I want to help them. Go ahead, what's next? They fought with us. They fought with us. They died with us. They died. We lost tens of thousands of Kurds, died, fighting ISIS. They died for us, and with us. And for themselves. They died for themselves. But they are great people. And we have not forgot, we don't forget, I don't forget.
7. Trump Says 'Women Are Very Angry'
Trump: But I'll tell you this. The people that have complained to me about it the most, about what's happening, are women. Women are very angry. You know, I got 52 percent with women. Everyone said this couldn't happen. 52 percent. Women are so angry. And I, frankly, think that—I think they like what the Republicans are doing. But I think they would have liked to have seen it go a lot faster. But give them their day in court. Let somebody else have a day in court. But the ones that I find—I mean, I have men that don't like it. But I have women that are incensed at what's going on. I've always said women are smarter than men. I've said that a lot. And I mean it. But women are incensed at what's going on.
8. Trump Brings Up Roy Moore

Trump: Well, first of all, I wasn't happy with Roy Moore, let's get that straight. But Roy Moore was a Republican candidate. And I would have rather had a Republican candidate win. I was very happy with Luther Strange. He was a terrific man from Alabama, but Luther Strange had a lot of things going against him. As far as women, whether it's a man or a woman, these are, you know, it can happen the other way. Allegations can go the other way also. You understand that. And whether it was a man or a woman, 30 years ago, 36 years ago, in fact, they don't even know how many years ago, because nobody knows what the time is.
9. Trump Confirms He Rejected a Meeting with Canadian Prime Minister Justin Trudeau
Trump: Because his tariffs are too high, and we're thinking about just taxing cars coming from Canada. That's the mother lode. That's the big one. We're very unhappy with the negotiations and the negotiating style of Canada. We don't like their representative very much. They have taken advantage—I love Canada, by the way. I have so many friends. I have everybody. So many friends. But that has nothing to do with this. I'm representing the United States. Mexico was totally—I mean, they were great. By the way, the new president has been great. The deal is done. Now it has to go through Congress and a lot of things have to happen. Bob Lighthizer, who is here someplace. Where is Bob? He has done a great deal negotiating.
But the deal is done. But Canada has treated us very badly. They have treated our farmers in Wisconsin and New York State and a lot of other states very badly. Dairy products. 300 percent. 300 percent. How do you sell a dairy product at 300 percent? The answer is, you don't. What it is, it's a barrier. Basically, they're saying, we don't have any barriers. By the way, it's 300 percent, so you don't send it in, because you can't compete. I must be honest with you, we're not getting along with their negotiators. We think their negotiators have taken advantage of our country for a long time. We had people who didn't know what they were doing. And that's why we had over the last five or six years, if you average it out, we had $800 billion a year in trade losses. It's ridiculous. It's not going to happen.
10. Trump on His General Assembly Address: 'They Were Laughing With Me'
Trump: I was in front of a large group of highly professional people, most of whom are from either other countries or the United Nations, people that aren't big into clapping, applauding, smiling, and I heard a little rustle as I said our country is now stronger than ever before. It is true. I mean it is true. I heard a little rustle, and I said, it is true. And I heard smiles. I said, I didn't know there would be—they weren't laughing at me, they were laughing with me. We had fun. That was not laughing at me. So the fake news said people laughed at President Trump. They didn't laugh at me. People had a good time with me. We were doing it together. We had a good time. They respect what I've done. The United States is respected again.