This Race in Houston Is the Future of Texas Politics
The Republican incumbent John Culberson has held the minority-majority Seventh Congressional District for almost two decades, but the Democrat Lizzie Fletcher hopes to finally turn out progressives and minorities.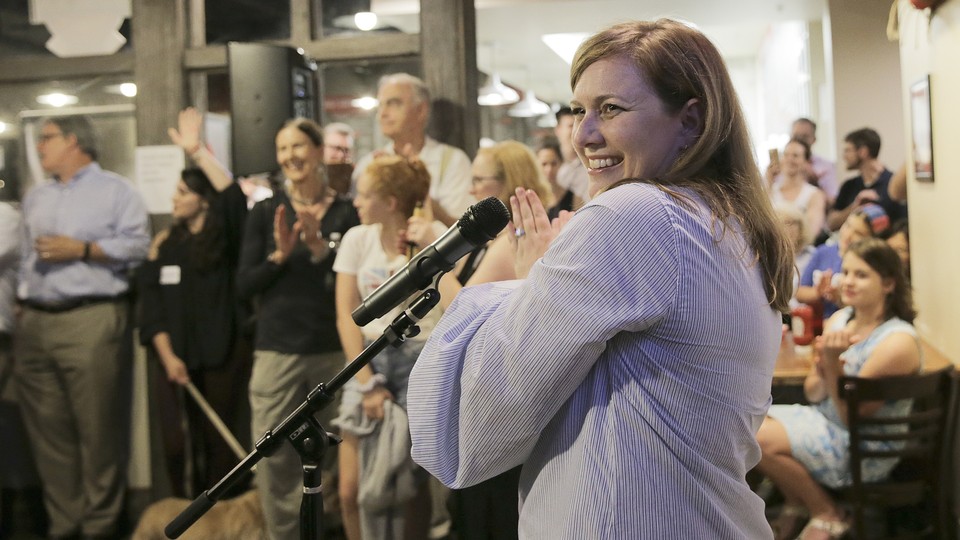 HOUSTON—On a Saturday morning in Houston, the high was 94 degrees with a chance of rain. It was hardly friendly weather for canvassing—the door-knocking, yard sign–delivering, get-out-the-vote efforts that define a politician's grassroots network. Yet dozens of Seventh District residents, sporting Lizzie Fletcher for Congress T-shirts, had happily crammed into a small office room on Richmond Avenue, awaiting their marching orders.
Fletcher stood on a step stool at the front of the room. The 43-year-old cuts an unconventional profile in the Seventh—female, liberal, inexperienced. Any one of those descriptors should be a nonstarter in this district, which a handsome blue blood named George H. W. Bush first turned Republican in 1966. That Bush has had only two successors in nearly five decades—both white, conservative men—appears testament to that fact.
But in a nod to the vast strangeness of 2018, Democrats see the Seventh as one of their best shots at taking the House. Indeed, Texas is changing. Across the state, Republican incumbents including Representative John Culberson here in the Seventh; Representatives Pete Sessions and Will Hurd; and even Senator Ted Cruz are struggling to fend off Democratic challengers. Suddenly, the idea of a progressive woman, a political outsider, unseating an 18-year incumbent like Culberson doesn't feel so far-fetched.
On this Saturday in August, wearing a campaign T-shirt, a black miniskirt, and flip-flops, Fletcher prepped her volunteers by invoking the anniversary of Hurricane Harvey. It was exactly one year before that Harvey had dumped as much as 51 inches of rain on Houston, killing 75 people in Texas, and the trauma still ran deep. "For so many of us, Harvey was really a low point and a high point of our lives in Houston," she said. The low point was obvious. But the high point, she said, was that in this community, "if you could help, you did."
She didn't have to adopt a hyper-partisan caricature—rallying for Donald Trump's impeachment, say, or decrying his big tax cut for the wealthy—to energize the room. Rather, she compared volunteer efforts in the aftermath of Harvey to that day's canvassing. "We are in a crisis in our country," she said, her slight Southern lilt elongating her i's. "And the best way—the best way—to do something about it is to do what y'all are doing today: Just show up."
The sentence reflected Fletcher's understanding of the dynamics at play ahead of November. The Seventh is not Brooklyn. It is not Chicago. Ultimately, this election could be a referendum not on national policy, but instead on local leadership in times of local crisis. In Fletcher's view, this is where Culberson has failed the district, and she intends to use the aftermath of Harvey to make her case.
Texas may be changing. But Fletcher sees her path to victory as a more tried and true one. "If we all just show up," she told the room that morning, "we will win."
To understand Texas is to understand the Seventh, and vice versa. When the elder Bush carried the district, it reflected the white, middle-to-upper-middle-class tapestry dear to mid-century America. So it did for the next three decades, as Bush's successor, the Republican Bill Archer, enjoyed a steady reign. When Archer retired in 2000, he was succeeded by Culberson. By then, whites no longer dominated the Seventh, but it was still considered one of the safest GOP districts in the nation.
Today the district claims one of the most ethnically and economically diverse populations in Houston. It is 38 percent white, 31 percent Latino, 12 percent African American, and 10 percent Asian. To drive through the Seventh is to glimpse a vast number of takes on American life. The district touches some of the ritziest parts of Houston—the flashy mansions of River Oaks, the designer-stocked Galleria. Track a few miles southwest and you'll find Gulfton, where Indian and Pakistani restaurants line the so-called Gandhi district and a single street might host Ethiopian and Guatemalan churches. Spin back up I-10 and there's the Barker Reservoir, behind which many upper-middle-class homes were destroyed by Hurricane Harvey.
As the state undergoes a demographic transformation with the political shifts to match, the question for some political analysts has become not if Texas will turn blue, but when. So it has with the Seventh: The decades-long Republican stronghold swung for Hillary Clinton in the 2016 presidential election, and Democrats have since zeroed in on it as a linchpin of their map to secure the House majority. "Any blue wave from Texas to Washington, including California, is going to start with this race," the longtime Democratic lobbyist Scott Eckart told me. "If Culberson loses, I think all the others will follow."
So far, polling suggests that, for Democrats, the Seventh is in fact within reach. Both Fletcher's and Culberson's internal polling clocks the race within the margin of error, according to three sources to whom the numbers have been relayed. Which means the pressure is on for Fletcher to run the perfect campaign not just for her own sake, but for House Democrats writ large.
"The political momentum here has shifted, and Lizzie is the ideal person to capitalize on that," said Mustafa Tameez, a Democratic strategist based in the district. "She's a progressive woman, she's young, she's smart. She checks off every box."
Fletcher considered taking on Culberson just after Trump's election. The career lawyer had mulled public office before, she told me, such as running for civil district judge. But that was a far-off dream. The idea of running for something, anything, became more urgent in early 2017, she said, as she watched the Trump transition unfold "as a real culture of cronyism, and corruption, and incompetence." "My husband and I would come home and say to each other, 'Where are all the grown-ups?' And, at some point in those conversations, it dawned on me that I'm the grown-ups."
Her candidacy stemmed from common causes—visceral backlash to Trump, the vague desire for "change" that has energized young people across the country to vie for Congress. But in an interview, Fletcher was careful to emphasize that her campaign is far more about Culberson, and what she believes to be his shortcomings, than it is about Trump. It's a helpful distinction: Anti-Trump fury does not a message make—remember Jon Ossoff?—but a platform tailored hyper-specifically to the needs of a district does. Indeed, a stump speech centered on the structural integrity of dams may not capture the national imagination, but it may be key to winning a district that includes flood-ravaged homes.
Fletcher can speak comfortably to the local zeitgeist. She was born and raised in the district. Her father was a lawyer, her mother the owner of the family building-materials company. Her extended family is scattered across the district, too, second cousins who are teachers, social workers, restaurant owners. She met her husband, Scott, through their law firm. "I feel very rooted here," she said.
This is in part why her campaign is less a collection of partisan talking points and more a commentary on local issues such as flood relief: She's long been personally privy to the cyclical trauma of flooding in Harris County. Culberson "has been my rep since he was first elected in 2001," Fletcher told me. "That year, we had Tropical Storm Allison. And I was working downtown at the time, and downtown flooded, my building flooded, people died. It was just this really incredible event that kind of snuck up on us.
"So he's been on notice since he took office that this was something we needed to deal with," she continued. "I didn't ever agree with his positions in the first place … but what we are dealing with, in terms of flooding, is a years-long problem, and Culberson has been completely missing from the discussion."
For Fletcher, it makes one of the key pro-Culberson arguments—that he's a senior member of the powerful Appropriations Committee—unconvincing. "As a senior member of the Appropriations Committee … in the majority, why is it that two Democrats in our community are bringing the bill to fund all of our flood-mitigation projects, and he won't sign on?" she said. "I think if you ask anybody, they'll say we haven't seen him use that to benefit our community, in all the years he's been on it."
The 62-year-old Culberson has been on the Appropriations Committee, which determines how all money is spent through Congress, for 15 years. In an interview, he argued that he has in fact been instrumental in helping the Seventh weather flood damage, particularly from Harvey.
"It was immensely gratifying to be in the right spot and the right time to deliver the largest hurricane-relief package in the history of the country," Culberson told me. "It includes enough money to finish every federally authorized flood-control project in Harris County."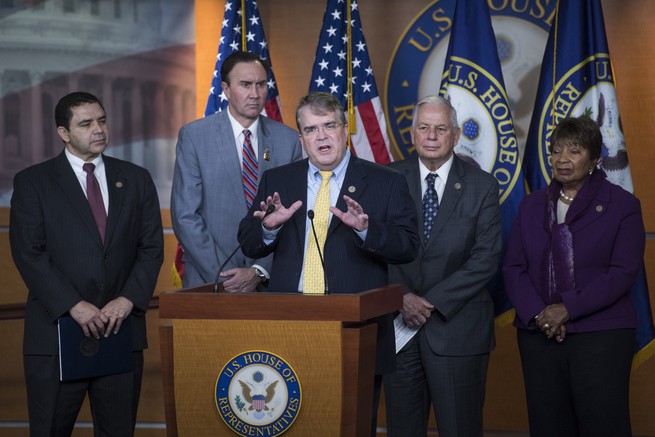 Culberson was indeed a key force behind the billions of dollars in disaster-relief bills that were signed into law in the past year. He was one of the few Texas Republicans with legislative clout in the aftermath of Harvey, in large part because he was the only one to vote for Hurricane Sandy relief funding in 2013. So when Texas needed help, Appropriations Chairman Rodney Frelinghuysen, whose New Jersey district was hurt by Sandy, was eager to oblige.
"I've visited with [Office of Management and Budget Chairman] Mick Mulvaney and the Army Corps repeatedly to ensure they knew that Southeast Texas was first and foremost in relief," Culberson added.
Such is the clout of a senior Appropriations Committee member—the ability to craft spending language yourself, the access to the federal officials who administer the money. Yet however much funding Culberson was able to get, it still hasn't seen the light of day. "It's on its way," Culberson assured me, and Houston Mayor Sylvester Turner has told residents he expects it to kick in around November—more than a year since the disaster itself.
That's not Culberson's fault necessarily: America's byzantine disaster relief system, including the Federal Emergency Management Agency and the Army Corps, has long been the bane of Republicans and Democrats alike. So although Fletcher is inaccurate to criticize Culberson as "absent" from the discussion, it's easy to take her at her word. After all, Fletcher has been a conspicuous volunteer presence in the Seventh in the past year, while Culberson has seemed to retreat from public view.
"Most of my work is done quietly behind the scenes as an appropriator," Culberson offered by way of explanation. "I've discovered there's no limit to what you can do as long as you don't mind who gets the credit."
It's a nice enough sentiment, but could prove damaging against a campaign centered on "showing up." To be sure, federal dollars help a community heal, but face time does as well.
When I asked a longtime Republican insider—who requested anonymity to avoid backlash—why they were planning to vote for Fletcher, the source said: "We never saw Culberson after Harvey."
Numerous factors favor Fletcher's chances in November. The national political mood is on her side. While Culberson can come off as quirky at best, awkward at worst, Fletcher is personable and friendly. She's one of the few politicians I've met who can express a desire for bipartisanship without sounding canned. And by the looks of it Saturday morning, she has a broad mix of Seventh District voters who believe in her campaign.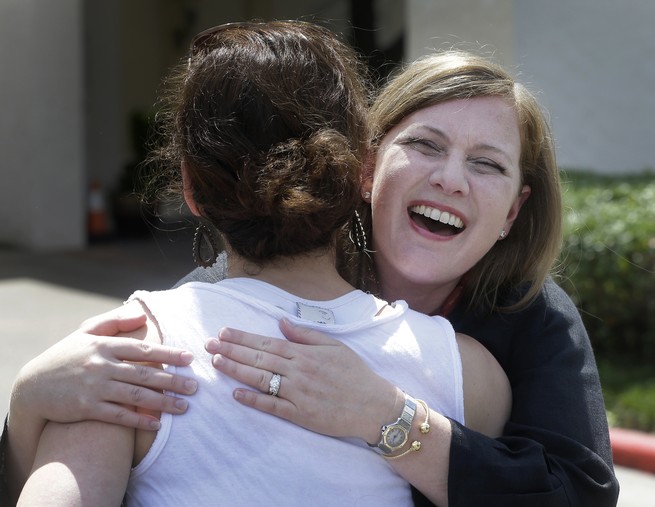 The devil, however, is in the data. Texas may be growing bluer, but it's not there yet, and the Seventh is no exception. For all the demographic changes, the district still leans Republican. This spring may have seen a spirited Democratic primary, but the Republican primary, predictable as it was, still drew 15 percent more voters. What's more, Governor Greg Abbott, who remains popular across the state, is likely to boost Republicans down the ballot in November, especially in Texas's last year of straight-ticket voting.
So as in any red district that went for Clinton, crossover appeal is crucial. For Fletcher, the desire to keep her campaign's focus on local, bipartisan issues such as Harvey is not just personal—it's prudential. And whereas Democrats in bluer districts are quick to dangle the I word, Fletcher is much more cautious, even after the Trump fixer Michael Cohen said, under oath, that the then-candidate knew of hush-money payments to a porn star and a Playboy centerfold. "I feel like we need to wait until the Mueller investigation is completed and have, in Congress, the facts and information in front of us to decide whether to impeach," she told me. "I think Congress needs to be prepared to do it if the evidence shows that he has committed high crimes and misdemeanors. But I just don't think we have all the evidence in front of us."
She's also undecided about whether she'll support Nancy Pelosi as speaker should Democrats take the House. "I haven't made a commitment on that issue," she said. "What I think we need in leadership is someone who isn't going to just punish Republicans for the last eight years. Somebody who's gonna be willing to work across the aisle. And I think that there may be several people who are best suited to that role."
Fletcher's amounts to a thoroughly inoffensive campaign, the kind that could very well encourage the turnout from moderate Republicans and independent voters she needs to win. That it all comes down to turnout is clichéd, but with good reason: The numbers do not fall on Fletcher's side, and she will have to run a flawless campaign to move them otherwise.
Picking off independents and moderate Republicans, however, may mean little for Fletcher if members of her own party don't show up. The Seventh may have seen an influx of likely Democratic voters in the past decade, but whether Fletcher can convince them to trek to the polls is another question.
With just more than 60 days until the midterms, she still has an uphill battle. That much was made clear on Tuesday afternoon, when I spoke to Seventh residents in Gulfton. Of the half-dozen folks I met who said they planned to vote in November, all Democrats, not one of them had heard of Fletcher.
Leoneo Torres is 20 years old, Hispanic, and a registered Democrat. Born and raised in Gulfton, he now works at Galaxy Auto Insurance. The stores lining the Orchard Green strip mall are advertised almost entirely in Spanish, save for an African deli. Torres told me he's one of the few fluent English speakers in the area.
He voted for the first time in 2016, casting his ballot at the community center nearby for Hillary Clinton and every other Democrat down the ticket. He's active on Twitter, Facebook, and Instagram, and said he and his friends talk often about the Cruz challenger Beto O'Rourke. Most recently, they shared with one another a video of O'Rourke skateboarding in a Whataburger parking lot. He's excited to vote in November, he said: "This is about the next six years for our state, you know? It's a big deal."
So he was surprised when I mentioned Fletcher's name. "Who did you say? Elizabeth?" he asked. He turned to his computer and began Googling. He clicked on her campaign page. "Oh, cool," he said. "She's a Democrat."
"I mean, yeah, I'll look into her, but this is the first I've heard of her. Kind of weird, right? I wonder if she's planning on coming around here," he said, and shrugged. "I guess we'll see."