The Atlantic Politics & Policy Daily: Seventeen Years Later
On the 17th anniversary of 9/11, President Trump and First Lady Melania Trump traveled to Pennsylvania to pay tribute to the late passengers of United Flight 93 who resisted hijackers.
Written by Madeleine Carlisle (@maddiecarlisle2) and Olivia Paschal (@oliviacpaschal)
---
Today in 5 Lines
---
The Race We're Watching
Voters in New Hampshire are headed to the polls to select nominees in the Democratic primary for governor. The winner will take on popular Republican Governor Chris Sununu. Voters will also pick candidates in the state's 1st congressional district, where 11 Democrats are running to fill a retiring Democrat's seat.
Polls close at 8 p.m. ET
---
Today on The Atlantic
---
Snapshot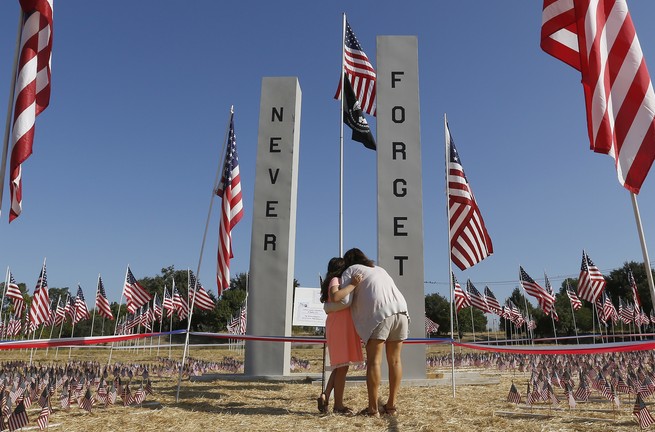 ---
What We're Reading
Priorities: If the Democrats win back the House in November, they plan to prioritize an anti-corruption bill. (Ella Nilsen, Vox)
Don't Forget About the States: We shouldn't be concerned that smaller states are overrepresented in the Senate, writes J. J. McCullough. We should be worried that people don't see states as valuable political entities. (National Review)
The Future of Abortion: A court case in Arkansas will be a "bellwether" for the ways states could restrict abortion rights under a conservative Supreme Court. (Sabrina Tavernise, The New York Times)
Mark Zuckerberg's Reckoning: Evan Osnos profiles the entrepreneur as he faces questions about the morality of Silicon Valley, which, critics argue, Zuckerberg has come to embody. (The New Yorker)
---
Visualized
News on Social Media: According to a new study from the Pew Research Center, about two-thirds of American adults get news from social media, though many don't trust what they see. (Elisa Shearer and Katerina Eva Mata)
Faith and the Government: A new poll from the Associated Press shows that most American voters are open to candidates who are not religious. (David Crary)