Supreme Court Lets Stand a Decision Requiring 'Dark Money' Disclosure
Advocates for greater campaign-finance disclosure said the high court's move would enable voters to find out who's paying for the campaign ads they're seeing on television.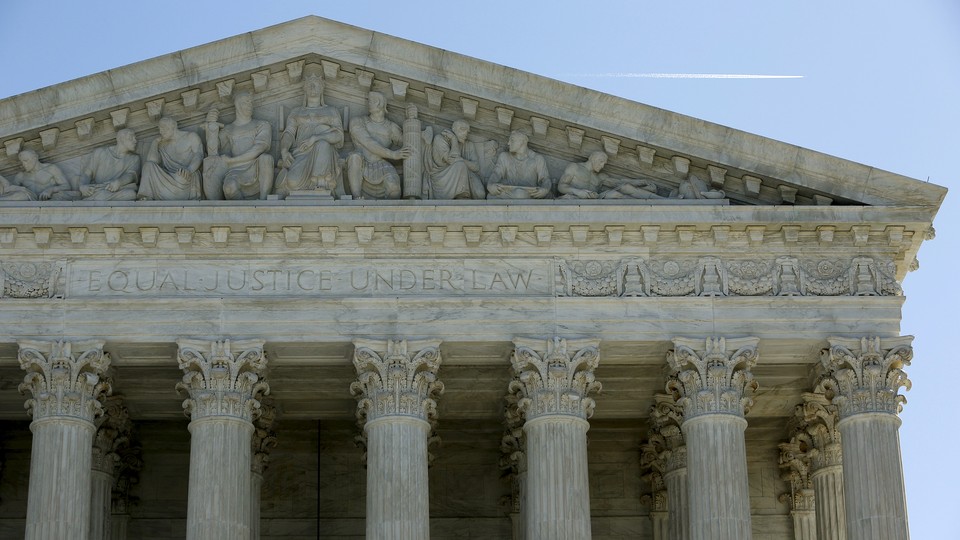 Secret money in politics will soon be a lot less secret. The Supreme Court on Tuesday let stand a lower-court ruling forcing politically active nonprofit groups to disclose the identity of any donor giving more than $200 when those groups advertise for or against political candidates.
Until now, such nonprofit organizations—generally those of the 501(c)(4) "social welfare" and 501(c)(6) "business league" varieties—could keep their donors secret under most circumstances.
It wasn't immediately clear whether nonprofit groups that advocate for and against political candidates must retroactively disclose their funders or only do so going forward, contingent on their future political spending.
Nevertheless, disclosure advocates hailed the Supreme Court's "dark money" decision.
"This is a real victory for transparency," said Ellen Weintraub, the vice chairwoman of the Federal Election Commission. "As a result, the American people will be better informed about who's paying for the ads they're seeing this election season."
Representative John Sarbanes, a Democrat from Maryland who has called for overhauling the way money is spent in politics, concurred: "Now we'll see how much comes down and how quickly in this particular case, but its broader implication can't be denied. It's a hugely positive step forward in terms of transparency."
Others believe voters will wind up with less information before they cast their ballot in November. David Keating, the president of the Institute for Free Speech, which supports the deregulation of campaign finance, said the decision will almost certainly throw a wet blanket on independent expenditures from now to the November 6 midterm elections.
"We think that's a real prospect—that a number of groups are going to choose silence rather than speech—and there are good reasons why they would do that," Keating said. "Certainly not all but most of these groups may come to the conclusion this is too risky: 'Our donors gave us money under the assumption they would remain confidential, and we don't want to do things that would make them not give us money anymore.'"
Weintraub said it wouldn't be surprising to see some groups "come up with clever ways of getting around the rules." She expects FEC commissioners to come together soon in an effort to clarify which donors need to be disclosed. But that could be difficult, given that the FEC's four remaining commissioners are often at ideological odds with one another.
Today's decision is six years in the making. It stems from a complaint filed by Citizens for Responsibility and Ethics in Washington (CREW), a campaign-finance-reform group, with the FEC against Crossroads GPS, a conservative nonprofit organization that has spent tens of millions of dollars to boost Republican political candidates. CREW alleged that Crossroads GPS was violating federal law by keeping its donors secret.
The FEC in 2015 deadlocked 3–3 on whether to investigate Crossroads GPS. In 2016, CREW then sued the FEC. Last month, U.S. District Court Chief Judge Beryl A. Howell ruled for CREW. She gave the FEC 45 days to issue a new regulation that would require donor disclosure in accordance with the law.
Crossroads GPS sought an emergency stay from the D.C. Circuit, which declined to grant it. Supreme Court Chief Justice John Roberts stayed the lower court's decision on Saturday, but the stay was brief: The full Supreme Court vacated Roberts's stay, allowing Howell's ruling to stand.
The high court's action is tempered by two considerations. The decision appears to leave a loophole: Some super PACs, which must disclose their donors publicly, accept money from nonprofit groups. Conceivably, a super PAC could take money from a nonprofit group that doesn't itself advocate for or against political candidates—meaning the super PAC could continue hiding the flesh-and-blood source of the cash funding its efforts, several election lawyers told the Center for Public Integrity. Also, the original case that prompted today's action, Citizens for Responsibility and Ethics in Washington v. Federal Election Commission and Crossroads GPS, remains under appeal, meaning today's decision could be temporary—or not.
Thus, at least for the time being, Crossroads GPS and all other similarly politically active nonprofit groups, such as the Republican-leaning U.S. Chamber of Commerce, must begin reporting their donors to the FEC. That includes a growing number of Democrat-backing organizations that trade in secret money, such as Majority Forward.
"We're about to know a lot more about who is funding our elections," CREW Executive Director Noah Bookbinder said. A representative for Crossroads GPS could not immediately be reached for comment.
The Supreme Court's 2010 decision in Citizens United v. FEC first allowed nonprofit organizations such as Crossroads GPS to spend unlimited amounts of money to directly advocate for or against political candidates. But while the Citizens United decision did note that "transparency enables the electorate to make informed decisions and give proper weight to different speakers and messages," it did not require that politically active nonprofits disclose their funders publicly, including to the FEC, which regulates and enforces federal campaign-finance laws.
Not all of Crossroads GPS's money is secret. Issue One, a nonpartisan organization that advocates for stricter campaign-finance regulations, revealed this month that Crossroads GPS has been funded by the Republican Jewish Coalition ($4 million), the Alliance for Quality Nursing Home Care ($500,000) and the American Health Care Association ($450,000), among others. But it's not always clear who, in turn, funds these groups.