Jeff Flake's Deal With Democrats Puts Kavanaugh's Nomination in Limbo
A deeply divided Senate Judiciary Committee advanced President Trump's pick for the Supreme Court, but final confirmation will depend on a reopened FBI inquiry.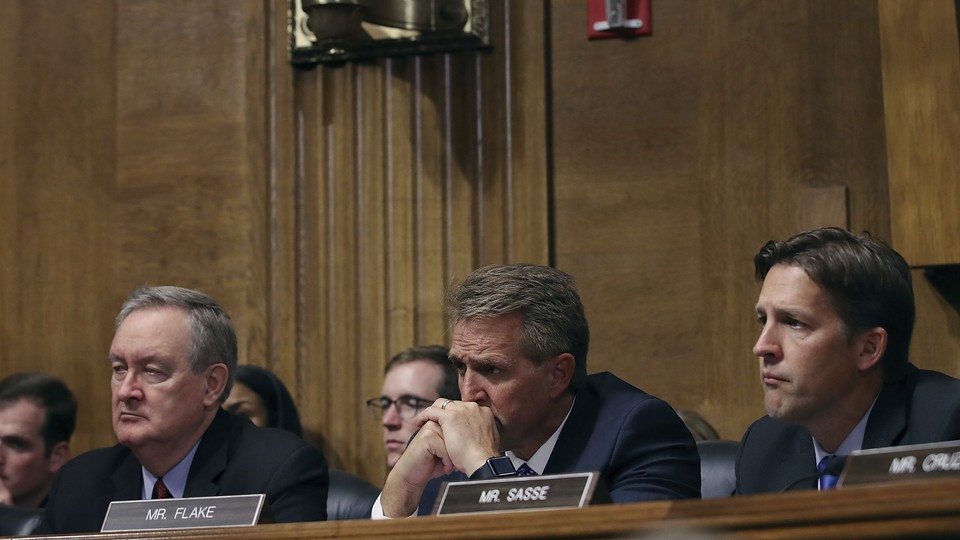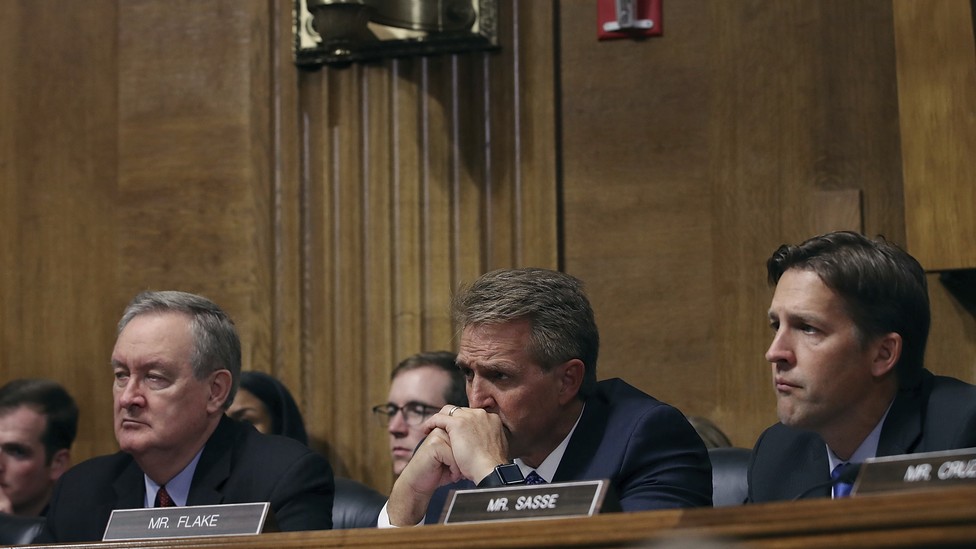 Updated on September 28 at 4:18 p.m. ET
Brett Kavanaugh's nomination to the Supreme Court was all set to move unimpeded through the Senate Judiciary Committee on Friday morning.
Then Jeff Flake had a sudden change of heart.
Hours after declaring his support for Kavanaugh, the Arizona Republican simultaneously voted to advance the nomination in committee while warning party leadership that he would oppose President Trump's nominee in a crucial floor vote unless and until the FBI conducts a further investigation into Christine Blasey Ford's allegations that Kavanaugh sexually assaulted her at a high-school party in 1982.
The result is that while Republicans on the Judiciary Committee succeeded in approving Kavanaugh on a party-line, 11-10 vote, his confirmation to a lifetime appointment on the Supreme Court is stalled for the time being. The GOP has just a 51-49 majority in the Senate, meaning Flake and just one other Republican would have the power to block a vote along with Democrats. Flake suggested strongly on Friday that he had the support he needed to slow the process down for up to a week. And soon after, two swing votes, Republican Senator Lisa Murkowski of Alaska and Democratic Senator Joe Manchin of West Virginia, each said they backed Flake's call for a one-week delay.
To abide Flake's demand, the White House would have to ask the FBI to reopen a background inquiry it considered closed. And in comments to reporters moments after the committee vote, Trump suggested he would do so. "Whatever they think is necessary is okay," the president said. The Judiciary Committee announced later Friday afternoon that it was formally requesting that the administration instruct the FBI to conduct "a supplemental background investigation" into Kavanaugh.
"The supplemental FBI background investigation would be limited to current credible allegations against the nominee and must be completed no later than one week from today," the committee said in a statement.
The developments played out in dramatic and confusing fashion during a rancorous Judiciary Committee meeting that took place just a day after the panel heard contradictory testimony from Ford and Kavanaugh. Flake was the deciding Republican vote, and after he released a statement announcing his support just before the meeting convened, the vote scheduled for 1:30 p.m. Eastern was seen as a formality. But soon afterward, survivors of sexual assault tearfully confronted him in a Senate elevator, and in the hour before the vote, he was seen conferring with a group of Democrats in an anteroom.
When the committee reconvened shortly after 1:30, Kavanaugh's Republican backers sat grim-faced. Chairman Charles Grassley gave the floor to Flake, who explained that he would be voting to advance Kavanaugh's nomination with the understanding that there would be an FBI inquiry "of limited time and scope" that would last up to one week before he would support the nomination on the floor. "I think that we ought to do what we can to make sure we do all due diligence with a nomination this important," Flake said, adding that he had discussed his demand with Democratic Senator Chris Coons of Delaware, among others. Senate Republicans had planned to begin procedural votes to confirm Kavanaugh on Saturday with a final vote as early as Tuesday.
Democrats who had been clamoring for the FBI to investigate Ford's allegations applauded Flake, but they were confused about what exactly he was committing to or if they were promising anything in return. "There's not really an agreement here," noted Senator Amy Klobuchar. The committee voted on Kavanaugh's nomination but did not formally ratify the understanding Flake struck with Coons. When Grassley abruptly adjourned the meeting, Senator Dianne Feinstein of California asked him why there wasn't a second vote. "This is all a gentleman's and gentlewoman's agreement," the chairman explained to her privately, in comments caught by C-SPAN's camera.
Whether the delay will scuttle Kavanaugh's bid remains to be seen. Republicans had warned that an FBI inquiry would yield no more information about the long-ago night in question than the committee had been able to uncover. The witnesses investigators would presumably seek to interview include Mark Judge, Kavanaugh's friend, who according to Ford was the only eyewitness to the attack. He has said in sworn statements to the committee that he does not recall the events she described and never saw Kavanaugh do the things she alleged. But he has not been interviewed yet and told the committee he did not want to speak in public.
Earlier Friday, the American Bar Association, whose ratings of judicial nominees are frequently cited by both parties, called for a delay in the confirmation process so that Ford's allegations could be further investigated. The group had previously rated Kavanaugh "well qualified."
In the lead-up to the committee vote, the party-line split in the Senate over Kavanaugh's nomination hardened. Senators Joe Donnelly of Indiana and Jon Tester of Montana, two moderate Democrats in difficult reelection battles, came out in opposition around midday. Donnelly's announcement was particularly noteworthy because he had voted to support Trump's first nominee to the high court, Neil Gorsuch, last year, and he was part of a bipartisan huddle of senators on Wednesday night that had been expected to vote together. In a statement, he cited and joined the ABA's call for an FBI probe. "I have deep reservations about Judge Kavanaugh's nomination to this lifetime position and, as I stated, we have been unable to get all the information necessary regarding this nomination, despite my best efforts," Donnelly said. "Only 113 people have ever served on the Supreme Court, and I believe that we must do our level best to protect its sanctity."
On Thursday, the committee heard from Ford for the first time, as the California psychology professor delivered her account of the night when she said Kavanaugh sexually assaulted her at a high-school party in 1982. Republicans and Democrats said immediately afterward that they found her testimony compelling and credible, and it seemed, for a brief moment, that Kavanaugh's chances of winning confirmation were doomed.
But the judge came out with a fury in the afternoon, abandoning the polite reserve he had displayed in his initial confirmation hearing to attack the process as "a national disgrace," and accusing the political left of "a calculated and orchestrated political hit" aimed at thwarting his elevation to the Supreme Court. "My family and my name have been totally and permanently destroyed," Kavanaugh said.
He wept openly throughout much of his opening statement, and he scoffed dismissively at questions from Democrats who probed his lengthy remarks for inconsistencies and asked him to respond to descriptions of his drinking and carousing in high school and college. "I am innocent of this charge," he said, denying not only Ford's allegation but others that had emerged in the days before. As the hearing dragged late into the afternoon and evening, Republicans rose to his defense. "This is the most unethical sham since I've been in politics," thundered Senator Lindsey Graham of South Carolina, who implored his Republican colleagues to confirm Kavanaugh. Senator John Cornyn of Texas pointedly urged the judge, "Don't give up."
The impassioned statements from GOP senators on the panel—along with a cheering tweet from President Trump—were a signal that Kavanaugh had sustained support from most of the party's caucus. And when Flake, the lone undecided senator on the committee, announced that he would vote for Kavanaugh, the outcome seemed to be a formality.
"I wish that I could express the confidence that some of my colleagues have conveyed about what either did or did not happen in the early 1980s, but I left the hearing yesterday with as much doubt as certainty," Flake said in a statement.
On his way into the committee meeting, sexual-assault survivors confronted Flake in an elevator. "I was sexually assaulted," one woman tearfully told him in a scene captured live on CNN. "You're telling all women in America that they don't matter."
The women held open the doors of the elevator, as a visibly uncomfortable Flake listened but did not maintain eye contact. "Thank you," he said several times.
Inside the room, Democrats protested the swift move to a vote, with Senator Richard Blumenthal of Connecticut submitting a motion for the committee to subpoena Judge. On a party-line vote, the Republicans rejected Blumenthal's request and moments later approved Chairman Charles Grassley's motion to set the final vote for 1:30 p.m. "I strongly object. This is ridiculous," Democratic Senator Mazie Hirono of Hawaii said.
Nevertheless, the motion carried, and the vote was scheduled.
In the hours that followed, Republicans and Democrats on the committee took turns delivering lengthy speeches explaining their votes for or against Kavanaugh. Nearly all of them lamented a process the committee itself drove. "In my judgment there were, there were no winners in this room yesterday. None. All I saw were two people, two human beings in pain," GOP Senator John Kennedy of Louisiana said. Republicans largely offered sympathy to Ford and said they believed she was sincere in her belief of what happened, but that they did not think Kavanaugh was involved.
Democrats lambasted the process from nearly every conceivable angle. They denounced Republicans for trying to give Kavanaugh a lifetime appointment without a full investigation of the allegations against him; they demanded that Judge be called to testify; they accused Republicans of ignoring victims of sexual assault; they assailed Kavanaugh's partisan outburst and his behavior toward the committee on Thursday; and they hailed Ford and said they believed her.
Several of them walked out of the meeting at various points. "Tonight I will pray for our nation," Coons said. "The burden on this committee was to address, investigate, and resolve reasonable doubts, and credible allegations against the nominee before them. And by that test this committee has failed."
After he spoke, Coons left the meeting room for a private discussion with Flake and other Democrats. The conversation led to speculation that, perhaps, Flake would make a dramatic reversal. "Mr. Chairman, given what's happening in the anteroom," it's possible more time is needed, Democratic Senator Sheldon Whitehouse of Rhode Island told Grassley in reference to the discussion. "I think you'd get unanimous consent to push the vote back pretty easily."
As the scheduled vote time came and went, it became clear that Flake had shifted. "This was a surprise," Klobuchar said afterward, after his deal with Coons was announced. "We're at a better place than we were at 8 a.m."