What Rosenstein's Exit Would Mean for Mueller's Russia Investigation
His departure could have consequences for the special counsel's probe.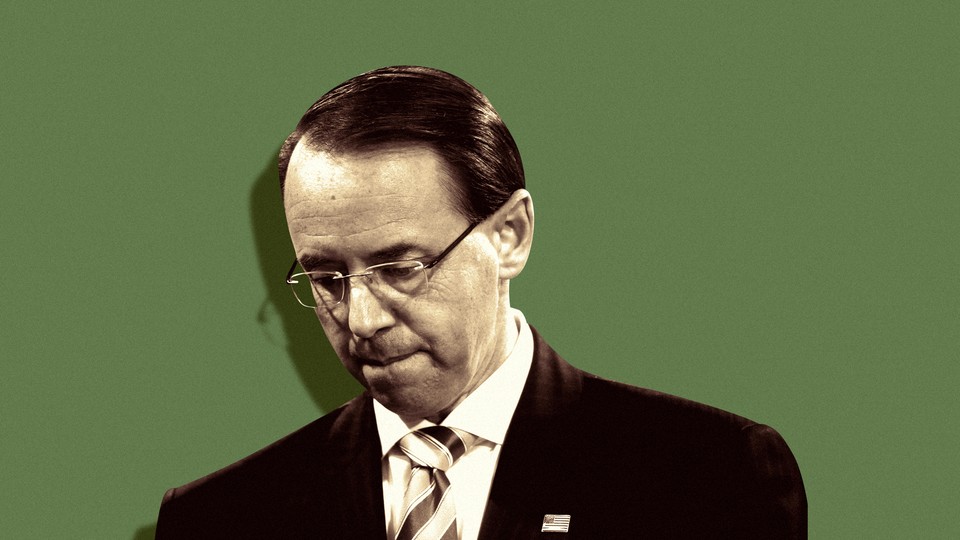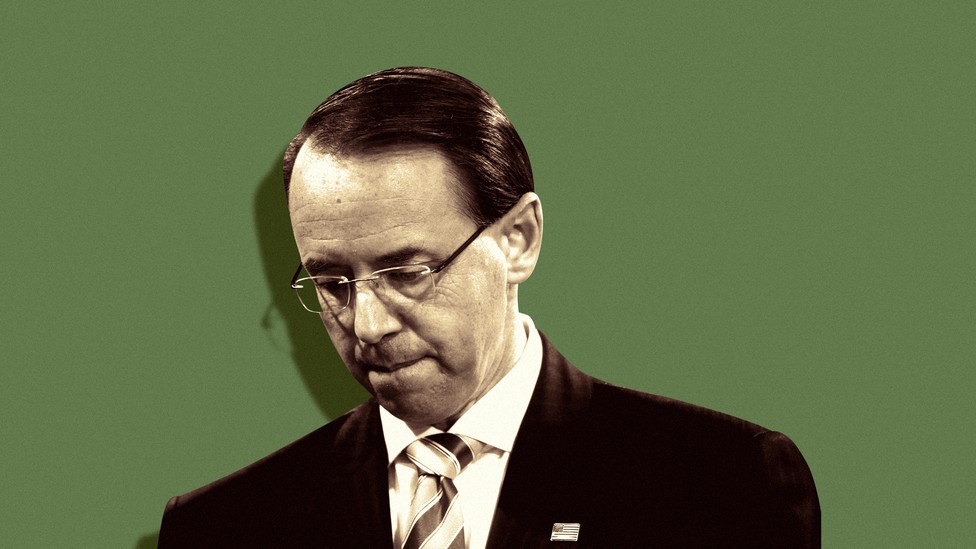 Updated on September 24 at 2:37 p.m. ET
Deputy Attorney General Rod Rosenstein's status within the Justice Department is unclear following an explosive report in The New York Times last week that claimed he'd once suggested secretly recording President Donald Trump and discussed invoking the Twenty-Fifth Amendment. He is scheduled to meet with Trump later this week, according to the White House, and reportedly discussed resigning over the weekend with Chief of Staff John Kelly.
"At the request of Deputy Attorney General Rod Rosenstein, he and President Trump had an extended conversation to discuss the recent news stories," White House Press Secretary Sarah Huckabee Sanders said in a statement on Monday. "Because the President is at the United Nations General Assembly and has a full schedule with leaders from around the world,  they will meet on Thursday when the President returns to Washington, D.C."
Axios first reported on Monday morning that Rosenstein had "verbally resigned" to Kelly, but later walked it back, saying that Rosenstein had "offered to resign."
For months, Rosenstein has been the only official standing between Trump and the special counsel's Russia investigation, which the president has wanted to shut down. If he left the Justice Department, it's unlikely that his departure would immediately upend the inquiry, which is examining Russia's election interference and a potential conspiracy between the Trump campaign and Moscow, legal experts told me. But his replacement wouldn't be guaranteed to protect the probe.
Solicitor General Noel Francisco, who has expressed skepticism of special-counsel investigations in the past and has a relatively expansive view of executive privilege, would take Rosenstein's place. A law passed in 1998 would allow Trump to appoint anyone who has already been confirmed by the Senate to the post of deputy attorney general, but only if Rosenstein resigns. If he's fired, the president's legal authority to make appointments unilaterally is much murkier.
Rosenstein's tumultuous tenure as deputy attorney general has been punctuated by attacks from the president—who has called him "conflicted" and "weak"—and spats with GOP lawmakers. House Freedom Caucus Chairman Mark Meadows went as far as to file articles of impeachment against Rosenstein in July.
After Attorney General Jeff Sessions recused himself from the Russia probe, Rosenstein became the one person capable of firing Special Counsel Robert Mueller directly. However, far from entertaining Trump's characterization of the Mueller probe as a "witch hunt," Rosenstein quietly defended the special counsel and pushed back on requests from Trump's allies in Congress for sensitive, Russia-related documents, making him an unlikely hero among the president's critics. Among the documents that GOP lawmakers wanted, but never obtained, were notes from former Deputy FBI Director Andrew McCabe, who, according to the Times story, had memorialized Rosenstein's alleged comments.
Regardless of who would replace Rosenstein, Mueller would still have broad authority to conduct the probe as he sees fit; federal guidelines mandate that the special counsel "shall not be subject to the day-to-day supervision of any official of the department." But his replacement would still have the power to stymie the probe by deeming certain investigative or prosecutorial steps "inappropriate or unwarranted."
Even if Mueller were fired, he could be replaced, as Paul Rosenzweig, the former senior counsel on the Whitewater investigation, noted recently. Pieces of the investigation could also get farmed out to various legal divisions. The Southern District of New York, for example, brought charges last month against Trump's former personal attorney Michael Cohen that were based in part on a referral from Mueller's team.
Mueller recently secured a guilty plea from Trump's former campaign chairman Paul Manafort, and is debriefing Cohen on all things Russia, according to ABC News. He is also writing a report that details circumstances in which Trump may have attempted to obstruct justice, including Comey's firing.
Were Trump to fire Rosenstein for reasons related to the Russia investigation—for example, if he wanted to replace the deputy attorney general with someone willing to shut Mueller down—that, too, could constitute obstruction of justice, legal experts told me. But if Rosenstein resigns, even under some pressure, "the obstruction argument loses a lot of force," said Jens David Ohlin, a vice dean and law professor at Cornell Law School. "By definition, a resignation involves at least some level of personal or professional choice. For myself, I find it hard to believe that Rosenstein would simply resign under these circumstances."

With the Times story, Trump was handed a justification for firing that, on its face, is unrelated to Rosenstein's handling of the Mueller probe. That's despite reporting from The Washington Post that Rosenstein's comment about recording Trump was made in jest, in response to McCabe's suggestion that the Justice Department investigate Trump after he dismissed Comey.
"What do you want to do, Andy, wire the president?" Rosenstein asked during a meeting after Comey's firing, according to the Post. Rosenstein, who wrote a memo at Trump's request outlining Comey's mishandling of the Hillary Clinton email probe, was apparently dismayed that Trump used that memo to justify firing Comey last May.
Rosenstein said in a statement Friday that the Times story was "inaccurate and factually incorrect," and "based on anonymous sources who are obviously biased against the department and are advancing their own personal agenda." He added that "based on my personal dealings with the president, there is no basis to invoke the 25th Amendment."
Whether Trump, with the hypothetical help of Rosenstein's successor, successfully hinders or shuts down the Russia investigation could be in Congress's hands. Senate Republican leadership has rejected attempts to protect the Russia investigation and restrict Trump's ability to fire Mueller; they largely dismissed a bipartisan bill, proposed by the Senate Judiciary Committee, that would have prevented Trump from firing Rosenstein for any reason other than misconduct or "good cause." "We'll not be having this on the floor of the Senate," Majority Leader Mitch McConnell said of the bill earlier this year.