Rosenstein's Day of Reckoning With the President
The deputy attorney general is set to meet and explain himself to the president. But Trump may postpone the session and reports warming relations, even as House Republicans fume.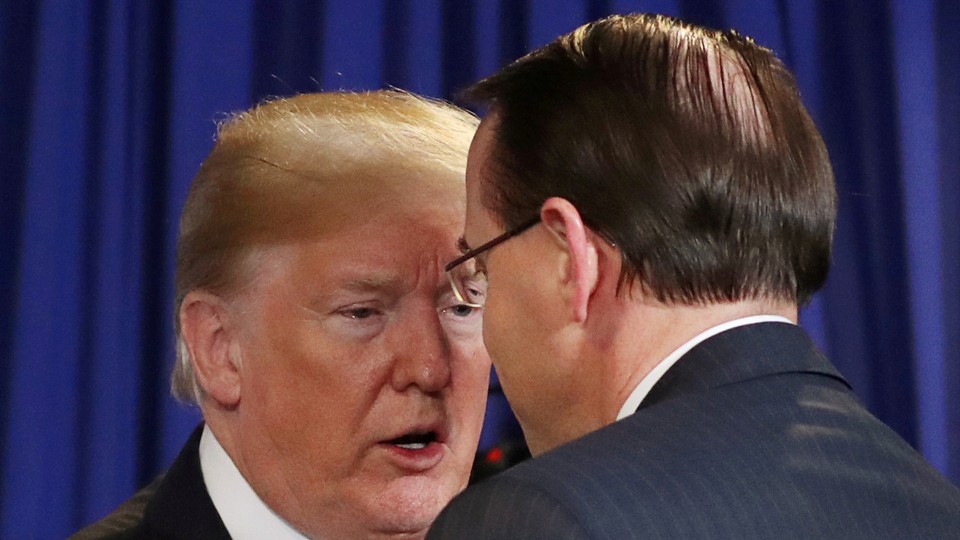 Deputy Attorney General Rod Rosenstein was reportedly convinced that he'd be fired following a bombshell New York Times report that described comments he apparently made about President Trump privately last year. But whether or not Rosenstein emerges from a meeting with Trump this week with his job intact, House Republicans are salivating at the thought of exploiting The Times' story to tighten the noose on the Justice Department.
Trump and Rosenstein were scheduled to meet Thursday, but the president said during a rambling press conference late Wednesday afternoon that he might "ask for a little bit of a delay" so that their meeting wouldn't interfere with the Senate Judiciary Committee's hearing of Brett Kavanaugh's Supreme Court nomination. House Judiciary Committee Chairman Bob Goodlatte, however, appears to be moving full steam ahead—he has given the committee's Democrats notice that he plans to subpoena the Justice Department on Thursday for memos written by former Deputy FBI Director Andrew McCabe, according to a committee source. McCabe reportedly documented Rosenstein's suggestions that Trump be secretly recorded and even removed via the 25th Amendment, but the Justice Department has declined Republicans' requests to hand over the memos.
"Mr. Rosenstein, give Congress the McCabe memos that we asked for in July and all the other documents we've requested so we can all judge for ourselves," Republican Congressman Jim Jordan, a leading DOJ critic and staunch Trump ally, wrote less than an hour after The Times' story was published. It is still unclear how the Justice Department will handle the subpoena, but it could set the stage for another showdown between Congress and DOJ: Previous subpoenas issued by GOP Congressman Devin Nunes, another staunch Trump ally, for documents related to the Russia probe have resulted in protracted negotiations and pushback from Rosenstein and FBI Director Christopher Wray, who have cautioned against releasing sensitive documents in the middle of an investigation.
Trump said he has been talking to Rosenstein, who the president said had denied The Times' story and doesn't believe the 25th Amendment should be used to start impeachment proceedings. "He said he has a lot of respect for me," Trump told reporters in New York. "And he was very nice and we'll see."
Jordan and House Freedom Caucus Chairman Mark Meadows, meanwhile, are also calling on Rosenstein to testify before Congress. "You can't have the head of the Justice Department (even if it's sarcasm) talking to subordinates about recording the Commander in Chief. He needs to answer our questions," Jordan tweeted on Monday. Meadows echoed him a day later: "You can't have the No. 2 official at the Department of Justice making comments about wiring the president and not address it," he tweeted on Tuesday. "Rod Rosenstein must come before Congress this week, under oath, and tell the truth about his alleged statements." He later told The Hill that if Rosenstein declines, he should resign, or else he and his colleagues will hold an impeachment vote.
House Republicans have been trying to squeeze the DOJ for information about the Russia probe for more than a year, accusing the department of corruption and demanding documents that they say will validate their suspicions that Special Counsel Robert Mueller's investigation is politically motivated. Most recently, they were instrumental in pushing Trump to order the declassification of portions of a Foreign Intelligence Surveillance Act (FISA) warrant and other documents that are part of the ongoing probe. (Trump ultimately backed off that demand.) Jordan and Meadows moved to impeach Rosenstein over the summer for allegedly failing to comply with congressional document requests, but they tabled their efforts after conversations with House GOP leadership. House Speaker Paul Ryan declared soon thereafter that he did not support impeaching Rosenstein. "I don't think that this rises to the level of high crimes and misdemeanors," he said at the time.
Ryan, who is not running for reelection, signaled again on Wednesday that he did not support Republicans' renewed efforts to haul Rosenstein before the committees. "We should let the president work it out with Rod Rosenstein," the speaker told reporters. "I hope they have a good productive conversation, and I hope that's helpful." It's not that Ryan has a soft spot for Rosenstein and wants him to stay—Ryan reportedly backed Nunes earlier this year when he was battling Rosenstein over the release of classified and sensitive law-enforcement documents related to the Russia probe.
As Politico noted, however, with the midterm elections less than six weeks away, House leadership wants Republicans home and campaigning in their districts—not trying to impeach Rosenstein or grilling him in a public hearing. Ryan also said on Wednesday that he believed Rosenstein when he said he was being sarcastic in his comments about wearing a "wire" to record the president and invoking the "25th Amendment" to impeach him. "If you're going to stack the credibility of Rod Rosenstein against Andy McCabe, who was fired for lying, I'd go with Rod Rosenstein," Ryan said. A grand jury has been empaneled as federal prosecutors investigate whether McCabe, who was fired in March, misled his superiors about his conversations with the press while he was still at the FBI.
While Trump's allies are wary of the president or lawmakers making any major moves against Rosenstein before the midterms, Trump may feel freer to clean house at the Justice Department immediately after the elections. But if Rosenstein, the only official standing between Trump and the Mueller investigation, leaves, his departure will likely rattle the Justice Department, whether he is fired or chooses to resign, David Laufman told me. He is a former high-ranking DOJ official who served as the chief of the Counterintelligence and Export Control Section before leaving earlier this year.
"A firing would engender greater concern that Trump is seeking to subjugate the DOJ to his political will and personal interests, including the remaining work of the special counsel," Laufman said. "If he were to resign, while the level of agita might not be as acute, there would still be concerns and speculations about whether he was forced out." And any replacement "who is less protective of the criminal justice system, the DOJ's norms, and the rule of law," Laufman added, "would contribute toward considerable unease."