Ayanna Pressley's Win Is the Biggest Upset Yet for Progressives
There wasn't much daylight on policy matters between the Boston city councilor and 10-term incumbent Mike Capuano. But she still beat him by 18 points.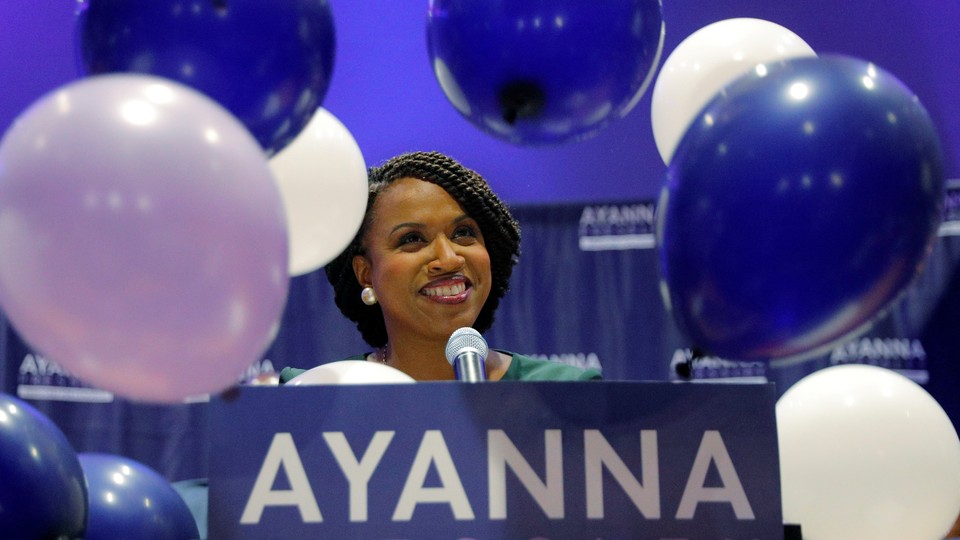 Representative Mike Capuano was hoping that Massachusetts voters would opt for his decades of experience over the tantalizing gleam of a fresh face.
They didn't.
Just more than an hour after polls closed on Tuesday night, the 10-term Democrat with a robust progressive voting record suddenly conceded to his über-progressive challenger, the Boston-city-council member Ayanna Pressley. "Clearly the district wanted a lot of change," Capuano said sadly to a quiet room full of supporters. "We've done everything we could do to get this thing done … I'm sorry it didn't work out, but this is life."
It wasn't that Capuano had done anything wrong, the people I spoke with said; he just couldn't offer what Pressley could. "Capuano took this dead serious and ran a perfect race," Mary Anne Marsh, a Boston-based Democratic strategist, said in an interview, but "it's clear that voters are looking for a very different kind of change to go to Washington." Voters are angry, she said, and they want candidates with "fire in their belly" who can represent them, and boldly stand up to the policies of the Trump administration.
In the most recent poll, Pressley trailed Capuano by 13 points, but by the end of Tuesday evening, she led by 18. The win is perhaps the most powerful evidence yet that having progressive bona fides isn't enough in 2018. Progressive voters want fresh faces. They want conversations about systemic racism and intersectionality. Most important, they want their candidates to have the "lived experience" of being nonwhite or nonmale in America—and on Tuesday, they got it.
Pressley, a 44-year-old African American woman, brought Capuano his first challenge in the state's Seventh District in nearly two decades. The two Democrats didn't diverge much on the issues; both were staunch advocates for "Medicare for all," gun control, and abortion rights. And the areas where they did disagree were mostly symbolic: Pressley supports legislation to abolish Immigration and Customs Enforcement, and Capuano doesn't. She's refused corporate-PAC money (a mostly hollow gesture) while he hasn't, and she's condemned Capuano's support for a "Blue Lives Matter" bill, which would strengthen punishment for assaulting a police officer. But while Pressley herself has acknowledged that there isn't much policy daylight between them, she says that's not the point. The race, for her, was about perspective and representation.
The district, which encompasses roughly half of Boston, is solidly blue, with a majority-nonwhite population. Pressley, the first African American woman ever elected to the Boston city council, said she ran to represent the people who haven't been heard—and throughout the campaign she emphasized issues on which she says she offers a unique perspective, such as economic inequality, criminal-justice reform, and structural racism. "These are issues I've been able to champion because of my lived experience," she told WBUR in May. "Those are not theoretical to me."
Pressley has been compared to Alexandria Ocasio-Cortez, who won her June primary in another major upset in New York's Fourteenth District after challenging progressive Representative Joe Crowley from the left. But Pressley's election on Tuesday was in some ways more impressive. While Ocasio-Cortez mostly managed to escape Crowley's attention and turned out fewer than 16,000 votes in the June primary election, Pressley won 56,000 votes—with strong opposition from Capuano from the get-go.
Pressley's candidacy, then, is an even more powerful example of a broader trend, said Quentin James, the founder and executive director of Collective PAC, which works to elect African Americans to political office. "This is very much a continuation of a generational power transition in the Democratic Party," James told The Atlantic. "What we're seeing is a wave of candidates who are very comfortable making folks uncomfortable if it means we get to solutions that are gonna make things equitable." These candidates include Stacey Abrams, who structured her campaign for Georgia governor around minority empowerment; Andrew Gillum, who won the Florida Democratic gubernatorial primary last week by emphasizing minority-voter turnout; and Kerri Harris, a 38-year-old veteran and openly gay woman of color offering a primary challenge to the Democrat Tom Carper in Delaware.
Some might criticize this strategy as appealing to "identity politics," but that doesn't make it bad, said Saikat Chakrabarti, the founder of the Justice Democrats, a progressive group advocating for candidates who pledge not to take corporate-PAC money. "People try to do this false division between identity versus policy … but [they're] inextricably linked," he said. Pressley "was running on this bold progressive vision, and because of her identity she was believable on it."
Of course, trading out tried-and-true progressive voices for new, inexperienced ones is always a risk—especially when the House majority hangs in the balance. "The trade-off in this election was a guy who had some clout, and voters chose to go with a new face, somebody who could make a claim that she could represent people in the district who hadn't been represented before," says Robert Boatright, a political-science professor at Clark University, in Worcester, Massachusetts. Can Democrats retake the House with so many brand-new faces? It's a risk they'll carry into November and beyond—but it's one progressives say they're ready for.
"People have been [asking] about when will the big populist progressive movement happen," Chakrabarti said. "I think this is the year it's gonna happen … We're gonna see a whole host of bold, radical changes in a very short period of time."