President Trump's Surreal News Conference Didn't Do Kavanaugh Any Favors
The president says he'll listen to the women accusing his Supreme Court nominee of sexual misconduct. His caveat: Women "made false statements about me."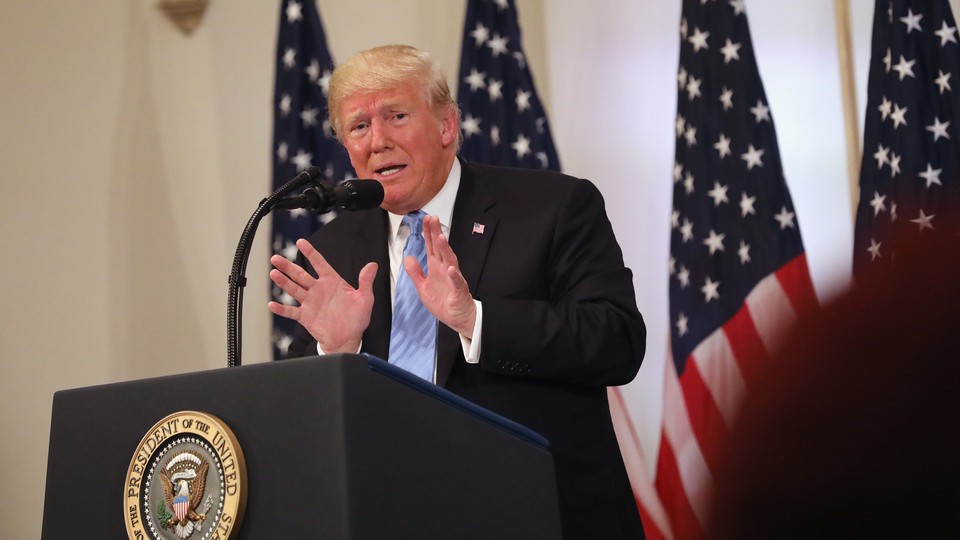 In more than 80 surreal minutes of what seemed less like a news conference than a public free-association session on a therapist's couch, the president of the United States dismissed accusations of sexual misconduct against Judge Brett Kavanaugh as "all false to me," then insisted he wanted to hear Christine Blasey Ford's testimony because "I can be convinced of anything. Maybe she will say something."
He portrayed Kavanaugh's Democratic Senate opponents as the organizers of a "big, fat con job," then acknowledged without missing a beat that he would withdraw Kavanaugh's nomination "if I thought he was guilty of something like this, sure." He praised Kavanaugh as "one of the highest-quality people that I have ever met," then suggested that the judge's life was not so spotless, allowing that even George Washington may have had "a couple of things in his past."
He asked why Ford and Kavanaugh's other accusers would wait decades to lodge complaints against him if their claims were serious and credible, but acknowledged that "in some instances, people keep it quiet—it's a very tough situation for a woman," before doubling down to admit, "Frankly, had they reported it, it would have been pretty amazing, wouldn't it?"
Who can say whether Trump's apparently unbridled, even unhinged, display of id amounted to just that? Or to a free-form, last-ditch effort to defend the nomination on the eve of crucial testimony from Ford and Kavanaugh before the Senate Judiciary Committee on Thursday? Or to a calculated trial balloon for withdrawing it ("I could pick a woman, and she could have charges made from many years ago also," he said at one point)? Or to some combination of all of the above? The assessment of Nicolle Wallace, the former George W. Bush and John McCain aide, was succinct, and indisputable.
"I suspect," she tweeted, "that the 25th Amendment might be discussed more widely if there were daily press conferences."
Indeed, the last such freewheeling encounter between Trump and the press came in February 2017, shortly after he took office, and prompted similar jaw-dropping and head-scratching. Wednesday's session in New York was, at a minimum, proof positive of why the president's aides are so reluctant to turn him loose in such settings—and why his lawyers believe a deposition by Special Counsel Robert Mueller would prove disastrous.
Is Trump lying, or unintentionally revealing some deep-seated truth about his nature? Surely, the answer is both. Is he being reasonable about Kavanaugh's accusers ("They're going to have a big shot at speaking and making their case")? Or disingenuous ("I can't tell you whether or not they're liars until I hear them")? What does he really think? It changes from minute to minute. Does he contradict himself? Of course. Like Walt Whitman, he is large (or is it huge?). He contains multitudes.
In just over an hour, the president undermined the frantic work of his own White House aides and Senate Republicans, who have been scrambling for days to salvage Kavanaugh's nomination—most recently by releasing copies of the judge's appointment-calendar pages from his Summer of '82 that list no party like the one where Ford alleges Kavanaugh assaulted her—by confessing that he regards allegations of sexual misconduct as inherently suspect because of what he considers the spurious claims (by at least 19 women) against him.
"It does impact my opinion," he said. "You know why? Because I've had a lot of false charges made against me. I'm a very famous person. Unfortunately. I've been a famous person for a long time. But I've had a lot of false charges made against me. Really false charges." He added: "People want fame, they want money, they want whatever. So when I see it, I view it differently than somebody sitting home watching television where they say, 'Oh, Judge Kavanaugh, this or that.'"
Trump's disjointed, incoherent performance ignored the carefully disciplined strategy of the White House and Senate Republicans to plow through the growing swirl of allegations against Kavanaugh and press for a quick confirmation vote. His insistence that "You know what? I could be persuaded" by Ford's testimony was hardly a ringing endorsement of Kavanaugh, whom in another breath he called "a great gentleman, a great intellect, a brilliant man." The president's equivocation—fleeting though it may have been—may also reflect the reality that crucial Republican votes like Senator Lisa Murkowksi of Alaska have publicly wavered in recent days.
The cloud of dust kicked up by Trump's all-over-the-map arguments in no way clarified a fast-moving situation that is already cloudy enough. In addition to the accusations of sexual misconduct cited by Ford, Deborah Ramirez and Julie Swetnick, it emerged late Wednesday that another woman had reached out anonymously to members of the Judiciary Committee and reported that her adult daughter had witnessed an intoxicated Kavanaugh throw another woman aggressively and "sexually" against a wall outside a bar in Washington in 1998. Kavanaugh denied the allegation in an interview with a committee investigator.
The president also raised the stakes—and complicated the strategies—of both Republicans and Democrats on the judiciary committee, who are set to question Kavanaugh and Ford on Thursday.
The dangers for the Republicans have long been clear; the 11 white men on the committee were so desperate to avoid even unintentionally insensitive interrogations of Ford—and thus summon damaging memories of the Clarence Thomas–Anita Hill hearings of 27 years ago—that they hired Rachel Mitchell, a veteran sex-crimes prosecutor from Arizona, to do the asking for them. Already, Lindsey Graham of South Carolina has called Ford's allegations "a drive-by shooting" and insisted, "I'll listen to the lady, but we're going to bring this to a close." Orrin Hatch of Utah has insisted of Ford, "I think she's mistaking something, but I don't know, I mean, I don't know her." Hardly the words of inquisitors with open minds.
But the Democrats are vulnerable, too. Will the senators, sensing blood in the water, and pressing for political advantage, "bungle their efforts to pretend they're real lawyers," as the veteran Harvard Law School professor Alan Dershowitz put it on KNX radio in Los Angeles on Wednesday? Will presidential prospects on the committee like Kamala Harris of California or Cory Booker of New Jersey overplay their hands? Will Dianne Feinstein—whose initial handling of Ford's accusations (and wish to remain anonymous) has come under withering criticism from both parties—falter in the spotlight? Are the allegations by Ford—detailed and unwavering—on a par with the equally troubling ones by Ramirez, who has acknowledged some uncertainties about her own drunken encounter with a drunken Kavanaugh at Yale? Should Swetnick's representation by Michael Avenatti, the lawyer who represents Stormy Daniels, the porn star who was paid to keep silent about what she says was her affair with Trump, in any way affect the credibility of her sworn affidavit that she saw Kavanaugh at high-school parties where women were groped, plied with alcohol or drugs, and "gang raped?"
Whether Thursday's hearing will be a circus or a sober examination of serious and deeply unsettling claims remains to be seen. But it's hard, at the moment, to see how whatever fireworks the hearing produces could top the thunderous, confounding curtain-raising overture offered up by Trump himself. In the end, it will all come down to which side has the votes, and, whatever his intentions, the president has just made that question harder to answer.