Paul Manafort's Cooperation With Mueller Is the Biggest Blow Yet to Trump
The president and his former campaign chairman have spent months sharing information about the Russia investigation. Now Manafort has decided to help the government.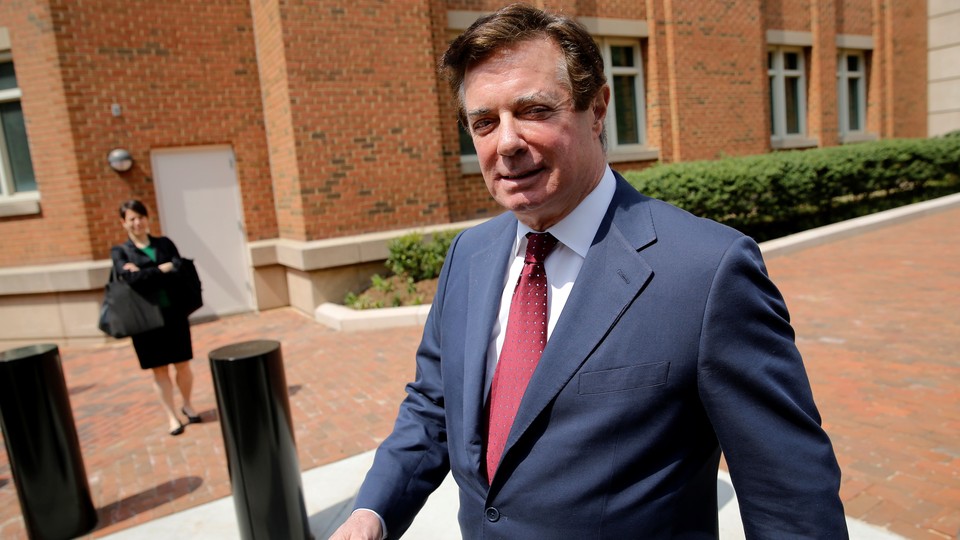 After more than four decades of lobbying on behalf of Republican politicians, foreign dictators, and oligarchs, Paul Manafort is flipping on his last client: President Donald Trump.
The president's former campaign chairman has agreed to cooperate with Special Counsel Robert Mueller in the investigation of a potential conspiracy between the Trump campaign and Moscow, prosecutors said in court on Friday, and has already proffered information to the Justice Department. Manafort also pleaded guilty to one count of conspiracy and one count of conspiracy to obstruct justice, avoiding the spectacle of a second trial in Washington, D.C.
Legal experts characterized Manafort's move as a significant win for Mueller—and a big setback for Trump. "Manafort's cooperation is a tremendous achievement for the Mueller investigation—maybe the single biggest development yet," said Seth Waxman, a former federal prosecutor in Washington, D.C. "Manafort provides Mueller with an insider to the infamous June 2016 Trump Tower meeting and likely many other key moments."
Judge Amy Berman Jackson said on Friday that Manafort's cooperation agreement includes interviews and briefings he'll give to the special counsel's office; he'll also turn over documents and testify in other proceedings, and has waived his right to have an attorney present during his interviews with the special counsel, prosecutors said. "Tough day for Mr. Manafort," Kevin Downing, Manafort's attorney, said outside the D.C. courthouse on Friday. "But he's accepted responsibility … He wanted to make sure that his family was able to remain safe and live a good life."
The agreement shows just how valuable Manafort could be to the government. Among other matters, Mueller has been eyeing the meeting Waxman referenced, which Manafort, Donald Trump Jr., and Jared Kushner attended in June 2016 with Russian nationals offering dirt on Hillary Clinton. "This is also incredibly important because if the president were to pardon Manafort under these circumstances, the case against the president for obstruction of justice would be even more compelling," Waxman said. "In short, this is a huge day for the government."
Manafort's tenure on the campaign, spanning from roughly March through August 2016, coincided with some of the most significant Russia-related events of the election. In April, he appeared to offer the Russian oligarch Oleg Deripaska private briefings about the campaign in exchange for debt relief. In July, a proposed amendment to the GOP's party platform that advocated sending arms to Ukraine to defend against Russian aggression—a position in line with Republican orthodoxy at the time—was gutted. Later that month, WikiLeaks began dumping emails that Russia had stolen from the Democratic National Committee. Manafort also received emails from the Trump campaign aide George Papadopoulos, who had already learned of Russian dirt on Clinton, offering to set up a meeting between Trump and Russian President Vladimir Putin. By late August, Manafort was forced to formally step down as campaign chairman after reports surfaced that he was allocated millions of dollars in off-the-books payments by a pro-Russia political party in Ukraine.
Speculation abounded this week that Manafort was inching toward a plea agreement, but whether he would agree to cooperate with the government remained in doubt. Once Mueller's team posted its criminal information against Manafort on Friday, however, it seemed clear that Manafort was flipping: Prosecutors gave him a pretty good deal, dropping five of the seven charges he would have faced in the D.C. trial, including those for money laundering and acting as an unregistered foreign agent. Manafort did not contest those accusations as part of his plea agreement, but he won't be charged with them. The government also dropped the 10 charges that jurors could not reach a verdict on during his earlier trial in Alexandria, Virginia. As part of his plea deal, however, Manafort will be required to forfeit $46 million in cash and properties to the U.S. government.
Unlike the Virginia trial—a standard white-collar-crime case that centered around how Manafort hid, and later distorted, his cash flow—the D.C. proceedings would have focused on issues related more closely to the Russia inquiry, namely, Manafort's connections to Russian and pro-Russian entities in Ukraine and his alleged lobbying on their behalf in the United States. Manafort's plea agreement means that those connections won't be exposed and dissected in court. And it will save both sides the time and cost of a trial.
There could be another advantage for Mueller, too: "The investigation now gains even more legitimacy in the eyes of the public because, in pleading guilty, Manafort is essentially announcing that Mueller's investigation is spot-on regarding the crimes he committed," said Glenn Kirschner, a former federal prosecutor in Washington, D.C. "So this continues to chip away at the witch-hunt argument."
Trump has repeatedly used that phrase to describe the Russia probe, arguing that it has not yet uncovered direct evidence that his campaign conspired with Russia to win the 2016 election. Five of his former aides, however, have now pleaded guilty to crimes uncovered by Mueller's investigation, which has produced 187 criminal charges in just over a year. Trump's longtime personal lawyer, Michael Cohen; his former National-Security Adviser Michael Flynn; his former Deputy Campaign Chairman Rick Gates; and his former campaign foreign-policy adviser Papadopoulos have all pleaded guilty to either tax- and bank-fraud charges or lying to the FBI.
Whether Manafort will be pardoned is the next big question in this saga—or at least it was before Manafort's cooperation was revealed. Earlier this week, former federal prosecutors told me that Manafort's joint-defense agreement with Trump could help him angle for a pardon. The agreement has given him a valuable channel into Trumpworld, allowing him to share confidential information with Trump—and vice versa—about the Russia investigation under the protection of attorney-client privilege. But that agreement will undoubtedly be voided now that Manafort has chosen to help Mueller.
Trump had praised Manafort for resisting the government's overtures, tweeting last month that he feels "very badly for Paul Manafort and his wonderful family" and that he has "such respect for a brave man" who "refused to 'break'—make up stories in order to get a deal." Now, however, he'll likely view Manafort through the same lens as he does Cohen, whom Trump called a "rat" after he agreed to cooperate with prosecutors in the Southern District of New York earlier this summer.
The criminal information filed against Manafort on Friday makes a pardon even more unpalatable and unjustified, experts told me, as it lays out Manafort's crimes in extraordinary detail. Trump's lawyers, however, are downplaying its significance: "Once again, an investigation has concluded with a plea having nothing to do with President Trump or the Trump campaign," Rudy Giuliani said in a statement. "The reason: the President did nothing wrong and Paul Manafort will tell the truth."