What Paul Manafort Knows
Paul Manafort's decision to cooperate with Robert Mueller could clarify several of the biggest mysteries of the Russia investigation.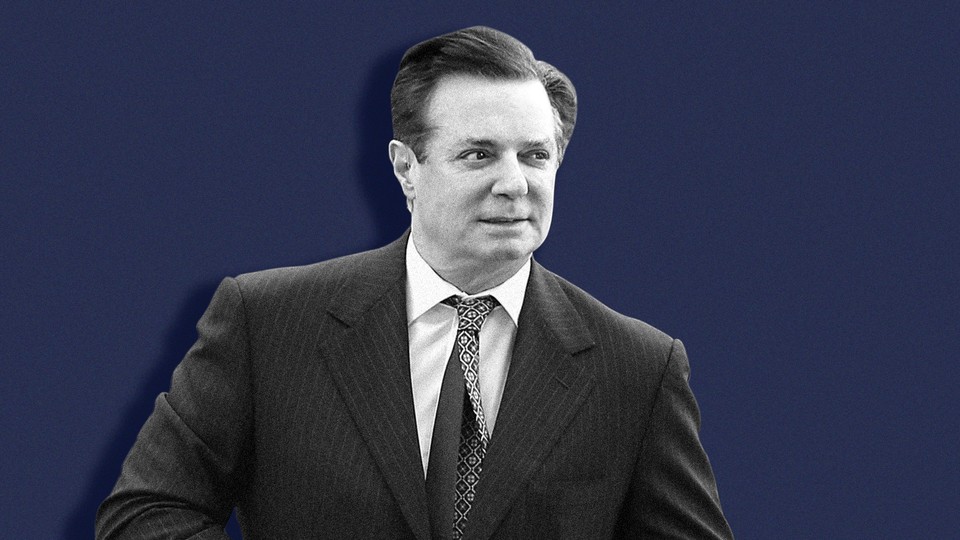 What kind of threat does Paul Manafort now pose to Donald Trump? Robert Mueller's indictment of the fallen lobbyist is a masterful portrait of a craven man and his methods. But the chronology contained in the document filed this morning takes us right up to the eve of Manafort joining the Trump campaign, and then leaves the reader bursting with curiosity about what comes next. While Mueller has tied up all sorts of narratives about Manafort's strange career in Ukraine, so many strands of the Manafort story remain maddeningly untidy.
Perhaps not even Mueller fully knows what Manafort has to offer about his time in the Trump campaign. But in the unresolved threads of the tale, there are hints of the subjects that Manafort could clarify. When we look at ellipses in the case that Mueller has laid out, all the chapters of the Manafort story he hasn't yet officially pursued, we can guess the lines of questioning that might dominate Manafort's meetings with the lawyers in the special counsel's office.
The Oleg Deripaska Connection
At the very beginning of his time working in Ukraine in 2003, Paul Manafort was in the employ of one Russia's richest men, an aluminum magnate named Oleg Deripaska. We lazily describe many Russian oligarchs as residing in Vladimir Putin's inner circle. But in the case of Deripaska, that closeness is a documented fact.
From 2003 to 2008, Manafort and his firm worked for Deripaska across Europe—in Montenegro, Georgia, and Ukraine. Over that time, the consultant and the client also became business partners. Deripaska invested millions in a private-equity fund that Manafort established, with the intent of buying assets across the former Soviet Union. Based on various court filings and lawsuits, we know that the relationship went very badly. In these documents, Deripaska suggests that Manafort might have stolen his money. And based on the special counsel's filings, we also know that Manafort owed Deripaska even more money in the form of unpaid loans. Instead of making an effort to settle these large debts, Deripaska says that Manafort simply stopped returning his messages.
Manafort finally reached out to Deripaska, just after he joined Donald Trump's campaign. In emails obtained by The Atlantic that Paul Manafort traded with an aide, Manafort proposed giving Deripaska special access to the campaign, with the apparent hope of making his debts disappear. We don't know what became of Manafort's outreach to Deripaska. Perhaps it yielded nothing. Deripaska claims that he never received messages from Manafort in 2016. But it's also worth watching hidden video footage of Deripaska sitting on his yacht with a top Putin official, procured by the Russian opposition politician Alexei Navalny. The video captured a meeting held in August 2016, two weeks before Manafort resigned as campaign chair. According to Navalny, the video lends credibility to the theory that Deripaska might have been a crucial intermediary between Manafort and the Kremlin.
The Curious Case of Konstantin Kilimnik
Robert Mueller has periodically suggested that Manafort's top aide was an active agent of Russian intelligence in 2016. When I profiled Konstantin Kilimnik earlier this year, an old colleague of his quoted Manafort as describing him as "my Russian brain." Is this connection to Russian intelligence just a meaningless coincidence? Kilimnik was Manafort's primary interface with Deripaska.
Manafort's Loans
Paul Manafort's recent career could be read as a rolling series of nadirs. One of those low points was his departure from the Trump campaign on August 19, 2016. He left after The New York Times reported that Manafort was receiving off-the-books payments from his Ukrainian clients. The very day that Manafort resigned, he created a new LLC called Summerbreeze. In the months that followed, the LLC began receiving millions in loans from financial institutions with ties to Trump. Why would these lenders give cash to Manafort given the press attention he was receiving and his clearly troubled finances? (In the previous Manafort trial, the  special counsel alleged that Manafort promised to help the head of one of these banks obtain a job in the Trump administration.)
Roger Stone
We know that the political consultant Roger Stone has proclaimed that Mueller will possibly indict him soon. (Stone apparently conversed with WikiLeaks about hacked material.) But that promise of an indictment hasn't actually arrived. Manafort might be able to fill in whatever blanks exist in that case. Manafort's friendship with Stone traces back to the 1970s, when Manafort managed Stone's campaign to run the Young Republicans group. During the '80s, they became business partners and created a legendary consulting firm together. If Mueller does intend to pursue a case against Stone, he suddenly has his oldest confidant as a cooperating witness.
The Trump Tower Meeting
I have never invested much significance in the Trump Tower meeting on June 9, 2016, with the Russian lawyer Natalia Veselnitskaya. It doesn't seem to have been the prelude to anything meaningful, an apparent disappointment to all those who attended. But Manafort was a presence in the room, a careful note-taker, and a witness to whatever transpired. And until we know more about the meeting, it's impossible to know with certainty whether it was as hapless as conventionally portrayed.
A Troubling Pattern
When reading Mueller's technicolor account of Manafort's tactics in Ukraine, it's clear that Manafort had no scruples about his work. He prided himself on smearing his client's political opponents; he created sham think tanks and generated phony pressure campaigns. He funded his work using methods designed to evade detection and to skirt legal constraints. This work merely repeats patterns that appear elsewhere in Manafort's body of work. Why would he suddenly have broken with character in the course of the Trump campaign? Thanks to the cooperation of Manafort's deputy Rick Gates, Mueller probably has a very keen sense of how to lead this line of questioning. For nearly two years, the public has lived with the tension that comes with an unresolved narrative, the outcome of which has potentially extraordinary implications. Today represents a looping turn in the direction of closure.