A New Petition From House Democrats Could Complicate Nancy Pelosi's Future
Weeks before the midterms, lawmakers could be in the potentially awkward position of taking sides in the brewing leadership fight.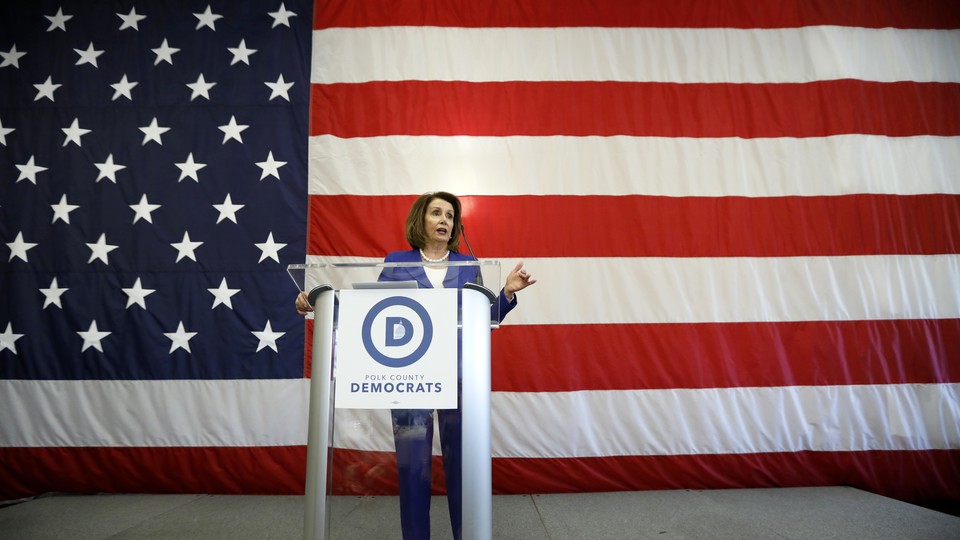 Updated at 8 p.m. ET
In a move described as a direct shot at Nancy Pelosi, some Democrats are trying to make it more difficult for one of their own to become speaker of the House.
At least 10 Democrats in the lower chamber have signed on to a letter to Caucus Chair Joe Crowley seeking a change to caucus rules that would raise the number of votes required to nominate a candidate for speaker. Current rules mandate that a nominee receive support from only a simple majority of caucus members before advancing to the floor for a vote. The letter requests that threshold be changed to 218, a majority of the House.
Representative Ed Perlmutter of Colorado and Representative Kathleen Rice of New York delivered the letter, obtained by The Atlantic, late Wednesday afternoon.
Multiple House Democratic sources said the letter had been in the works for the past week. Those sources see it as an attempt to increase the threshold needed for Pelosi, the minority leader, to be the caucus's nominee for speaker should Democrats take the House in November. While 10 signatures don't even come close to representing most of the caucus, the figure is nevertheless significant: Only five are needed for a vote on a petition like this one. The proposed rule change will be voted on next week.
That'll put House Democrats in the potentially awkward position of taking sides in the brewing leadership fight. With many Democratic activists and candidates pushing for a change at the top, incumbents have largely tried to avoid declaring their position on Pelosi ahead of the midterm elections. Current rules have promised some level of comfort to Democrats in more conservative districts, who can score political points by voting against Pelosi in caucus elections with the knowledge that she'd beat a Republican candidate once her nomination reached the House floor.
Multiple House Democratic sources predicted the measure would overwhelmingly fail, noting that there is likely no member, currently, who could get 218 votes. Moreover, those sources added, most members with their eyes on a leadership position won't want to risk alienating Pelosi and her allies.
Two senior House Democratic aides told me the move is likely the brainchild of Assistant Democratic Leader Jim Clyburn, who has openly expressed his desire to take the speaker's gavel. One of his closest allies, Representative Marcia Fudge of Ohio, has been actively recruiting signatures for the letter in the past week.
"There's no scenario in which Fudge would do this without Clyburn's blessing," one of the sources said. "This seems to be a Clyburn-for-speaker play."
"The only thing accurate, as it relates to me, is that I signed the letter," Fudge told me in an email. "Stop listening to those who would make this a play against Nancy. It isn't. It's good policy."
Signees include Representatives Kurt Schrader, Albio Sires, Tim Ryan, Filemon Vela, Bill Foster, and Robin Kelly, according to two sources who have seen the signatures. Ryan had previously challenged Pelosi for the minority-leader position in 2016; Rice was among those who supported his bid. (None of those signees could be reached for comment; neither could Clyburn.)
"A majority of the caucus will likely see this as a betrayal from within," added one source close to Democratic leadership. "This leadership structure has been in place for 12 years. And the last thing we need is a 'Dems in Disarray' narrative this close to November."