Michael Flynn Will Finally Be Sentenced
The delays fueled speculation about Flynn's value to Mueller as a witness in the Russia probe.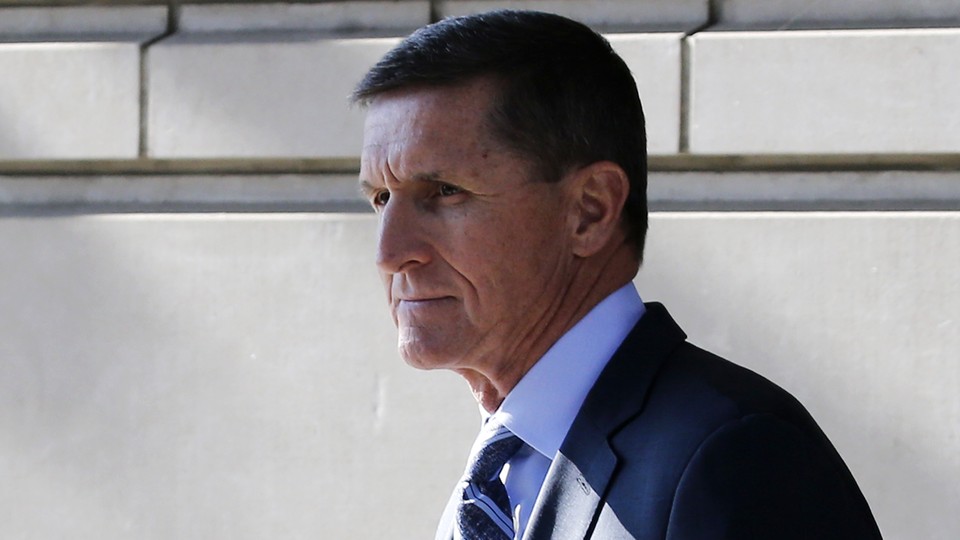 After more than 10 months of cooperating with Special Counsel Robert Mueller, former National-Security Adviser Michael Flynn—who led chants of "Lock her up!" about Hillary Clinton at Donald Trump's campaign rallies—now has his own sentencing date in federal court.
In a court document filed Monday, Mueller and Flynn's attorneys agreed on November 28—well after the midterm elections—for a sentencing hearing, and effectively signaled that Flynn's cooperation with Mueller's team could be nearing an end. "Typically, federal prosecutors will postpone a cooperator's sentencing until that person's cooperation is complete, or nearly complete," said Elie Honig, a former federal prosecutor in the Southern District of New York. "The main reason for that is the cooperation isn't done until the prosecutor says so, and the cooperator's motives and incentives need to stay in line."
Flynn's sentencing has been delayed three times since he pleaded guilty to lying to the FBI last December about the nature of his communications with the former Russian ambassador Sergey Kislyak. The delays fueled speculation about his value to Mueller as a witness to a potential conspiracy between the Trump campaign and Moscow, which Mueller has been investigating since May 2017. But Flynn's sentencing next month doesn't mean Mueller will let him off the hook: He'll still have to testify "in any trial where his information is relevant," Glenn Kirschner, a former federal prosecutor in Washington, D.C., told me. "This could just be an accommodation to Flynn's lawyers so that the sentencing doesn't continue to hang over his head. But he is still under a continuing obligation to testify if Mueller wants him to."
Mimi Rocah, a former federal prosecutor in the Southern District of New York, said that any information Mueller needed from Flynn has probably "already been locked in" before the grand jury, and the former general is most likely no longer of investigative value to Mueller. "I'm sure it's no accident that Manafort just pled," Rocah said, referring to the president's former campaign chairman Paul Manafort, who pleaded guilty on Friday to conspiracy and obstruction charges and is now cooperating with Mueller. "Flynn likely had information on Manafort and now that Manafort has pled, Flynn isn't needed as much."
Flynn served as a high-level surrogate and adviser to Trump during the election, and was a member of Trump's transition team before he was appointed national-security adviser last January. He was in the job for a little more than three weeks before reports surfaced that he had discussed the issue of sanctions with Kislyak during the transition period, despite repeated denials—including to Vice President Mike Pence—that the topic had ever come up. Intelligence officials, however, had listened in on the Flynn-Kislyak calls as part of their routine eavesdropping on foreign diplomats, and knew that Flynn had lied—he had, in fact, asked Kislyak "to refrain from escalating the situation in response to sanctions that the United States had imposed against Russia" in December 2016, according to an indictment filed by Mueller's office last year to which Flynn pleaded guilty. In response, Kislyak told Flynn that Russia had "chosen to moderate its response to those sanctions as a result of his request," the indictment said.
The veteran journalist Bob Woodward touched on the Flynn-Kislyak calls in his new book, Fear. Not only were the sanctions discussed in every phone call, Woodward reported, but transcripts obtained by the White House in February 2017—as they were weighing whether to fire Flynn—showed that it was Flynn, and not Kislyak, who first brought up the sanctions that President Barack Obama had issued in December in response to Russia's election interference. Then–Acting Attorney General Sally Yates warned White House Counsel Don McGahn that Flynn had misled the FBI about the calls. Still, the White House waited 17 days to fire Flynn, and the day after he was ousted, Trump met with then–FBI Director James Comey and asked if he would consider letting Flynn "go." That 17-day gap (and Trump's subsequent request to Comey) has come under scrutiny by Mueller.
Once he began cooperating with prosecutors, Flynn seemed like he was in a position to answer some of the biggest lingering questions in the Russia probe: Did Trump direct Flynn to dangle the easing of sanctions in front of Kislyak during the transition period? And did the president know that Flynn had misled the FBI when he denied ever discussing sanctions with Kislyak? (If Trump knew the extent to which Flynn was in the FBI's crosshairs when he asked Comey, whom he later fired, to consider "letting Flynn go," that could dramatically bolster the obstruction case federal prosecutors are building against him.) Furthermore, why did the White House wait nearly three weeks to fire a high-level adviser who was, according to Yates, vulnerable to being blackmailed by the Russians? Flynn also may have had knowledge about a "peace plan" that involved lifting sanctions on Russia in return for Moscow withdrawing its support for pro-Russia separatists in eastern Ukraine, which was allegedly hand-delivered to him by the president's longtime lawyer, Michael Cohen.
Flynn's lawyer, Robert Kelner, alluded to his client's value in a statement last year as he tried to negotiate immunity deals with the FBI and Congress. "General Flynn certainly has a story to tell, and he very much wants to tell it, should the circumstances permit," Kelner said. Indeed, there were signs pointing to Flynn's high value as a cooperator: Despite failing to register as a foreign agent in 2016, when he was representing Turkish government interests without notifying the Justice Department, and failing to disclose payments from Russia's state-owned news agency, Russia Today, when he was renewing his security clearance in January 2016, Flynn was charged only with one count of lying to the FBI. (Flynn's questionable ties to Russia were not limited to Kislyak and Russia Today: The FBI and the CIA reportedly examined his contact in 2014 with a Russian British national, Svetlana Lokhova, who "has claimed to have unique access" to the GRU, Russia's military spy agency.)
But Daniel Goldman, a former federal prosecutor in the Southern District of New York, said he thinks Flynn's sentencing is an indication that he "is not as central a witness as many believed."
"I had always thought Flynn's plea to mere false statements was odd, particularly given the public information we knew about his lobbying in Turkey and his communications with Russia during the transition," Goldman said. Like Kirschner, Goldman noted that Flynn could still be called to testify after he is sentenced. But if Mueller is going forward with sentencing, Goldman added, "then it likely means this is it for Flynn … And if that's [the] case, it means one of two things: Either Flynn was not as involved in criminal conduct, including potential collusion, as many suspected—and therefore does not have much information that Mueller could use—or Mueller has so much information that he doesn't need Flynn."