Lindsey Graham's Furious Defense of Brett Kavanaugh
The Trump critic turned ally called the confirmation process an "unethical sham" as tempers rose in the Senate Judiciary Committee.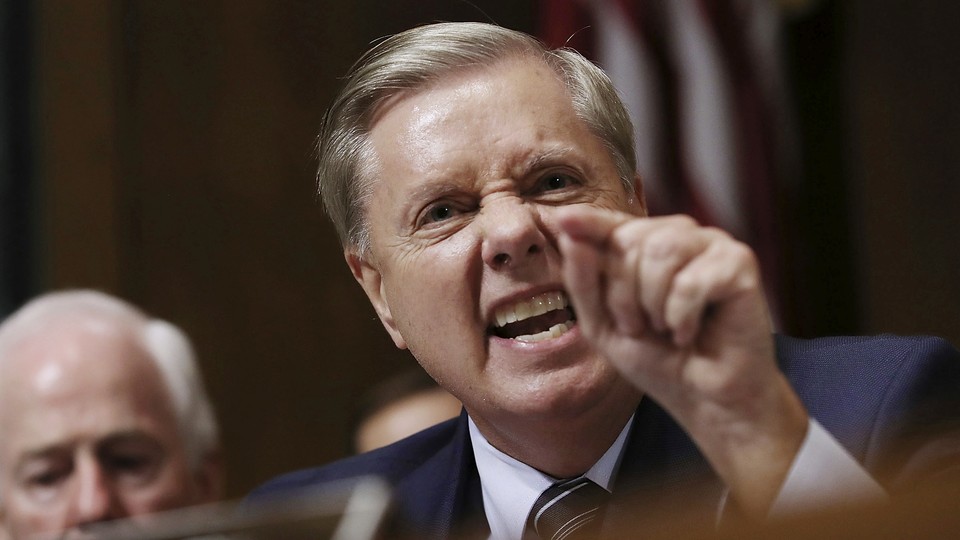 Senator Lindsey Graham angrily lashed out at Democrats on the Senate Judiciary Committee late Thursday afternoon, calling the Supreme Court confirmation process for Brett Kavanaugh "the most unethical sham since I've been in politics."
Turning to committee Democrats, with his voice shaking, Graham said:
If you wanted an FBI investigation, you could have come to us! What you want to do is destroy this guy's life, hold this seat, and hope you win in 2020. You've said that. Not me! You've got nothing to apologize for. When you see [Justices] Sotomayor and Kagan, tell them that Lindsey said hello to them, because I voted for them. I would never do to them what you've done to this guy! This is the most unethical sham since I've been in politics, and if you really wanted to know the truth, you sure as hell wouldn't have done what you have done to this guy.
Graham's comments were unusual, both because most Republican senators had not spoken—deferring their time to Rachel Mitchell, a sex-crimes prosecutor hired for the hearing—and because of his emotional tone. He echoed, though he did not match, the fury displayed by Kavanaugh himself in his opening statement. Graham's remarks also followed sharp exchanges between Kavanaugh and the Democrats Dianne Feinstein, Patrick Leahy, and Dick Durbin.
While Republicans and Democrats on the committee are sharply divided on the nomination, they try to retain a sense of collegiality in hearings. With Graham's statements, the tensions within the committee burst into view.
"God, I hate to say it because these have been my friends, but let me tell you, when it comes to this," Graham said, "you're looking for a fair process. You came to the wrong town at the wrong time, my friend."
The South Carolinian had been working up to those comments throughout the day. Even as senators were quiet within the room, Graham made a series of provocative remarks to reporters during breaks in the hearing.
Following Ford's testimony, Graham railed against the Democrats' handling of the allegations, telling reporters, "I feel ambushed as the majority."
On the one hand, he tried to separate his anger at Democrats from Ford, who he said was "as much a victim of this as I think Brett Kavanaugh" is.
"All I can say is we're 40-something days away from the elections and their goal—not Ms. Ford's goal—is to lay this past the midterms so they can win the Senate," Graham said. "I heard a bunch of speeches from a bunch of politicians who politicized this from day one, who've been lying in wait since day one, not Ms. Ford but them."
But Graham also made plain that he had doubts about Ford's account. "Based on what I heard today, you could not get a search warrant or an arrest warrant," he said.
During another break in the testimony, Graham seemed determined to strengthen Republican resolve.
"If this becomes the new standard, where you have an accusation for weeks, you drop it right before the hearing, you withhold from the committee a chance to do this in a professional, timely fashion when they publicly say that their goal is to delay the vote … I don't want to reward that kind of behavior," Graham said. "If that's enough for you, God help us … This happens to us; it never happens to them. But let me talk to my Democratic friends: If this is the new norm, you better watch out for your nominees."
The statement that this only happens to Republicans is peculiar; Senator Al Franken served on the Judiciary Committee until he was forced to resign over sexual-harassment allegations earlier this year. As a House member, Graham was one of the managers of the impeachment trial for Bill Clinton 20 years ago.
Graham's stout defense is, in substance, unsurprising. He had already declared his intention to vote for Kavanaugh no matter what Ford said, saying last weekend, "I'll listen to the lady, but we're going to bring this to a close. Here's what I want to tell you: In the very near future, Judge Kavanaugh will be on the United States Supreme Court."
After a contentious Republican presidential primary two years ago, Graham issued blunt warnings that a Trump nomination could be a disaster for the GOP and the nation. Since then, however, he has become one of Trump's closest allies in the Senate. His statements Thursday, explicitly addressed at his colleagues, seemed aimed at saving Trump's nominee by stiffening their back. With votes on Kavanaugh's nomination scheduled in the next few days, it will be clear soon whether it worked.