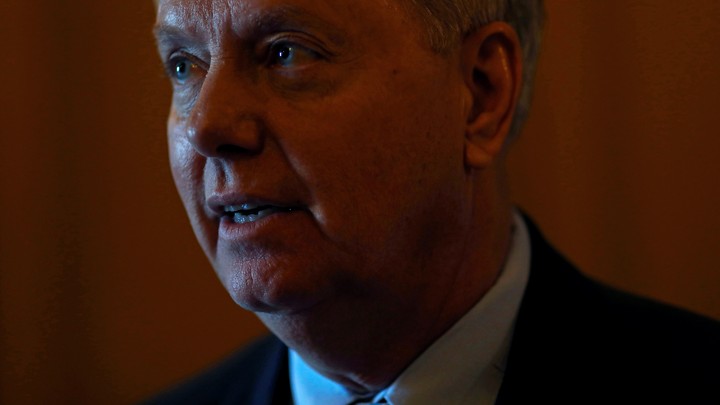 As President Trump continues to rail against Special Counsel Robert Mueller's partisan "witch hunt," he's undoubtedly assessing how that's playing with a key constituency:  Senate Republicans. When the president first started publicly toying with the idea of firing Mueller, Lindsey Graham was among the loudest of those saying, in so many words, don't even think about it. A year ago, Graham was 100 percent behind Jeff Sessions and said Trump would face "holy hell" if he fired his attorney general.
In late August, Graham abandoned his support for Sessions and, days after John McCain's funeral, went on Fox & Friends and said the Mueller probe was, among other sins, biased against Trump. But on the Sunday talk shows, Graham and another key Republican senator, John Kennedy of Louisiana, voiced their support for Mueller's investigation.
Graham spoke up on CBS's Face the Nation.  "I trust him to be honest and fair," the Judiciary Committee member said of Mueller, adding that he was intent on "making sure that Mueller can complete his investigation without political interference." When asked whether it was a "witch hunt," Graham did not defend the president's label. Instead he promised that "nothing's going to happen to Mueller's investigation politically. He's going to be allowed to finish it."
Kennedy, also a member of the Judiciary Committee, said on Fox News Sunday that the special counsel should not be fired before finishing his work. "I want him to report to the American people, give them the facts. The American people are smart enough to figure it out," he said. Kennedy's earlier statements had signaled greater impatience, as in May when he opined that it was "time to wrap things up."
Beyond Graham and Kennedy, two legal heavyweights weighed in Sunday on the Mueller probe. Ken Starr, the special counsel whose legnthy investigation led to Bill Clinton's impeachment, assessed the significance of Paul Manafort's decision to cooperate with Mueller as part of a plea deal regarding the remaining charges against him.  "It is very likely that Paul Manafort has indicated through his counsel and directly that he can provide very useful information to get to the bottom of what Bob Mueller and his team have been charged to do," Starr said on ABC's This Week. "So it is a very significant breakthrough."
Starr, Bill Clinton's unyielding  prosecutor, defended the special counsel looking into possible collusion between the Trump campaign and Russia. He called Mueller "highly ethical" and "among the most rigorous." He said a divided nation should want to get the facts out, "and I think Mueller is in a situation now to help us do that."
Harvard law professor emeritus Alan Dershowitz, the civil libertarian turned Trump defender, said on NBC's Meet the Press that Manafort's cooperation agreement represented "a very bad day for the Trump administration. It's bad because he doesn't know what Manafort is saying. And he can't count on Manafort saying only things that the special counsel already knows. And when you don't know what a cooperator is saying, then it's a bad day for you because you're vulnerable and exposed."
The plea agreement is unlikely to leave any topic off-limits, Dershowitz said, and the Trump Tower meeting with Donald Trump Jr. and a Russian promising dirt on Hillary Clinton might be "one of the first questions they're going to ask him … in order to put pressure on Trump Jr., in order to put pressure on President Trump."
Chris Christie—a federal prosecutor before he was New Jersey's GOP governor or Trump's spurned supporter—said the public doesn't know whether Manafort might have information that brings investigators closer to the president: "Is Paul Manafort cooperating against lobbyists who were engaged in the Ukraine situation with him? Possibly. Is he cooperating against other people in the Trump campaign and what went on there? It could be both. We don't know."
Christie also described the special counsel as untouchable, despite the president's obsession with the collusion investigation. "The Mueller investigation is kind of a red line for a lot of Republicans, not only in the House but, much more importantly, in the United States Senate." (Ironically, or perhaps in response to one of the talk shows he watches religiously, Trump issued a mid-morning tweet blasting the "illegal Mueller Witch Hunt.")
We may have seen a preview of a Republican effort to discredit Manafort when Dershowitz noted on Meet the Press that prosecutors can recommend leniency for a cooperating witness like Manafort if their testimony proves beneficial. "He knows he gets a better deal if he can help support the narrative of the prosecutor," Dershowitz said. "Some people like this not only sing, but they compose. That is, they elaborate a little bit, they remember things a little better than they occurred, and that's the risk to justice that could occur here."
We want to hear what you think about this article. Submit a letter to the editor or write to letters@theatlantic.com.