A Republican Enlisted His Pregnant Daughter for an Abortion Attack Ad
The new spot criticizes North Dakota Democrat Heidi Heitkamp's record in the Senate.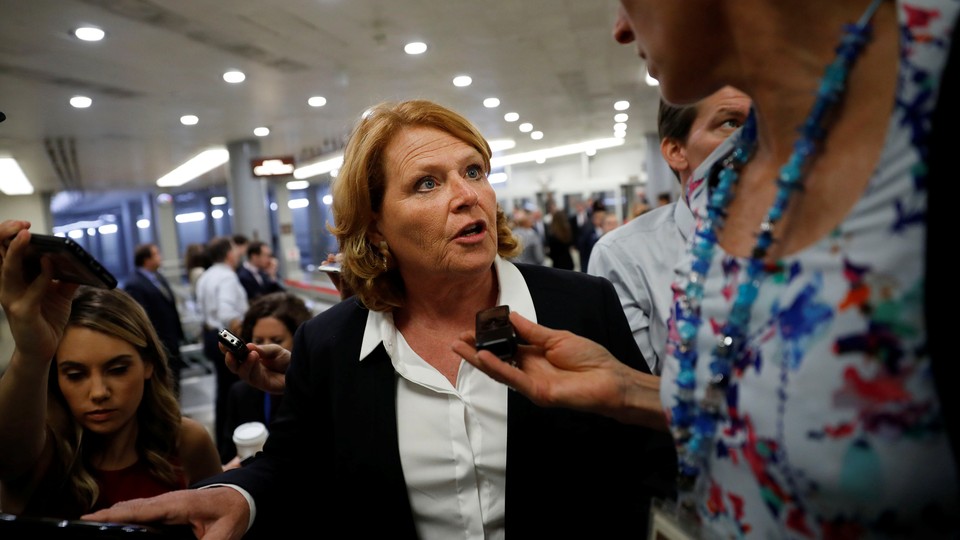 The North Dakota Senate Republican candidate Kevin Cramer has launched a television ad attacking the Democratic incumbent Heidi Heitkamp for her support of late-term abortion, according to a copy of the ad obtained by The Atlantic.
The 30-second spot, called "Respecting Life," features Cramer's daughters, one of whom is pregnant. The two women criticize Heitkamp for her vote this year against a 20-week abortion ban in the Senate. The clip then spotlights footage of Heitkamp appearing to high-five Minority Leader Chuck Schumer on the Senate floor following the bill's failure. (Earlier this year, PolitiFact deemed the gesture as more an "awkward greeting" than "crude celebration.")
"She looked like she was celebrating," says Cramer's daughter Annie, both hands on her pregnant belly. "Late-term abortion, can you imagine?"
Late-term abortion has cropped up often throughout the campaign, with Republicans quick to point out Heitkamp's unexplained flip-flopping on the issue. During her first Senate campaign in 2012, Heitkamp argued that late-term abortion should be illegal "except when necessary to save the life of the mother." Yet in 2015, she voted to filibuster a bill that would ban abortions after the fifth month of pregnancy. As The Weekly Standard's John McCormack reported at the time, when he attempted to ask about her seeming change of heart, Heitkamp "refused to talk about it."
Recent polling suggests that more North Dakotans favor Cramer's stance, with 56 percent supporting a ban on abortions after the fifth month of pregnancy.
Republicans see North Dakota, which Donald Trump won by 63 percent in 2016, as a key state in their efforts to boost their Senate majority in November. Public polling shows the race as within the margin of error, and Inside Elections shifted the state from a "tossup" to "tilts Republican" earlier this summer. Cramer, currently a House member, was intensely courted by party officials and the White House to take on Heitkamp.
President Trump will travel to Fargo on Friday to fundraise for Cramer, his second visit to the state this summer.