A Heat-Check for Progressive Democrats
In Thursday's Senate primary in Delaware, Kerri Evelyn Harris hopes to capitalize on a grassroots energy that has seen black, female, and LGBTQ candidates redefining the left wing of the Democratic Party.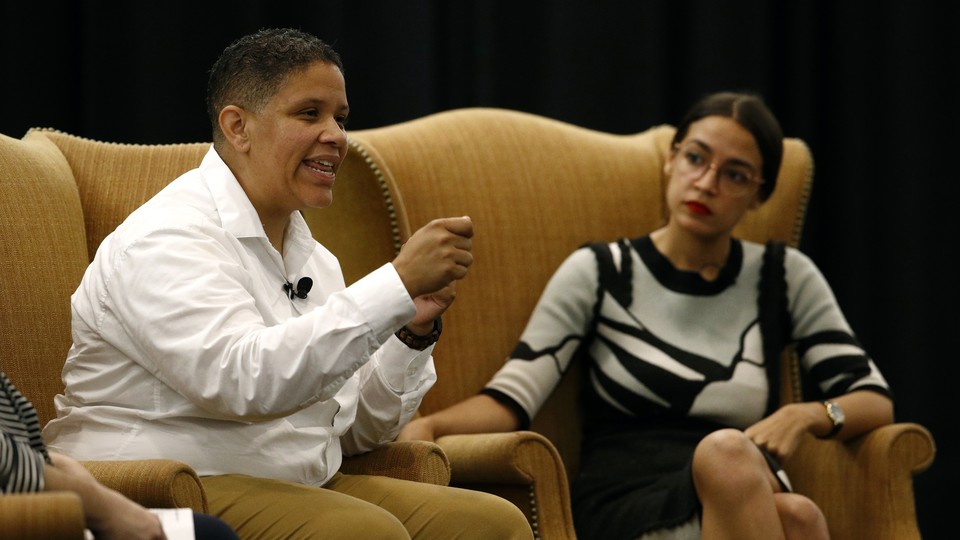 Delaware isn't exactly where one goes looking for progressive insurgencies. The state's most famous politician is Joe Biden, a New Democrat who might be the second-best national example of the "triangulation" era of the party's evolution, after Bill Clinton. Senator Chris Coons once worked for Ronald Reagan, and has garnered a reputation in the upper chamber as an aisle-crossing dealmaker. His partner in the Senate, Tom Carper, was a staunch ally of Biden's in the New Democrat takeover in the 1990s, and was one of the founders of the now-defunct Moderate Dems Working Group. If there's a place where progressive energy across the country might not be expected to have much truck, it's this bastion of moderateness.
Kerri Evelyn Harris hopes that assumption is wrong.
Just two days after Ayanna Pressley shocked the 10-term incumbent, Mike Capuano, with an 18-point win in the Democratic primary in Massachusetts's Seventh District, Harris is hoping that whatever hidden energies might have been unlocked by Pressley can help buoy her challenge to Carper. "What an exciting moment," Harris told me by phone Wednesday. "It's just a completely different feeling. We know that the momentum is there."
Momentum is a tricky thing, though, and the story of whatever is happening on the left flank of the Democratic Party is more complex than most grand narratives admit. Alexandria Ocasio-Cortez, a progressive organizer and former bartender, kicked the narrative machine into overdrive with her shocking win over New York Congressman Joe Crowley in a June primary. Many diviners back then saw her as the bleeding edge of the progressive political revolution that Senator Bernie Sanders had once promised. Since then, two popular narratives have emerged: Candidates from marginalized groups are having a banner year across the country, and progressives are pressing an advantage against the establishment. Incumbents beware.
Reality—with its lessons now applicable as voters head to the polls in Delaware—has adjusted those narratives. Yes, candidates such as Ocasio-Cortez, Pressley, Andrew Gillum in the Florida gubernatorial election, and Stacey Abrams in the Georgia governor's race are part of perhaps the most diverse class of liberal candidates since Reconstruction, and one that skews younger and more unabashedly progressive than before. But, for the most part, they still exist at the outer limits of power and prominence. Several members of this group of enfants terribles failed to break through the establishment strength and fund-raising capabilities of the Democratic machine in the Midwest. Those in competitive states or districts—for whom the November election won't be a formality—still face serious challenges from the GOP.
Even with Pressley's win on Tuesday, it's still unclear how translatable individual shockers are to larger movements or other candidates. One main advantage for contenders such as Ocasio-Cortez and Pressley appears to be a thicker-than-usual fog of war, which is genuinely interfering with incumbent candidates' ability to assess risks and moods on the ground. But that lack of acuity also makes it impossible to predict whether a candidate such as Harris—a gay, biracial Air Force veteran who blends a working-class appeal with a staunchly progressive platform—really has a chance against a Carper, a leader in a local machine as formidable as any.
For her part, Harris acknowledged when we spoke that hers was an uphill battle. "It's looking like we could have a win, but even if we didn't, we have created a win here in the state of Delaware because people are energized and motivated," she told me. "We've brought back the idea that primaries do matter, and that it's important to actually look at the record of our elected officials we've had here in our state."
Harris has positioned her platform as far in opposition to Carper's as two members of the same party can really get. Earlier this year, Carper was one of the Senate Democrats who crossed over and voted in favor of a partial repeal of Dodd-Frank bank reforms that proponents say protected consumers. Harris has criticized Carper for formerly supporting the Keystone XL pipeline and other major oil projects, although he has walked back some of his previous support. And Carper has firmly resisted the leftward gravitation toward ideas such as "Medicare for all" and student-debt forgiveness.
In an email to me on Thursday, Carper said that his platform and ability to stand as a bulwark against Donald Trump are what Delaware voters want. "I come home every night on the train and I am in every county in Delaware, visiting with constituents, nearly every week," Carper said. "That's why I have 485,000 [miles] on my minivan. What I hear from Delawareans is that they want someone who can and will stand up to Trump and his reckless policies, and who has the experience getting things done. I know how to get things done for Delaware—and have been—and I want to continue to grow our economy, protect our environment and provide affordable, quality health care for all Americans."
As with similar races in other states, the outcome in Delaware appears to be more a referendum on issues and the health of the party establishment than on dissatisfaction with the incumbent per se. "You know, we talk about the national establishment, but in a small state, the establishment is some serious stuff because everybody is connected," Harris told me. "This is changing fundamentally what it is going to be like to deal with Delaware politics."
Harris is close to Ocasio-Cortez, and has often been compared to the newly minted progressive standard-bearer. But she might be even more of a long shot. The fund-raising disadvantage between her camp and Carper's—let alone the weight of endorsements, like Biden's, for the incumbent—is staggering. Harris told me that her campaign couldn't afford billboards and big radio or TV ads. Volunteers just started putting out yard signs with her name on them three weeks ago. Aside from physically showing up at people's houses, the main way Harris has linked her growing name recognition with her image is through four-by-four posters that her team was only able to afford and place in local establishments a week and a half ago.
Even so, Harris sees Ocasio-Cortez as a blueprint for how Thursday could play out. "Her campaign mirrored my campaign and vice versa," Harris said. "We were both organizers, and both working regular jobs—she was a bartender last year—and our lives as working-class individuals fighting for what is right are exactly the same." Aside from the two candidates' political-outsider status and their embrace of a similar collection of platform planks—a $15 minimum wage, Medicare for all, and major criminal-justice reforms among them—the main parallel between them is that they share a reliance on door knocking. Without ad money, Harris and her volunteers have had to predominantly use face-to-face conversations with Delaware voters as an outreach strategy. While that approach has obvious downsides, its main upside in this case is that it's unpredictable. Harris says her conversion rates have been high in those conversations, although it's difficult by nature for either side to capture just how many voters have been moved by her message. Facing an entrenched incumbent, though, this kind of unpredictability might be the only strategy.
If she wins, Harris will be cited as definitive proof of the progressive wave taking over the Democrats. If she loses, her name will be wet sand on a fire. But, in a state like Delaware, where the party primary is not much distinguishable from the general election, her campaign itself has significance beyond the final tally. What do voters do when presented with real alternatives? With all else equal—and the understanding that whoever is elected will, at baseline, be a reliable anti-Trump force in Congress—which voters gravitate toward progressive promises? Can titans in a place as secure and insular as Delaware be pushed or pulled to the left?
"We are changing, fundamentally, what it means to be a Democrat," Harris told me. The state will find out just how fundamental that change is when the polls close.