Senate Republicans Are More Emboldened Than Ever to Confirm Kavanaugh
The mood in GOP circles was glum during Christine Blasey Ford's testimony. But by Thursday's end, lawmakers were confident enough to quickly schedule a vote.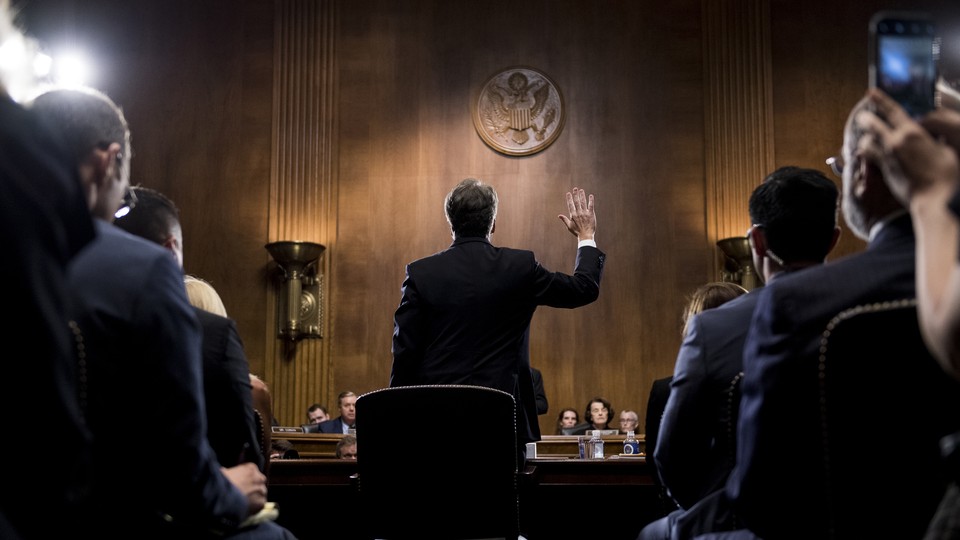 For President Trump and his top aides, Thursday began on Air Force One en route from New York to Washington. According to a source with direct knowledge, those aides sat clustered in front of televisions, watching Christine Blasey Ford testify about the day she alleges Brett Kavanaugh sexually assaulted her. They were mostly silent, the source says, save for a half-hearted mumble here and there that Ford was "a liar."
The mood among administration officials back in Washington was also "dour," a former senior White House official told me. Even for the president's staunchest allies, it was tough not to listen to Ford's testimony and conclude that it was anything other than credible—or, at the very least, sympathetic. One senior Senate GOP aide described it to me as "compelling and believable." Of the 11 White House and Senate officials I spoke with early in the day, not a single one felt confident that following the hearing, Kavanaugh could be confirmed.
But mere hours later, those same sources were euphoric. In their view, Kavanaugh had punched back against baseless accusations with aplomb. The mood in the White House? As Kellyanne Conway put it to me, "Excellent."
The shift capped off an emotional and political roller coaster not only for the White House, but also for the GOP as a whole. For Republicans and Democrats alike, Kavanaugh's confirmation battle has taken on an outsize resonance. Ask Democrats, and Kavanaugh's ascendance would mean that sexual-assault victims are secondary to political expediency. Republicans, to the contrary, believe that confirming Kavanaugh sends the message that decades-old allegations cannot, and should not, railroad a man's career.
Senate Republicans concluded Thursday's hearing more emboldened than ever to see the nomination through. Kavanaugh had certainly helped his own case. "The righteous indignation was justified, the Democrats didn't land a blow, and they looked silly when six of them focused their entire question bloc on why he wouldn't ask for a superfluous FBI investigation," the senior Senate GOP aide told me. And sources said that Senator Lindsey Graham may have helped give more skittish lawmakers the confidence they needed to lambaste the Democrats' and the media's treatment of Kavanaugh. The South Carolinian used his five minutes to give an angry, impassioned speech about what he called "the most despicable thing I've seen in my time in politics."
Graham's performance, the former senior White House official told me, "may have saved [Kavanaugh's] bacon."
Many Senate Republicans applauded Graham when he entered the GOP conference meeting convened just after the hearing on Thursday night. They determined quickly that the Judiciary Committee would move ahead with its vote on Friday morning, with the goal of holding a full floor vote on Kavanaugh's nomination by Tuesday.
Despite their apparent confidence in going forward, however, Republicans' problem areas remain the same as they were before the hearing. Will Senators Lisa Murkowski, Susan Collins, and Jeff Flake play ball?
Those three lawmakers, along with Democratic Senators Joe Manchin and Joe Donnelly, huddled separately after the hearing to discuss their decision making. But they offered little clarity to reporters after their meeting. A source close to Manchin told me that "short of claims that definitively prove Dr. Ford's allegations or a realization that Kavanaugh will gut the health-care law, Manchin will side with the overwhelming number of people in [West Virginia] who want Kavanaugh confirmed." His spokesman, Jon Kott, however, pushed back on that line of thinking. "He is 100 percent undecided and remains so," he told me. And Murkowski, according to The Washington Post, "left saying she wants to go home, have dinner and think about things."
Even if moods changed over the day, the stakes remained the same. Republicans still believe, as I reported Monday, that the failure to confirm Kavanaugh would definitively sink their chances of keeping their congressional majorities. But as of Thursday evening, at least, GOP staffers in the White House and the Senate alike are breathing easier.