Brett Kavanaugh's Unprecedented Fox News Interview
Faced with sexual-assault allegations, the would-be justice has been more aggressive in fighting for his Supreme Court nomination than most of his predecessors.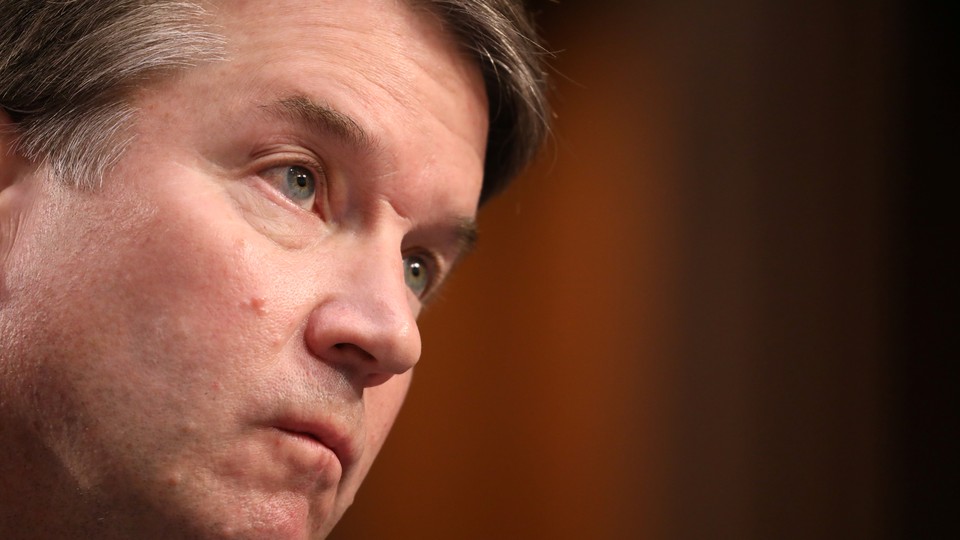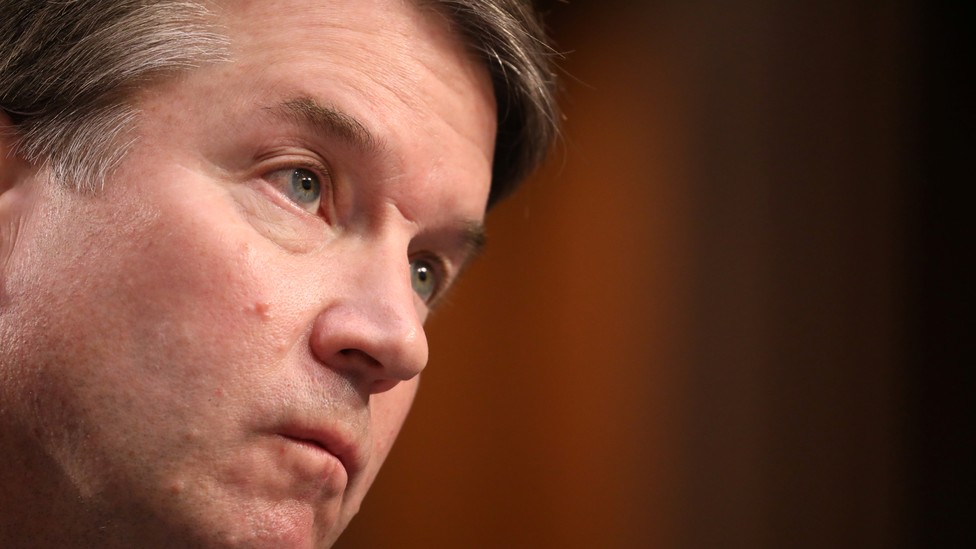 With his Supreme Court nomination in the balance, Judge Brett Kavanaugh appeared on Fox News, alongside his wife, Ashley, in an aggressive interview Monday night.
Not that the questions were combative. Martha MacCallum asked straightforward, but never especially challenging, questions. And the answers Kavanaugh gave weren't all that truculent. What was aggressive was Kavanaugh's presence on Fox News in the heat of a nomination battle.
Kavanaugh mostly spoke in the bland cadences one would expect of a federal judge, though he occasionally seemed to get choked up in defending himself. He primarily stuck to talking points, reciting slight variations on the same phrases:
"I want a fair process where I can defend my integrity."
"I have always treated women with dignity and respect."
"I have never sexually assaulted anyone in high school or otherwise."
The most aggressive language he used was when he called one allegation against him "totally false and outrageous." (He fully denied all accusations of sexual misconduct.) The most notable moments came when Kavanaugh acknowledged attending raucous parties as a teenager and said that he was a virgin for "many years after" the attempted sexual assault alleged by Christine Blasey Ford, who knew Kavanaugh in high school.
"Yes, there were parties. The drinking age was 18. Yes, the seniors were legal and had beer there. Yes, people might have had too many beers on occasion," Kavanaugh said. "In high school, I think all of us have done things we look back on in high school and cringe a bit. That's not what we are talking about. We are talking about an allegation of sexual assault."
He also said, "I did not have sexual intercourse or anything close to sexual intercourse in high school or for many years thereafter." (That's not, of course, mutually exclusive with Ford's account.)
None of what Kavanaugh was saying was surprising per se. It was the fact that the nominee himself was saying it that was unusual. For a prospective justice to appear on cable news in such an interview is highly unusual—perhaps unheard of. (Justices tend to be careful about what they say, period, and Ruth Bader Ginsburg was forced to apologize in 2016 for speaking critically to the press about Donald Trump.) That's especially true because the venue was Fox News, which has become, for many intents, the house organ of the Trump White House. The network's former head Bill Shine, ousted in a scandal over cover-ups of sexual harassment, is now the president's communications director.
Most Supreme Court nominees come to Washington with a decent amount of experience in politics. Neil Gorsuch's mother was the head of the Environmental Protection Agency, and Gorsuch himself worked in the George W. Bush Justice Department. Elena Kagan went straight from the Obama administration to the Court. Sonia Sotomayor held various political appointments before joining the federal bench.
Nonetheless, the general practice is for nominees to pose as political naïfs, glad-handing awkwardly as they are squired around Capitol Hill by handlers who introduce them to senators and prep them for the gauntlet. This pageantry is part of a process in which nominees from both parties pretend, implausibly, not to have ideological precommitments.
Kavanaugh, however, is an experienced political hand: He worked for Independent Counsel Ken Starr while he was investigating the Clinton administration, and was reportedly in favor of particularly aggressive tactics; he served in the George W. Bush administration first as an associate White House counsel and then as staff secretary, a crucial behind-the-scenes role. His first nomination to the federal bench was stalled, in part, because Democrats decried his partisanship; he eventually succeeded in 2006.
In keeping with his resume, Kavanaugh has approached his nomination battle more like a political operative than a staid federal judge. Between the Fox interview and a fiery letter that he released on Monday, Kavanaugh doesn't seem content to sit back and wait for the White House political team to defend him. Perhaps not since Robert Bork has a Supreme Court nominee fought so aggressively for himself.
That is likely in part because of the intimate nature of the allegations against him, which encourages a personal defense. It may also be driven by the White House's initially timid response to those claims. President Trump was at first unexpectedly cautious in responding, and other members of his administration, while defending Kavanaugh's honor, also said it was important that his accuser be heard. Only in recent days has the president come out swinging.
Kavanaugh says he was unaware of a botched effort by his friend Ed Whelan to clear the judge's name in a conspiratorial Twitter thread. But Politico reported that Kavanaugh's camp was hopeful ahead of the event that Whelan would deliver. With Whelan's failure and the emergence of additional allegations on Sunday, Kavanaugh took matters into his own hands with a strongly worded letter to the Senate Judiciary Committee, insisting he would not allow what he called a "coordinated effort to destroy my good name" to force him to withdraw his nomination. Kavanaugh used language much stronger than he did on Fox, writing:
These are smears, pure and simple. And they debase our public discourse. But they are also a threat to any man or woman who wishes to serve our country. Such grotesque and obvious character assassination—if allowed to succeed—will dissuade competent and good people of all political persuasions from service.
Along with a White House messaging push, described Monday by my colleague Elaina Plott, Kavanaugh's intent with the letter seemed to be to calm Republican senators who had begun to wobble, worried that voting for Kavanaugh might hurt the party in November, and whisper about withdrawal.
Kavanaugh's unusual role in speaking for himself and coordinating his own defense may be sui generis: Few Supreme Court nominees come to a confirmation clash with the same deep roots in a political movement and in political service, so few of them have the tactical knowledge and networks to allow them to jump into the fray themselves.
Watching the nominee fight his own fight undermines the flimsy fictions still circulating about the Supreme Court process. The justices and their aspiring colleagues may like to pretend they are above politics and are apart from the partisan fray, and perhaps there was a time when that was true. But most everyone else, from the president to the senators on down to the voters, knows the confirmation process is just another partisan battle, as reflected in the often-party-line votes that conclude each one. This summer, a poll found that 50 percent of Americans feel the Court is motivated mostly by politics, not law. Kavanaugh's central role in pressing his own case is more an acknowledgment of reality than it is a true change.