The Kavanaugh Prosecutor Is Asking a Baffling Line of Questions
Rachel Mitchell may be laying the groundwork for future investigations with her interrogation of Christine Blasey Ford.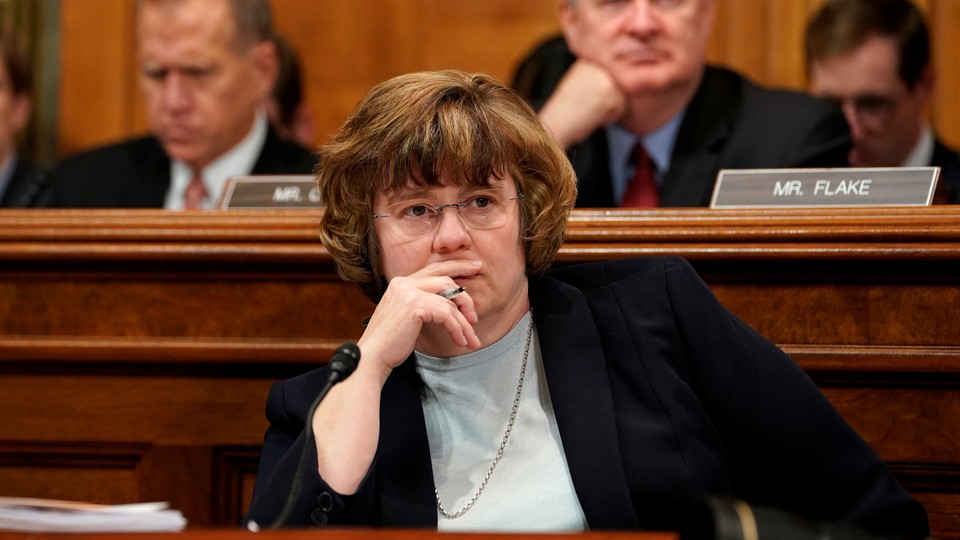 Updated September 27 at 5:01 p.m. EST
Technically, Christine Blasey Ford was not on trial on Thursday as she testified before the Senate Judiciary Committee that Brett Kavanaugh sexually assaulted her some 35 years ago. But effectively, that's what it was: Ford was questioned by sitting senators and an experienced prosecutor, Rachel Mitchell, who leads the special-victims division of the Maricopa County attorney's office in Arizona.
Mitchell's approach to questioning Ford—and Kavanaugh—is significant for two reasons. Democrats decried Republicans' decision to bring on a prosecutor, seeing it as an attempt to make Ford seem deceptive or unfairly question her. Mitchell took a methodical approach with Ford, asking her about everything from the small details of the assault to potential inconsistencies in her story. But the morning's hearing finished up with no clear outcome, and certainly nothing that could help the Republicans who hired Mitchell: The lawyer's questions seemed piecemeal and vaguely insinuating, while Ford stuck to her story.
Her questions for Kavanaugh were different. Mitchell gave him a definition of "sexual behavior," noting that it "includes rubbing or grinding your genitals against somebody, clothed or unclothed." She asked Kavanaugh about his drinking habits, and whether he had ever woken up in a "different condition" or with "fewer clothes" than when he remembered going to sleep. She ran through the sexual allegations Ford had made. Kavanaugh denied everything with a straightforward "No."
Mitchell's line of questioning could have immense implications beyond the Senate hearing room. The details she uncovers during the hearing could potentially shape the opinions of Maryland prosecutors, who may or may not be considering an investigation into these allegations. Mitchell even mentioned this in questions to Kavanaugh, asking whether he's aware that this kind of incident would be investigated by local police, and that there is no statute of limitations on the kind of crime he's being accused of.
The world will be judging Ford and Kavanaugh based on this hearing. But prosecutors may also be judging whether they have a potential case, which could lead to a cascade of legal and political complications for Kavanaugh and others who have been implicated.
In questioning a potential survivor of sexual assault, the framing of the questions matters, said Herb Tanner, the former director of the Violence Against Women Project at the Prosecuting Attorneys Association of Michigan. "How does [Mitchell] start the questioning? Is it going to be setting an environment where [Ford] is allowed to not remember things?" he asked. These questions would indicate Mitchell's posture, he said: Is this "a victim I am bringing before a fact-finding body, or is this someone whose memory I would want to test, as I would, say, a suspect?"
Mitchell opened with an expression of empathy. "The first thing that struck me from your statement this morning was that you were terrified," she told Ford. "I just wanted to let you know, I'm very sorry. That's not right." She laid out a set of ground rules: Ford could ask for clarification of any question. She could correct any misstatements. And it was okay if she didn't remember everything.
As the hearing got underway, it took on an odd rhythm. Mitchell questioned Ford methodically, but she was on borrowed time: While each Democratic and Republican senator on the committee was given five minutes, only Republicans yielded their time to Mitchell. So the prosecutor spoke in bursts: Mitchell would spend five minutes asking Ford whether she was drinking or on medication; whether her texts with a Washington Post reporter were correct; whether she remembered where the people involved had lived. And then a Democrat would take the microphone, giving an impassioned speech about victims of sexual abuse and the cruelty that Ford has suffered. It was as though a lawyer's deposition had been spliced with clips from cable TV.
Mitchell herself acknowledged the awkwardness of the format. In trying to help trauma victims recover memories, she said, "would you believe me if I told you that there is no study that says that this setting in five-minute increments is the best way to do that?"
Some of Mitchell's questions to Ford were puzzling—an effect that was compounded by the start-and-stop nature of her questioning. At one point, she quizzed Ford about her fear of flying: how she had gotten to Washington, whether she has to fly for work, how she reached the many island locations she said she had traveled to. She also asked who had paid for Ford's polygraph test, seeming to suggest that Ford was getting paid by outside groups. The line of questioning seemed to indicate that Mitchell was playing a long game, building the evidence for a point that wouldn't be clear until later.
Mitchell also spent significant time on small details: Was the television on during the assault? Did Ford remember who drove her home from the party where the assault allegedly occurred? Occasionally, senators joined in: When Patrick Leahy of Vermont asked Ford about her strongest memory of the incident, Ford spoke about the manner of Kavanaugh and Mark Judge, his friend who was allegedly in the room during the assault. What Ford remembered most, she said, was "the uproarious laughter between the two."
While these kinds of questions might seem irrelevant, they're actually important, Tanner said: During traumatic experiences, people often remember little details that could corroborate their story.
These details could also be crucial for what happens next. "The most interesting audience right now are the Maryland prosecutors," said Marci Hamilton, a professor at the University of Pennsylvania who works on child-sexual-abuse issues. If prosecutors were to detect a pattern of dangerous behavior in the private-school communities where the assault allegedly took place, they could have grounds for a grand-jury investigation. "This isn't a trial," Hamilton said. "But it is a preview of evidence that could be used in a trial."
Senators Chuck Grassley and Dianne Feinstein, the majority and minority leaders of the Judiciary Committee, argued about the format of the hearing and whether it was right for Mitchell to be questioning Ford and Kavanaugh. When Anita Hill brought allegations against the then–Supreme Court nominee Clarence Thomas in 1991, "the Senate heard from 22 witnesses over three days," Feinstein said. This hearing will only last one day, she complained, and "Republicans are refusing to hear testimony from any other witness." Grassley, however, accused his colleagues of "grandstanding and chaos." Their complaints that Ford would be questioned by an experienced sexual-abuse prosecutor were "just plain politics," he said.
Mazie Hirono, the Democratic senator from Hawaii, also bristled at what she saw as the implication of Mitchell's line of questioning. "I will just ask you very plainly, Dr. Ford," she said during her question time. "Is there a political motivation for your coming forward with your account of the assault by Brett Kavanaugh?" Her colleague Cory Booker of New Jersey added: "I just want to remind everyone that this is not a courtroom."
During Kavanaugh's portion of the hearing, Mitchell asked questions that tried to establish his version of events. His answers could be used to indicate his guilt or innocence, but also to demonstrate his ability to be a fair Supreme Court judge in the wake of this experience. "You can see what you might have to fear if you watch Donald Trump, who yesterday said that because he says he has been falsely accused, then he automatically believes the man," Hamilton said.
But after a certain point, Republican senators—perhaps sensing their rhetorical disadvantage in yielding all of their time to Mitchell—took the microphone back from the female lawyer they had hired to handle this hearing. "I hope the American people will see through this charade," said Senator Lindsey Graham of South Carolina. "We're not a police state," his colleague Senator John Cornyn of Texas added.
In a process that has been immensely politicized, to the point of partisans seeing the facts in diametrically opposite ways, Mitchell has an advantage: "We can be confident that she knows the facts," Hamilton said. Experienced sex-crimes prosecutors know that "anyone, no matter how angelic they look, can be a sexual perpetrator."