The Republican Rush to Confirm Kavanaugh Backfired
Three new allegations against President Trump's Supreme Court nominee show the dangers of a hasty process.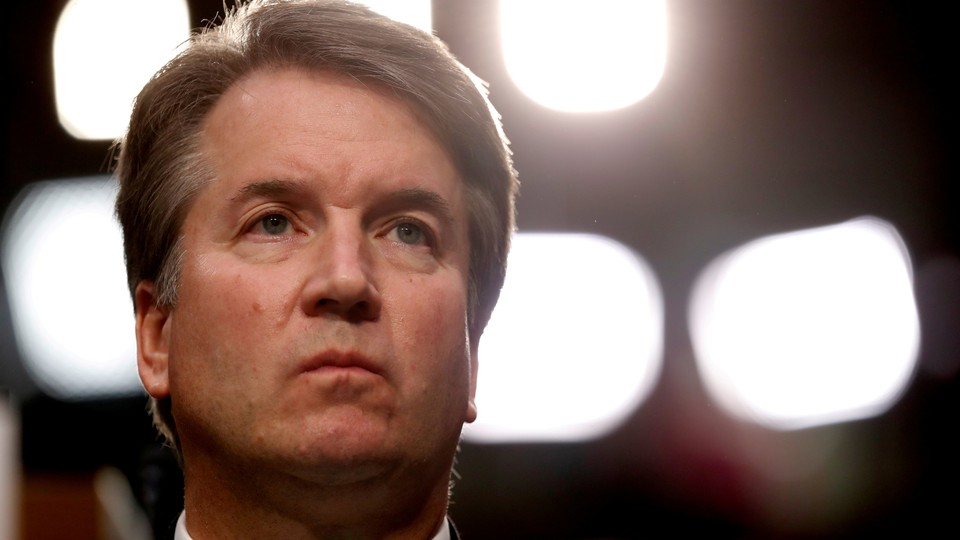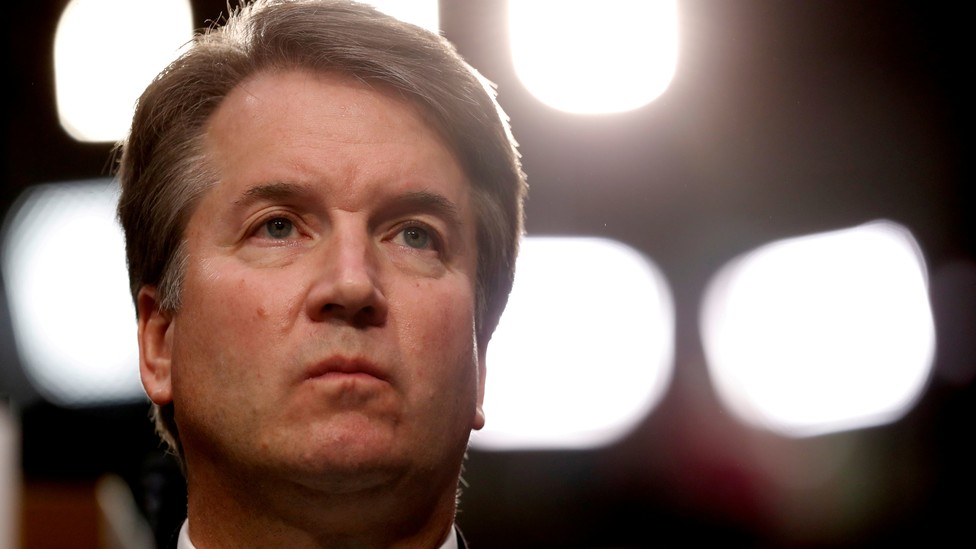 The one overriding theme of Brett Kavanaugh's nomination to the Supreme Court has been haste, and the three new allegations of sexual misconduct against him that surfaced in the past day—bringing the total to four—suggest a motivation for Republican hurry, as well as demonstrate its dangers.
Sunday evening, The New Yorker reported on allegations by Deborah Ramirez, a woman who attended Yale with Kavanaugh, that he had "exposed himself at a drunken dormitory party, thrust his penis in her face, and caused her to touch it without her consent as she pushed him away." Later in the evening, Michael Avenatti, the lawyer who represents Stormy Daniels, posted an email laying out allegations that Kavanaugh might have been present at gang rapes in high school organized by a friend. Monday morning, a local paper in Montgomery County, Maryland, reported that police there are examining another allegation from the 1980s.
Kavanaugh has denied all the allegations, calling the New Yorker story "a smear, plain and simple." The allegations are remarkable, and difficult to assess with certainty. But their emergence at this stage places the hurry to vote on Kavanaugh in a different light. Republicans, both in the Senate and the White House, have been eager to confirm him as soon as possible, both to notch a political win that could energize Republicans before the midterm elections and to avoid the danger of Democrats gaining seats in the Senate and blocking his confirmation.
Antonin Scalia's seat on the Court had been empty for nearly a year—thanks to GOP obstruction—when President Donald Trump nominated Neil Gorsuch. Kavanaugh was nominated less than two weeks after Justice Anthony Kennedy's retirement. When the National Archives said it could not produce all the documents related to Kavanaugh's work in government in time for a vote before the November election, Senate Republicans decided to move forward with a smaller range of documents.
Most recently, Kavanaugh's nomination has been shaken by an allegation of attempted rape during high school, lodged by Christine Blasey Ford. The White House and Senate Republicans have responded to that accusation with haste as well. The president on Friday argued that if the allegation were genuine, Ford would have filed a police report at the time. Meanwhile, Senate Judiciary Chairman Chuck Grassley reacted with impatience to the idea of Ford testifying before the committee, first demanding that she appear on Monday or not at all, and then, after backing down, getting into a clash with Ford's lawyers over the deadline by which she had to agree to testify later this week. (He eventually gave in on that as well.)
The Ramirez story comes from two investigative reporters with strong track records, Ronan Farrow and Jane Mayer. Yet other publications, including The New York Times, had chased the story but not found enough corroboration to run it. Critics, including the White House, quickly jumped on the story's weaknesses. For example, Farrow and Mayer reported, "In her initial conversations with The New Yorker, she was reluctant to characterize Kavanaugh's role in the alleged incident with certainty. After six days of carefully assessing her memories and consulting with her attorney, Ramirez said that she felt confident enough of her recollections."
The reporters spoke to a range of acquaintances. Mayer said on Today Monday morning that Ramirez had not been the first to come forward. "What happened was the classmates at Yale were talking to each other about it, they were emailing about it," she said. "We've seen the emails, back in July before Christine Blasey Ford came forward, and eventually the word of it spread. It spread to the Senate. It spread to the media."
Some people quoted in the story remembered hearing about the alleged incident at the time. Others found it implausible. (One of the peculiar things about the Kavanaugh allegations is the way they have split those who know him, with some saying that even if they did not know about incidents, they find them plausible given his behavior in college, and others saying it's impossible to imagine him acting as described.)
Avenatti's allegations are far more salacious, though they are vague about Kavanaugh's role in the alleged gang rapes. Avenatti has so far offered no evidence or witnesses for them, though he has in the past made claims that seem unsupported and wild but turn out to be true.
It's becoming harder to view the hurry as anything other than an attempt to move the process along without hearing the allegations—especially since, the New Yorker story says, Senate Republicans were aware of Ramirez's allegations before it reported on them.
Many Republicans believe the allegations against Kavanaugh are purely political and without merit. "For people to come out of the woodwork from 36 years ago and 30 years ago and never mentioned it, all of a sudden it happens—in my opinion, it's totally political. It's totally political," Trump said. "There's a chance that this could be one of the single most unfair, unjust things to happen to a candidate for anything." (As I wrote Friday, Trump has used the same defense to respond to allegations of sexual misconduct against himself.)
Even so, the political risks of haste are becoming great. As my colleague Dick Polman and Jonathan Martin of the Times have both reported, Kavanaugh no longer seems like a political winner for Republicans. His support among voters has collapsed, and if the GOP appears to be dealing with Kavanaugh's accusers peremptorily, it risks further undermining the party's standing among white female voters, who have emerged as a crucial swing vote in the midterms. That's not helped by comments from senators such as Lindsey Graham, who said Sunday that regardless of what Ford testifies, he has already made up his mind to support Kavanaugh's nomination.
As the new allegations roll in, the Kavanaugh confirmation comes to eerily resemble Clarence Thomas's nomination to the Court in 1991. In that case, there was one central accuser: Anita Hill. But once Hill had come forward, others did, too. The Senate Judiciary Committee, then as now, appeared reluctant to dig deeply into the allegations. Chairman Joe Biden decided that instead of allowing one woman to testify publicly, the committee would release a transcript of a phone interview with her. Mayer—the same reporter who broke the Ramirez story—and Jill Abramson wrote in a 1994 book that the committee pursued only a cursory investigation and declined to follow other leads.
There are other signs of haste causing problems for Republicans, too. Although Kavanaugh's defenders have complained that these allegations are unfair because they emerged at the last minute, that's in part because the process has been so fast. The White House has consistently failed to find weaknesses in candidates' resumes, and a more deliberate vetting process might have allowed them to be prepared for allegations against Kavanaugh. (For example, a book by Kavanaugh's high-school friend Mark Judge chronicles drunken exploits by "Bart O'Kavanaugh," not the cleverest pseudonym.) The Judiciary Committee was also relying on press help from an aide named Garrett Ventry. But Ventry was a temporary employee, detailed from a conservative public-relations firm that helped push a bogus debunking of the Kavanaugh allegations. Moreover, he was made to resign after NBC News revealed that he had been forced out of an earlier job after a sexual-harassment allegation.
The hurry nearly worked, at least in part. The New Yorker reported that Ramirez was frightened by watching the pushback against Ford, but she decided to speak, because she hoped her story would buttress Ford's.
Kavanaugh may still be confirmed, but the rush has created conditions that both endanger his nomination and undermine any political gain Republicans sought to make. The destruction left behind is a reminder that haste lays waste.