A Familiar Republican Face Will Replace John McCain in the Senate
Former Senator Jon Kyl's temporary return to Washington will give the GOP majority an immediate boost—and President Trump's Supreme Court pick another vote.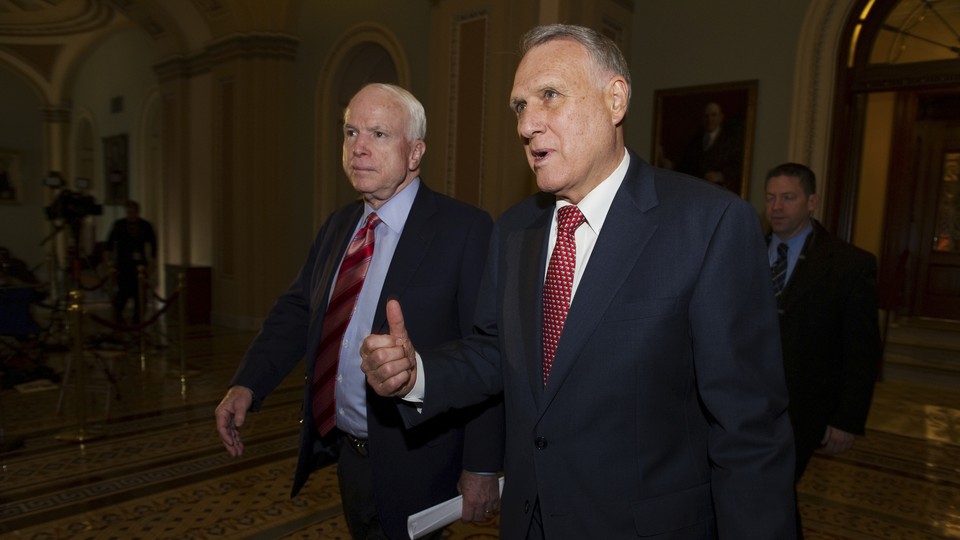 The Republican majority in the Senate is back to full strength following the death of John McCain, and the reinforcement is a familiar face both to Arizonans and the Washington establishment.
Former Senator Jon Kyl, who served three terms in the Senate representing Arizona until 2013, will return to the Capitol as McCain's temporary replacement, Governor Doug Ducey announced on Tuesday. Kyl's appointment brings the Senate back to a 51–49 GOP advantage after Republicans had been operating with a functional margin of just a single seat during McCain's long illness, which kept him in Arizona from last December until his death from brain cancer on August 25.
The most immediate repercussion of Kyl's return to the Senate is that Republicans now have more breathing room to confirm President Donald Trump's nominee for the Supreme Court, Judge Brett Kavanaugh. There is, in fact, no more certain Republican vote for Kavanaugh in the entire country than Kyl—the White House had previously tapped the respected former senator to serve as the nominee's so-called sherpa during the confirmation process. To have a chance at defeating Kavanaugh, Democrats would now need to persuade at least two Republicans to reject him, with the likeliest targets being Senators Susan Collins of Maine and Lisa Murkowski of Alaska.
As a former member of the Judiciary Committee, Kyl shepherded Kavanaugh to his many meetings with senators and helped prepare him for the hearings that began Tuesday morning. Now he'll have the opportunity not just to advise the judge, but to vote for him.
Beginning in 1995, Kyl served for 18 years in the Senate, rising up the party leadership to become the GOP's second-ranking member for the final five years of his tenure. He had spent the previous eight years in the House, and since his retirement in 2013 he's been a lobbyist at the prominent Washington, D.C., law firm Covington & Burling.
The pick is somewhat of a surprise, given that Arizona Republicans had expected Ducey to pick a younger replacement who would have run for election in 2020. But instead he turned to a 76-year-old placeholder who has not committed to serving beyond the end of this year. The governor told reporters that he had been inundated with advice on who to pick, "much of it unsolicited."
"I kept coming back to one name and one person: Jon Kyl," Ducey said at a press conference announcing his decision. "There is no one in Arizona with the stature of Jon Kyl. He is a man without comparable peer."
Ducey said he has tried—and will continue to try—to persuade Kyl to serve through 2020, when under Arizona law there will be a special election for the right to serve the final two years of McCain's six-year term. But Kyl said the need to tend to his family may compel him to return home after the current session of Congress ends in early January. That would force Ducey to make another appointment to serve the next two years.
"I haven't been able to get that assurance from Senator Kyl yet," the governor said. "It is my hope that he serves longer."
For now, Senate Republicans can expect a colleague who will be loyal to their agenda—and, likely, to President Trump's. Kyl mentioned the imperative of confirming the president's judicial and executive appointments in the coming months, which aside from legislation funding the government is expected to be the bulk of the Senate's activity through the rest of the year. Ducey's choice drew praise from allies of Senate Majority Leader Mitch McConnell, conservatives at the Club for Growth, and McCain's widow, Cindy, who called Kyl "a dear friend" and his appointment a "great tribute" to her late husband.
"I couldn't imagine a more responsible and thoughtful conservative to represent the state of Arizona in its time of grief than Senator Jon Kyl," said Steven Law, the president of the McConnell-aligned Senate Leadership Fund. "He already knows the Senate backwards and forwards and he has a deep connection to Arizona and its concerns."
Like many establishment Republicans, however, Kyl has been critical of the president's pugnacious style. A reporter in Arizona asked him about a quote earlier this year in which he described Trump's behavior as "boorish." Kyl alluded to the president's desire to engage in public fights, and often to start them. "Sometimes that can be detrimental to what he's trying to achieve," he said Tuesday. "I said that, and I stand by it."
Kyl confirmed that he has no interest in running again in 2020 for the Senate "or any other office." His brief commitment means the jockeying for a longer appointment to the Senate will likely continue in Arizona. And it raises the possibility that Ducey could still appoint Representative Martha McSally to the Senate if she loses in her bid to replace the retiring lawmaker Jeff Flake in November. She's locked in a tight race with Democratic Representative Kyrsten Sinema after the two won their respective primary nomination last week.
Ducey is also running for—and is favored to win—reelection this fall. He said he made his selection of Kyl "without regard to politics," and though he did not talk in detail about the likelihood of a second appointment, the one name he ruled out was his own. "I've been clear on that from the beginning: That's not going to happen," the governor said.