Florida Felons Want Their Voting Rights Restored
A ballot amendment in the November election could restore voting rights to 1.5 million felons in Florida, one of just three states that permanently bars felons from voting.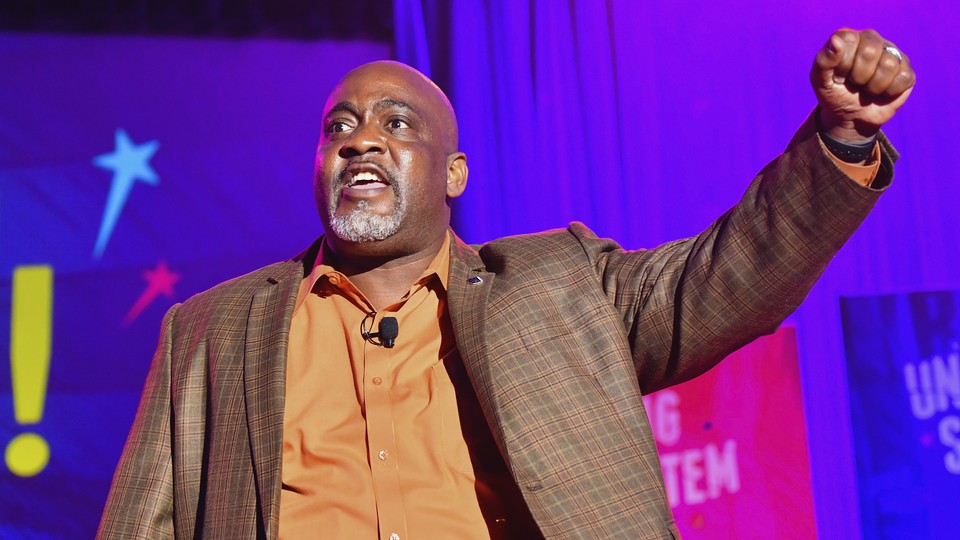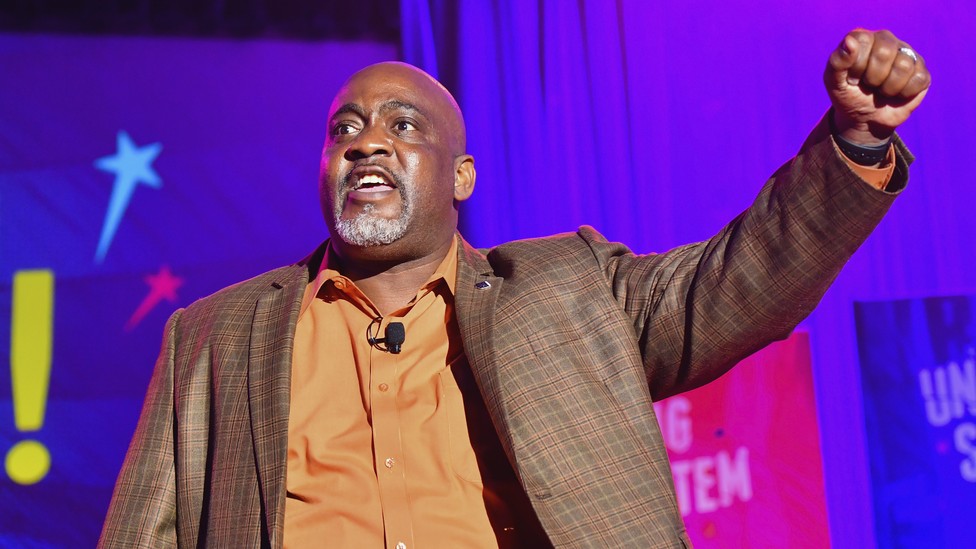 This November, Florida voters will choose a new governor in one of the nation's most contested—and consequential—races. But if they look to the bottom of the ballot, they will also be asked to decide whether the right to vote should be granted to 1.5 million former felons who live in the state. With Iowa and Kentucky, Florida is one of just three states in the nation to automatically and permanently keep anyone who has committed a felony from ever voting again. A grassroots movement headed by former felons seeks to change that.
Amendment Four's two leading advocates and most dogged supporters make for strange bedfellows: Neil Volz, a white, conservative former congressional chief of staff who was sentenced to probation for his role in a lobbying scandal; and Desmond Meade, a black, formerly homeless man who served several years in prison for drug and weapon charges. Together, they are asking the state's voters—citizens, they emphasize, just like them—for forgiveness.
"Returning citizens"—a term the movement's organizers much prefer to felons—across the state are visiting churches, speaking at community events, and telling their neighbors about their experiences. It is in these heart-to-heart conversations, activists believe, that they can convince Floridians to vote not for a political issue, but for a fundamental value: "When a debt is paid, it's paid," as several organizers put it to me. It's a value that activists at the Florida Rights Restoration Coalition (FRRC) think has universal appeal. But the main problem, organizers told me, is simply spreading the word. The amendment would give all former felons, except for convicted murderers and sex offenders, the right to vote once they complete all terms of their sentence. To pass, at least 60 percent of the state's voters must support it. And that means that several million Floridians will have to accept, on good faith alone, that people who have been convicted of serious crimes should be fully accepted back into their communities. That's not always an easy ask.
Volz, the FRRC's treasurer, came to Florida by way of Washington, D.C. In 2006, Volz pleaded guilty to felony conspiracy, for which he avoided prison time by cooperating with law enforcement to help bring down nearly a dozen political operatives (and former colleagues) in the notorious Jack Abramoff lobbying scandal. He moved to Florida 10 years ago to start over after his Washington world fell apart. He knew felons couldn't vote in the state, and he disagreed with the policy, but he stayed away from the burgeoning movement that sought to change that law. "I felt a little selfish," Volz told me, "which is what got me in trouble in the first place." But when he heard about a young black man from his church who faced the permanent loss of his vote for stealing a phone that he later returned , Volz thought it might be time for him to get back into politics. "That stirred a lot in my heart," Volz told me. Three days later, he met another felon, Meade, the FRRC's president and CEO. "I think it was a divine appointment."
Meade, too, approaches the issue with a hint of spirituality and piety. He spent time in prison for drug charges and a weapons-possession charge. "Everything that has happened to me in life was a direct result of my addiction," Meade told me. When he got out of prison in 2004, he worked his way through community college and then law school at Florida International University. "It shows the power of restoration," Meade explained, "because I can go from a homeless crack addict to an attorney." Because of his felony convictions, Meade cannot practice law—"I still have a juris doctorate degree," he joked, so "you can call me Dr. Desmond"—but he thinks his journey "speaks volumes of the power of redemption."
Meade insists that when people like him and Volz share their stories, they'll be able to get voters on their side. To them, it's not a political issue. It's about citizenship, and what it means to live in a democracy. "There is no one out there that I have run across yet that was willing to say that they'd never want to be forgiven for anything that they'd done," Meade explained. "Our country is about people falling down, but they're able to get back up and knock the dust off their pants and keep it moving."
Today, Florida has one of the nation's strictest felon-disenfranchisement policies, but nearly all states place at least some restrictions on felons' right to vote. (Just two states, Maine and Vermont, allow felons to vote while in prison.) Many critics of the policies point to their racially disproportionate impact: In Florida, more than 21 percent of black adults are disenfranchised because of this policy. Still, Meade and Volz were both quick to point out that this issue does not only affect African Americans. "We know that this impacts whites way more than it impacts blacks," Meade told me, since the majority of felons are white. Since their main argument is that this issue affects people in all Florida communities, they have highlighted race less than might be expected.
Felon-disenfranchisement clauses date back as far as America's colonial period, when voting was limited to white men. "The United States was founded as an experiment in democracy, which it was, but it was a very limited experiment," said Marc Mauer, the executive director of the Sentencing Project, a national nonprofit. "Women couldn't vote. African Americans couldn't vote. Illiterates, poor people, and also people with felony convictions. Over the course of 200 years, we've done away with all those other exclusions. We now look back on them with a great deal of national embarrassment."
Florida's policy only began to impact black residents after the Civil War and the end of slavery. In 1865, Florida tried to prohibit freed slaves from voting, but Congress didn't allow that; instead, Florida granted black men the right to vote in 1868 while at the same time restating its commitment to the felon-disenfranchisement clause of the state constitution. "What really happens after the end of Reconstruction is [states] start passing laws making everything a felony," Eric Foner, a historian who studies Reconstruction and the American South at Columbia University, told me. "You steal a chicken, it's a felony; you go to jail and you lose the right [to vote] … You have more and more people being thrown into jail, and mostly blacks—these laws are not basically applied to whites very often." One modern example illustrates this disparity in felony classifications: In Florida, theft involving $200 or more is considered a felony, while Texas's theft threshold is more than 10 times higher, at $2,500.
Still, felon voting restrictions did not affect a significant number of people until the 1970s and '80s, with the rise of mass incarceration. In 1976, just 1.17 million Americans were barred from voting because of a felony conviction; today, that number is more than 6 million. And more than one and a half million of those people live in Florida, making up more than 10 percent of the state's voting-age citizens.
The campaign to pass Amendment Four has faced surprisingly little organized resistance. Andrew Gillum, the Democratic candidate for governor, supports the amendment, while the Republican nominee, Ron DeSantis, has not stated any position. But a Tampa lawyer is leading the effort alone to take down the amendment. Richard Harrison, who works in local-government law, founded a nonprofit to educate Floridians about why he thinks the amendment is a bad idea. He works with volunteers to write op-eds and talk to people across the state. "We are not against clemency," Harrison told me. "We are against a blanket grant of clemency." He placed felons on a spectrum, from "a first time convicted felon convicted of … some economic crime [that is] not a violent crime" to "repeat felons who have done violent crimes." He said Florida citizens "might want to ask some questions" before giving all people with a criminal conviction the right to vote. After all, not all violent crimes are left out of this amendment—a murderer wouldn't regain the right to vote, but, Harrison explained, someone convicted of attempted murder would. "I think bad people are bad people," he told me.
The state of Florida currently does allow former felons to seek clemency. Five years after finishing all terms of their sentence (including probation and parole), former felons can apply for clemency ("restoration of civil rights," in official parlance). In 2016, 473 former felons were granted clemency by the state's Board of Executive Clemency, according to a spokesperson for the Florida Commission on Offender Review. A total of 3,188 people applied. The number of clemency grants shifts depending on who occupies the governor's mansion. 30,672 people had their civil rights restored in the last two years of Charlie Crist's term as governor. (He served just before the current governor, Rick Scott.)
Harrison doesn't mind the disparity because he trusts the process. "Depending on who happens to be in the governor's mansion there may be more or fewer, but it does work because, in fact, clemencies are granted," he told me. "Since before the Civil War, actually, the Florida Constitution has said convicted felons lose the right to vote," Harrison explained, so he chooses to defer to that long-standing policy. Much has changed since then—before the Civil War, there were no black voters in Florida—but he thinks the current clemency process should remain. The clemency process is currently being challenged in federal court, and in March a judge ruled that the current system is "so arbitrary as to be unconstitutional," according to The Miami Herald. If the amendment passes, this case would be rendered moot.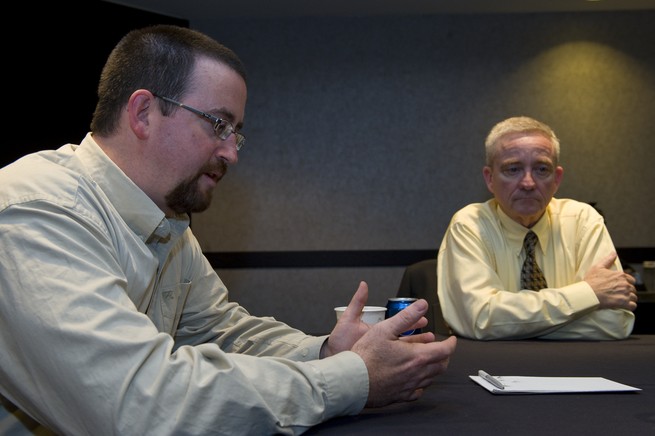 Volz applied for clemency once but grew frustrated when the board kept telling him he hadn't properly filed all his paperwork. In his opinion, this drawn-out process isn't necessary. Volz is the chairman of his county's homeless coalition, and he works with the drug-and-alcohol-recovery program there, but he still doesn't feel like he can engage fully. "People who have paid their debt back to society and done everything that the judicial system asked them are not fully able to participate in their communities" if they can't vote, he said. "Yet if we all got in buses and moved to Texas tomorrow, we could vote there." Volz insisted that once former felons are again able to vote, they "can be helpful in bringing about a more inclusive democracy." The reason, he explained, is that because they're barred from the political system, they haven't fallen victim to the "hyper-partisanship" that's so common in America right now. "Suddenly, conversations become a little bit more about issues, a little bit more about how you can work together and do things as a community," he said.
Meade sees it the same way. "For a while, a long time ago, I was a strain on my community," he confessed. "Now I've become an asset … I should be able to vote." People like him are "in our homes, they're in our neighborhoods, they're in our churches," he said, and they "are left to suffer and to walk around with a scarlet letter" even after they have finished their sentence. Myrna Pérez, the deputy director of the Democracy Program at NYU's Brennan Center for Justice, thinks that allowing people with past criminal convictions to vote is crucial for their success in society. "If you want people who have engaged in antisocial behavior to get in the habit of doing pro-social activities, there's nothing more pro-social than voting," Pérez told me. "It is really an act of love and belief and hope and commitment to something as big as the country and to your neighbors."
Supporters of Amendment Four hope that their unorthodox campaign playbook—avoid party politics, limit conversations about race, and tout religious and moral values more than anything else—will get 60 percent of voters on their side. In a state in which neither major presidential candidate got even 50 percent of the vote in 2016, that would be a major feat. But the amendment's backers say they're up for the challenge.
They're highlighting people like a veteran whom Meade met, who came back disabled from fighting overseas and hasn't been able to vote for 30 years because of a bad check he wrote. They're talking about the indignity of Meade being unable to vote for his wife when she ran for local office. And they're arguing that when people with past criminal convictions share their stories, their neighbors and friends will stand with them. "If we just hold on to the humanity part of it, we're going to be okay," Meade told me. But as he sees it, voting isn't important just to him and the 1.5 million other felons who would have their rights restored—it's for everyone. "We're going to cross that finish line in November," he said, "and everybody benefits from that."