Brock Long's Sunday Morning Trifecta
The FEMA administrator went on three talk shows to address his agency's response to Hurricane Florence but found himself questioned about his job reportedly being in jeopardy and a spate of Trump tweets.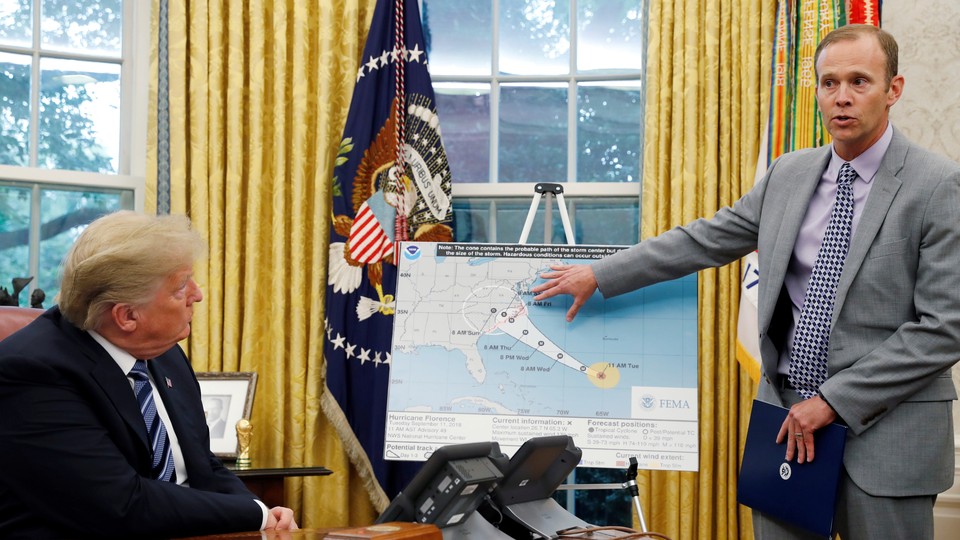 When a politician "makes the rounds" on Sunday morning talk shows, it usually means getting booked for two of them. Republican Senator Thom Tillis of North Carolina appeared on two shows this week, as did Clinton-era special counsel Ken Starr. Tillis advocated for continued federal aid for his state as Hurricane Florence's rain continues to flood inland areas. Starr promoted his book and commented on the latest developments in the Russia investigation.
Only one person made time for three: Brock Long, the Trump-appointed administrator of the Federal Emergency Management Agency. He spoke about the current hurricane's impact, but interviewers quickly turned to his job security as well as the president's claims about Puerto Rican deaths caused by Hurricane Maria last year.
Chuck Todd of Meet the Press asked Long about the Wall Street Journal reporting that White House officials had considered replacing him due to an investigation into his weekend travel to his family home in North Carolina. One official told the Journal that Homeland Security Secretary Kirstjen Nielsen had "urged him to resign if the allegations were accurate," while another official disputed that. The Washington Post reported that agency officials dreaded what would happen if Long, who's won respect from many staffers, were removed without a clear successor in the middle of hurricane season.
While Todd asked the question, Long swiveled in his chair and looked down and up before returning his gaze to the camera. "Secretary Nielsen has never asked me to resign," Long said, adding that they have talked every day during the current hurricane threat. While the agency might need to clear up policies about using official vehicles, he said, he responded vigorously when Todd asked if he planned to resign: "No. No, no, no, I'm here to serve my country every day. That's all I do."
On Face the Nation, Long once again said he was never asked to resign. "Secretary Nielsen and I talk every day. We have a very professional, functional relationship. We are both focused on Floyd right now," he said, repeating the same mixup he made at a Thursday news conference when he referenced the September 1999 hurricane that, like this year's Florence, also hit the East Coast. Floyd  was something a formative experience for Long, whose LinkedIn profile shows that he started that month as a statewide emergency planner in Georgia, which National Weather Service records show narrowly avoided the disaster. Still, it was awkward on Face the Nation for him  to get the name wrong again, like a politician on the stump greeting voters in the wrong city.
He avoided questions about his future on Fox News Sunday but had to walk a tightrope regarding President Trump's war of words over how many Puerto Ricans died because of Hurricane Maria last fall.
Host Chris Wallace referenced Trump's claim in a tweet that the latest academic study by George Washington University finding nearly 3,000 excess deaths in the six months after Maria made landfall was a partisan Democratic effort to make him look bad. "Simple, factual question," Wallace pressed Long. "Do you dispute this number of 3,000 hurricane-related deaths?"
Long equivocated: "Well, there are several different studies that are all over the place."
It's true that different assessments with different methodologies yielded different results, but Wallace had pointed out that Puerto Rican officials accept the George Washington University study, many more than the previous count of 64 deaths due to the storm's immediate effects.
Long tried to point out the nuance in counting deaths due to a natural disaster, citing "a difference between direct deaths and indirect deaths." As The Washington Post explains, the GWU study compared the number of deaths in the half-year after landfall compared to the typical number of deaths that time of year, seeking to measure the effect of power outages, missing medical care, water shortages and disease. This number of hurricane-caused deaths would be much higher than the deaths caused directly by wind and flooding.
He repeated those talking points almost word for word on both Meet the Press and Face the Nation, also trying to take his agency out of the numbers fight by stating that FEMA doesn't do its own death count, aside from tallying the number of "funeral benefits" paid for disaster victims.
President Trump has seemed to ignore the nuance of direct versus indirect deaths, asserting in tweets that the count jumped "like magic" and asserting that "3000 people did not die in the two hurricanes that hit Puerto Rico." He doubled down by quoting and retweeting conservative pundits such as Lou Dobbs and Geraldo Rivera blasting the local Puerto Rican government.
Long on Sunday picked up on that thread, laying blame for deaths on "aging infrastructure that wasn't ready to support the commonwealth before the storm hit." It's been widely reported that the cash-strapped Puerto Rican government had not been able to maintain its decades-old electricity grid even before last year's storms.
Long seemed anxious to walk a tightrope by pleasing the president, whose displeasure could get him fired, without jeopardizing future cooperation from FEMA partners in Puerto Rico and academia. Todd asked on Meet the Press whether the studies were done, as the president had asserted without providing evidence, "by the Democrats in order to make me look as bad as possible." Long neither supported the president's claim nor defended the academic assessments: "I don't know why the studies were done."
Like any Trump administration official on national television, Long was likely speaking to an audience of one. The president obviously wanted to hear praise for himself, having tweeted on Saturday that Long said FEMA has "never had the support that we have had from this President."
Long scratched that itch on Fox News Sunday, the first show of the morning on the president's favorite network. But he seemed to limit his praise to the president's support for his agency, rather than any action from the White House. "I know he is fully supportive of FEMA," Long said of Trump.
"We've got the full support of the president behind us," he added soon after, perhaps hoping his repeated declarations of support could prevent any loss of support. On Meet the Press, Long seemed to echo the appreciative quote Trump had tweeted a day earlier.
"One thing about President Trump is that he is probably the one president that has had more support for the guys back here," he said, referring to FEMA employees at desks behind him. "And I think he's defensive because he knows how hard these guys behind me work day in and day out for a very complex situation. And it's frustrating."