Donald Trump Says the Kavanaugh Allegations Are a 'Big Fat Con'
In a bizarre press conference after his United Nations meetings, the president of the United States also raised questions about George Washington's past.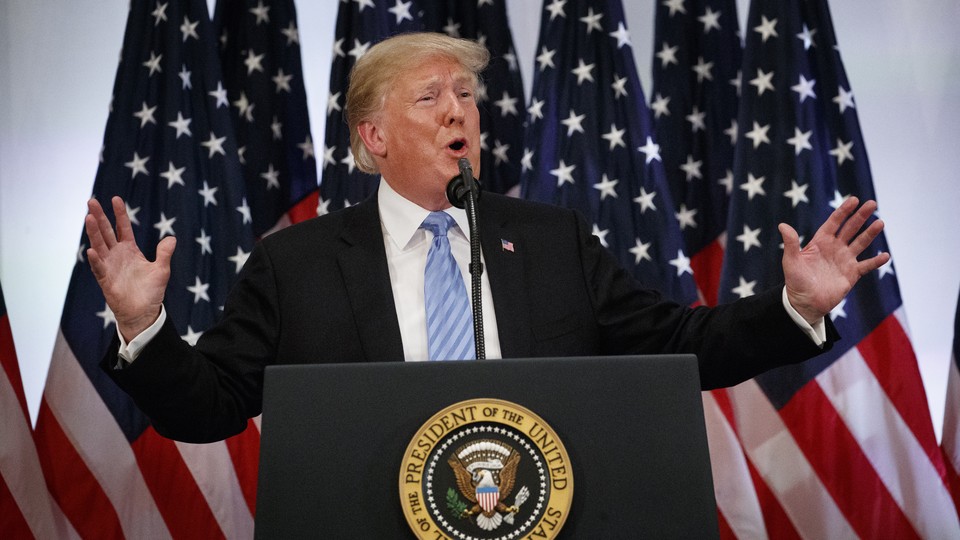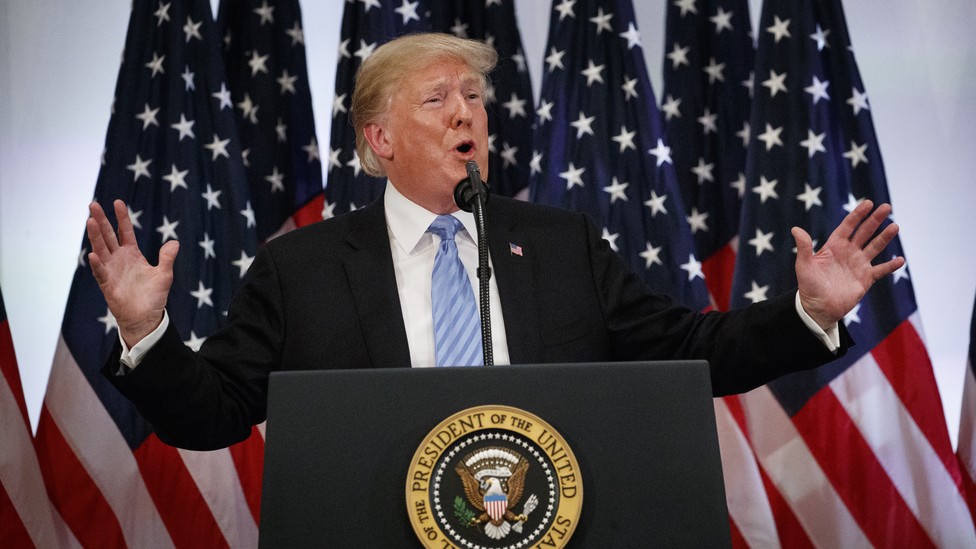 Updated on September 26 at 6:30 p.m. ET
At a rambling, often self-contradictory press conference Wednesday afternoon, President Donald Trump baselessly claimed a vast conspiracy to concoct sexual-misconduct charges against him and offered a surprisingly weak defense of Judge Brett Kavanaugh, the Supreme Court nominee who has been accused by three women of sexual misconduct.
"I've had numerous accusations about me … They made false statements about me knowing they were false," Trump said. When a reporter asked why the president always seemed to give the benefit of the doubt to men accused of sexual misconduct, he acknowledged that the allegations against him colored his response to the claims made against Kavanaugh. "It does impact my opinion … because I've had a lot of false charges made at me."
More broadly, Trump offered a broad critique of the #MeToo movement and the growing calls for accountability in cases of sexual misconduct, implying they had gone too far.
"This is beyond Supreme Court. This has everything to do with our country," Trump said. "When you are guilty until proven innocent, it is just not supposed to be that way ... In this case you are guilty until proven innocent. I think that is a very, very dangerous standard for our country."
Trump attacked Democrats and others for bringing forth the allegations.
"They're actually con artists, because they know how quality this man is, and they've destroyed a man's reputation," the president said. "They know it's a big, fat con job. And they go into a room and I guarantee you they laugh like hell at what they've pulled off on you and on the public."
Yet Trump refused to rule out withdrawing Kavanaugh's nomination, and speculated about nominating a woman in Kavanaugh's stead, even as the White House and Kavanaugh himself have spent the past 48 hours staunchly insisting that they will forge forward.
"I can't tell you. I have to watch tomorrow," he said. "I'm gonna see what happens tomorrow. I'm gonna be watching ... I'm gonna see what's said."
Trump said that if George Washington himself were nominated, Democrats would vote against the father of the country. "Didn't he have a couple of things in his past?" he said, seeming to acknowledge that Kavanaugh might have skeletons in his closet. Trump also bluntly explained his willingness to look past allegations for political expediency, pointing to his support of the former U.S. Senate candidate Roy Moore, who was accused of sexual misconduct with several young girls. "Roy Moore was a Republican candidate, and I would have rather had a Republican candidate win," Trump said.
But it was Trump's comments about the allegations against him that were the most bizarre. Each time a high-profile man is accused of sexual misconduct, it serves as a reminder that at least 19 women have brought allegations against the president himself. The official White House line is that all 19 are lying. The president went a step beyond that on Wednesday, claiming that the women were paid to lodge the claims, and that after several of them recanted, the media refused to cover it. There is no evidence for this; the claim is evidence of a president either increasingly untethered from reality or ever more willing to dissemble.
The appearance was Trump's first extended solo press conference since February 2017, and it showed why he and his advisers wouldn't want him answering questions in an open forum like this very often. The president is incapable of speaking on any story for long without turning the subject back to himself, often with disconcerting results, like his claim about the media conspiracy.
The accusations against Kavanaugh have already put the Republican Party in a difficult spot ahead of November's midterm elections. Women are poised to be a crucial voting bloc, and Trump is unpopular with them—even in the context of Trump's atrocious approval ratings. The GOP is trying to strike a balance of getting Kavanaugh through without appearing dismissive of sexual assault, and Trump's rambling comments on Wednesday deepen the trouble. The press conference appeared to be disastrous for the president, for his party, and for Kavanaugh.
Trump offered various messages that didn't come close to providing clarity. Last week, Trump dismissed Christine Blasey Ford's allegations of an attempted rape by Kavanaugh in 1982, saying that "if the attack on Dr. Ford was as bad as she says, charges would have been immediately filed with local Law Enforcement Authorities by either her or her loving parents." Initially on Wednesday, he repeated that, asking why Ford hadn't come forward earlier. But minutes later, he said he wouldn't have been surprised if a woman was reluctant to file a police report at the time.
"It's a very tough situation for a woman, there's no question about it," he said. "Frankly, had they reported it, it would have been pretty amazing, wouldn't it? … I'm not saying they have to report it."
Over the course of more than an hour, Trump covered a wide range. He refused to say whether he would fire Deputy Attorney General Rod Rosenstein or request his resignation, and suggested that he might postpone a meeting scheduled for Thursday. He declined to give a straight answer about whether any members of his administration might have considered trying to remove him using the Twenty-Fifth Amendment, but he railed at his critics.
"In one case, they say, 'He's a fascist, he's taking over the government, he's the most powerful president ever. He's a horrible human being. He wants to take over the entire government and he's going to do it. We can't stop him,'" Trump said. "That didn't work. The next week, he said, 'Uh, he's incompetent.'"
Elsewhere, Trump criticized the Federal Reserve for raising interest rates, attacked the Obama administration's nuclear deal with Iran, and said that if Hillary Clinton had won the election there would have been a war with North Korea. He took several questions from Kurdish reporters, though he did not make any concrete commitments about American dealings with the Kurds.
The event felt like a throwback to the presidential campaign, when Trump gave frequent press conferences. Just as then, Trump was at turns combative and jocular, cracking jokes with reporters. (Trump also said he believed that all the mainstream outlets would endorse him for reelection; it may have been a joke, but he didn't crack a smile.) But Trump is president now, and so what seemed bizarre but somewhat irrelevant is different. The stakes are higher—and the answers are, somehow, even stranger.